The story of the Canadian men's national team's current rise is intertwined with that of its biggest star.
Alphonso Davies has become a household name around the world thanks to his exploits with Bayern Munich. The newly-minted 21-year-old burst onto the scene as a teenager in 2019, after joining Bayern on a then-record transfer fee for an outgoing MLS player.
It quickly became apparent that Davies' combination of speed, athleticism, and close control had fused into a world-class player — perhaps Canada's first-ever in the men's game.
A stalwart on a dominant Bayern side that has won almost everything since he joined the Bavarian outfit, Davies' skill soon translated over to the international level. He had already established himself as one of CONCACAF's best young players thanks to his Golden Boot performance as a 16-year-old in the 2017 Gold Cup, but Davies would soon become Canada's best overall player, and shortly thereafter the best in the entire region.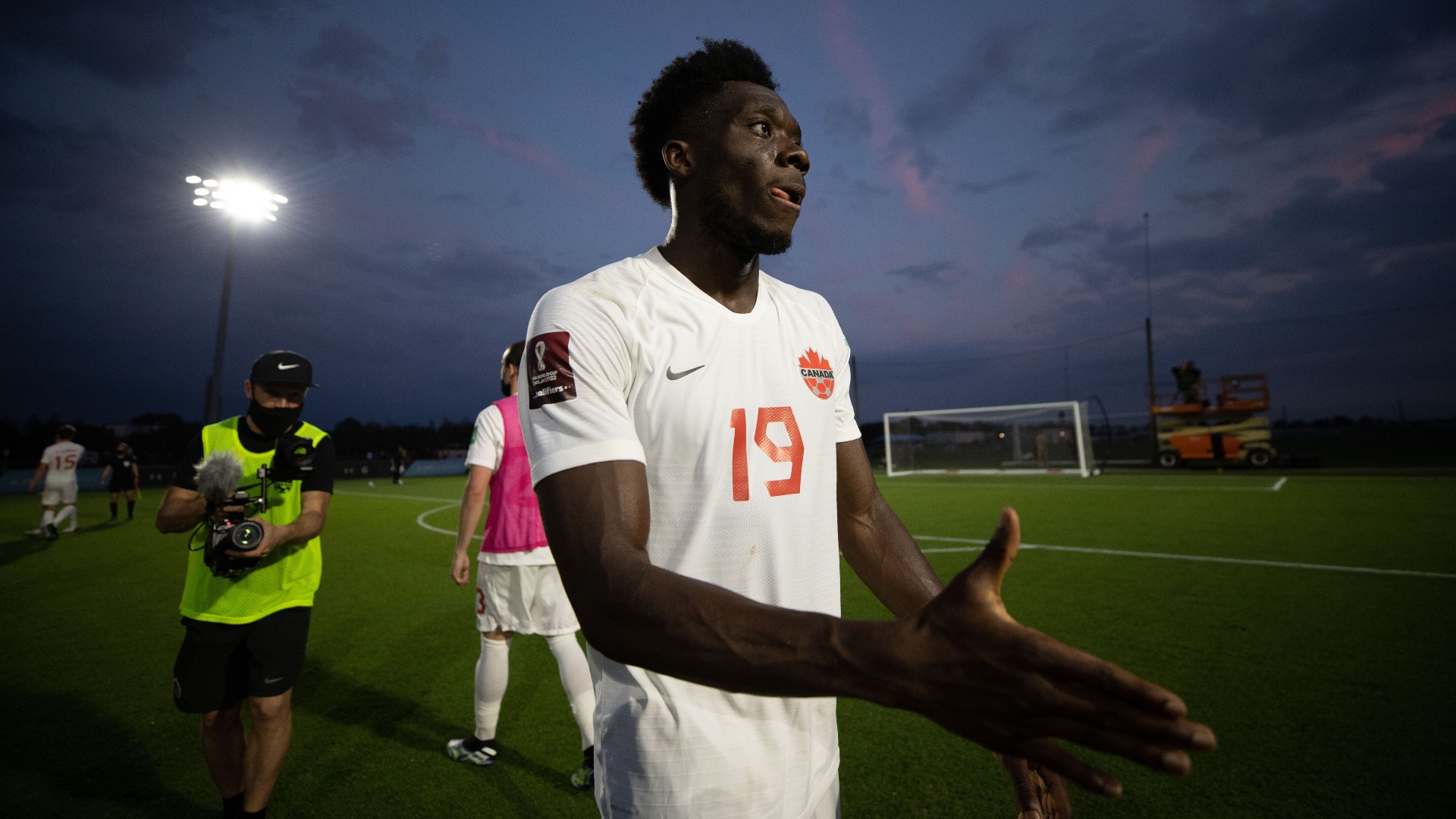 His meteoric rise on the world stage has been paralleled, relatively speaking, by Canada's climb up the CONCACAF mountain. Having started the year at No. 72 in the FIFA World Rankings, the Canadians have steadily moved upward as they've racked up results through World Cup qualifying and the Gold Cup, and now they head into the November international break at No. 48.
It's the highest Canada's been on the global list since 1997, and it puts Davies and his teammates in fourth among CONCACAF nations. 
The country just above the Canadians on the CONCACAF ladder — No. 45 Costa Rica — is also their next opponent, as the teams will meet for the first time in the current round of qualification.
Canada and Costa Rica have faced off earlier this year, with the Canucks coming away 2-0 winners in a Gold Cup group stage result that flattered the losers. The Canadians were dominant on the day, and the feat is made more impressive when considering that they were without their talisman Davies, who missed the tournament through injury.
Davies is back for this meeting, and the Canadians are set to welcome the Ticos to a frigid Commonwealth Stadium in Edmonton, Alberta. While the Central Americans will be bundled up for temperatures below the freezing mark, Edmonton is expected to give Davies a very warm reception.
Born to Liberian parents in a Ghanaian refugee camp, Davies considers Edmonton his home. The speedster first kicked a ball in the northern Alberta city in which he spent most of his youth, although his prodigious talents took him away from Edmonton at just 14 years old.
That means Davies, who at 15 became the second-youngest signing in MLS history, has never played in his hometown as a professional.
Until Friday, that is.
When Commonwealth Stadium was announced as the host venue for Friday's match against Costa Rica and next week's tilt vs. Mexico, the Edmonton public responded by snapping up tickets by the tens of thousands. The 56,000-seat stadium will be close to capacity for both matches, and much of that excitement has to do with Davies' star power, which grew in recent weeks thanks to an astonishing goal against Panama last month that went viral.
That goal was scored in Toronto, Canada's usual home for World Cup qualifiers, but now Davies will have a chance to put on a show for his hometown for the first time in his burgeoning career.
"It puts a smile on my face every time I hear that we'll be playing in Edmonton in front of 40,000-plus people. It's amazing," Davies said in a press conference last week, prior to the final ticket sales push. "Over the years that I lived in Edmonton, I think I've been in that stadium like three times in my whole life, and now being able to go in the stadium and to play in front of fellow Edmontonians — it just brings joy to me."
With an outgoing personality built for stardom, Davies says he's accepted the role as the team's focal point, which sits third in the group after six games. In returning to his hometown for the first time, the spotlight will be on him even more than usual, which suits him perfectly.
"For me, at the time when I was in the youth setting, I really never had an idol on the Canadian national team because, as people say, they didn't really make it interesting for people to watch," Davies said. "Now, with the generation we have on the team, a lot of kids are looking up to us. A lot of kids want to be footballers, and we're excited."
Even with the knowledge that he's the star attraction, Davies knows he can't do it alone. To that end, he said that every victory brings an increased sense of belief in the team as a whole within its growing fan base. 
Led by Davies, but also starring the likes of Lille striker Jonathan David, Besiktas attacker Cyle Larin, soon-to-be Club Brugge winger Tajon Buchanan, and others, Canada has never had such a wide array of exciting attacking talent.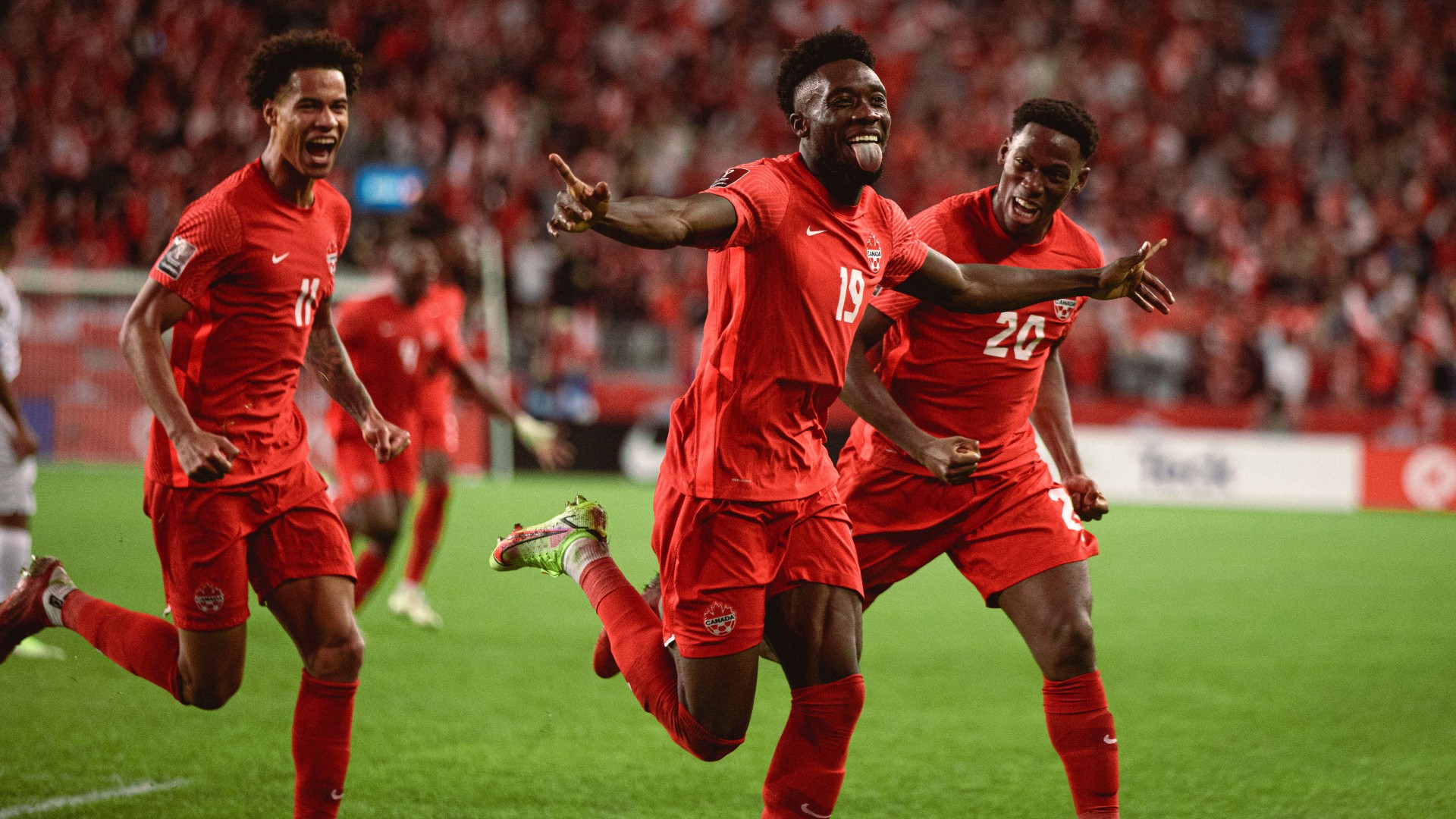 Now in the eight-team final round of CONCACAF's qualifiers, known as the "Octagonal," the Canadians are as close to a World Cup as they've been since the late 1990s. 
"I feel like this team is really opening some people's eyes that we can make it to the World Cup, and I believe that," Davies said. "For us, when we first started our journey … we knew the journey wasn't going to be easy, especially when we make it to the [final round], which we are in right now. We knew it wasn't going to be easy.  
"Every time we come to camp, you can see on the boys' faces that everyone's excited, everyone's hungry to be here. I feel like some people, when we came to the [Octagonal], underestimated how well we would do."
No one's underestimating Canada any longer.  
As for Davies, his star has never been brighter. So now it's finally time for the young king of CONCACAF to undergo his hometown coronation.