The family name 'Hatton' always has a special place in British boxing.
Ricky Hatton, the former world champion, created some memorable nights for the sport.
Whether it be beating Kosta Tszyu in the twilight hours to win the IBF super lightweight world title in front of 22,000 screaming fans, or one of the many trips to Las Vegas where thousands travelled to support Hatton against the likes of Floyd Mayweather Jr and Manny Pacquiao.
Now there is a new Hatton in town, Ricky's 21-year-old son Campbell.
The lightweight prospect is 5-0 with one win coming via knockout and takes on Joe Ducker on February 27th in his first fight of 2022.
Speaking exclusively to DAZN News, Hatton believes this has been his best camp since turning professional last year.
"I'm absolutely flying in the gym," Hatton said.
"I've had a few weeks off for Christmas, but since then I'm feeling the best I have since I turned pro."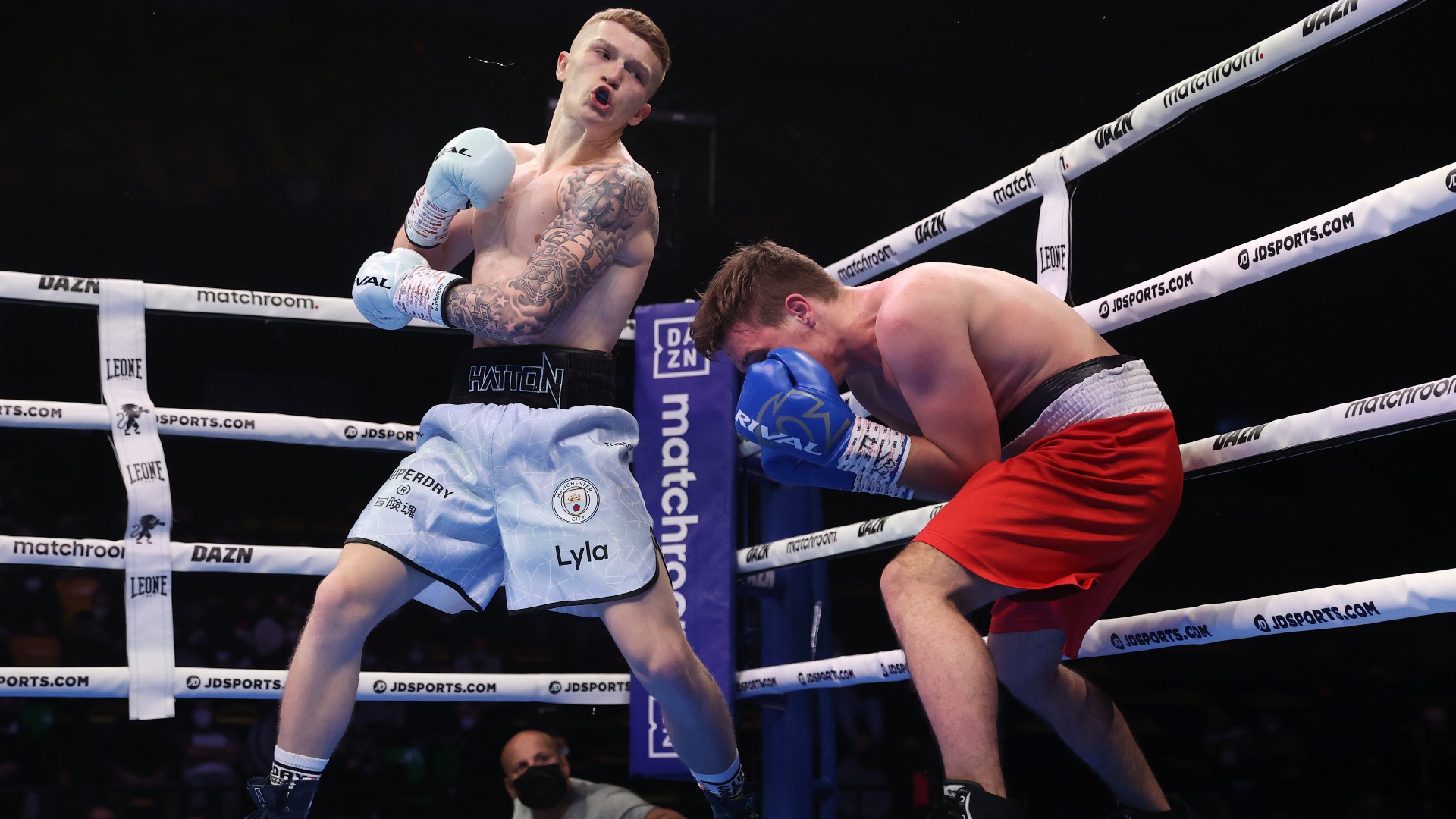 However, it hasn't been smooth sailing for Hatton since his first professional fight against Jesus Ruiz last March.
A lot of expectation has been placed on Campbell's shoulders due to the 'Hatton' family name and some British fans were hoping for a fast start in the professional ranks.
Campbell's journey as a professional has been anything but fast. His first four fights were all points wins, which included a controversial win over Sonni Martinez, before getting his first knockout in Bilbao last November against Attila Csereklye.
The stages on which Hatton has been certainly have not helped. Three of his first five professional contests have been on pay-per-view bills including Anthony Joshua's clash with Oleksandr Usyk at Tottenham Hotspur Stadium five months ago.
As a result, Hatton's performances came under intense scrutiny.
Then came his knockout win against Csereklye which was towards the bottom of the card on Matchroom Spain show in Bilbao towards the end of 2021.
Hatton was quick to disregard any critics and while the pressure was eased on that Bilbao card, fighting on bigger shows is a great way to gain experience in his eyes.
"It's all well good those outside the ring giving opinions, they're not the ones taking the punches," Hatton began.
"I think I did bring too much pressure on myself, especially with the Sonni Martinez fight.
"The small Bilbao show was nice, lower down the card, there was no pressure and I got the first knockout out the way.
"It's great boxing on the smaller shows but being in the bigger stadiums and arenas is a great experience and will help in the future."
In addition to having father Ricky, and uncle turned trainer Matthew on hand to give advice, Campbell Hatton also has one of the biggest names in world boxing on hand, former unified world heavyweight champion Anthony Joshua.
Hatton is signed to Joshua's 258 Management and while he doesn't have too many conversations with Olympic gold medalist, Hatton does often get some helpful advice.
"Absorb every bit of information you're given," was one piece of advice Hatton has received.
"I don't have loads of conversations with him [Joshua], he's busy man.
"But he's always there to give advice."
Campbell Hatton will be looking to keep active in 2022 as he continues to his development, but while he may bear the Hatton family name, fans will need to taper expectations, and instead enjoy this journey.
If Hatton's development continues to down the right path, British fight fans will be rewarded in the next few years with some rowdy nights in Manchester, and who knows, maybe a few trips to Las Vegas further down.
But for now, focus is on London's O2 Arena where Campbell Hatton takes on Joe Ducker this coming Sunday, live on DAZN (except Australia and New Zealand).