David Benavidez vs. Caleb Plant: Keys to victory for both fighters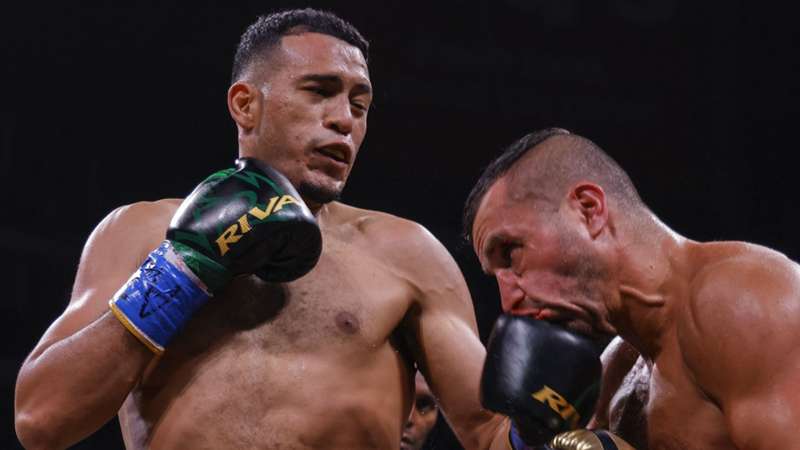 DAZN
The best fight at 168lbs without Canelo Alvarez takes place on Saturday night as David Benavidez faces the biggest test of his career against Caleb Plant.
Plant already knows what it's like to share a ring with Canelo after being stopped late in 2021, but Benavidez hasn't had his chance yet. He can get closer with victory here.
With the fight community split on the outcome, DAZN tries to find the best way for both men to score an important win.
David Benavidez's Keys to Victory
Make a quick start  
Benavidez is the fighter stepping up in class here and Plant won't be providing him with any respect after sharing the ring with superior fighters including Canelo Alvarez. If Benavidez wants to prove he belongs at the highest level, then he can't let this occasion get to him and he has to let Plant know he's a serious threat from the first bell. 
Big fights are nothing new to Plant and he'll be hoping his better experience at the business end of the super-middleweight division can help him as the fight goes on. If Plant is favoured to make the fight his in the latter half, then it is vital that Benavidez has made a superb start, so Plant has to chase the fight and perhaps be forced into desperate mistakes. 
Ride out the tough moments 
If you look at Benavidez's career to date, then you can see why he's enjoyed the success he has. An on-top fighter who likes to dominate, Benavidez has had it all his own way since turning professional, but you'd be surprised if Plant didn't make the Arizona man answer some difficult questions in this fight. 
Benavidez will be pushed back, he will be on the end of shots, and he could also get hurt. This is top level boxing, and although Benavidez has proved a lot of things so far, he must convince people that he's as tough as they come and fire back when Plant has him under attack. 
Prepare for a hard 12 rounds  
This is undoubtedly the biggest examination of Benavidez's career, and he must display that he's a championship level fighter who can go the distance with elite names. In his early days, Benavidez was no stranger to winning in the opening rounds and even in recent times, his stoppage record is impressive. 
Benavidez has not been the championship distance since 2018 and with Plant expected to push him all the way, a hard 12 rounds could be on the cards. If Benavidez does make a fast start, he must remember that he's in against a tough opponent in Plant so pacing himself is crucial. If he wants to be successful against Canelo, he has to show he can do it against Plant first. 
Caleb Plant 
Make your experience count 
Plant enters this fight knowing full well that he has shared the ring with one of boxing's best fighters in Canelo Alvarez. Plant performed admirably in that fight and demonstrated that he's a world class fighter with several special qualities. This is the fight to show them. 
Benavidez is making a huge leap when he faces Plant and it's down to the tennesse man to show that when the bell finally sounds. Plant should aim to control the speed of the fight and make Benavidez fight at a pace he's not comfortable with. If he can do that then he has a chance. 
Don't give Benavidez any confidence  
Benavidez can end a fight instantly so any opportunity to take Plant out will be grabbed in an emphatic manner. Plant needs to make Benavidez work as hard as possible for those chances because one moment's lapse could spell disaster. 
Benavidez is an impressive finisher so if he manages to hurt Plant once, there's a very good possibility that the fight will be over seconds later. Plant needs to frustrate Benavidez because the longer the fight goes without the Phoenix man having success, it may get inside his head, and he could become reckless looking for his familiar power shots. 
Keep it tight early  
Benavidez is a fast starter and Plant will be aware of that threat. Perhaps conceding the first couple of rounds to ease his way into the fight could be a solid strategy for Plant if he's to enjoy success down the stretch. 
Benavidez is almost certain to look and try and end things in the opening sessions so if Plant can just keep his guard high then he could take the sting out of Benavidez's attacks. The longer this fight goes, Plant will be the happiest, but he can only take the fight into the latter stages by being smart early.