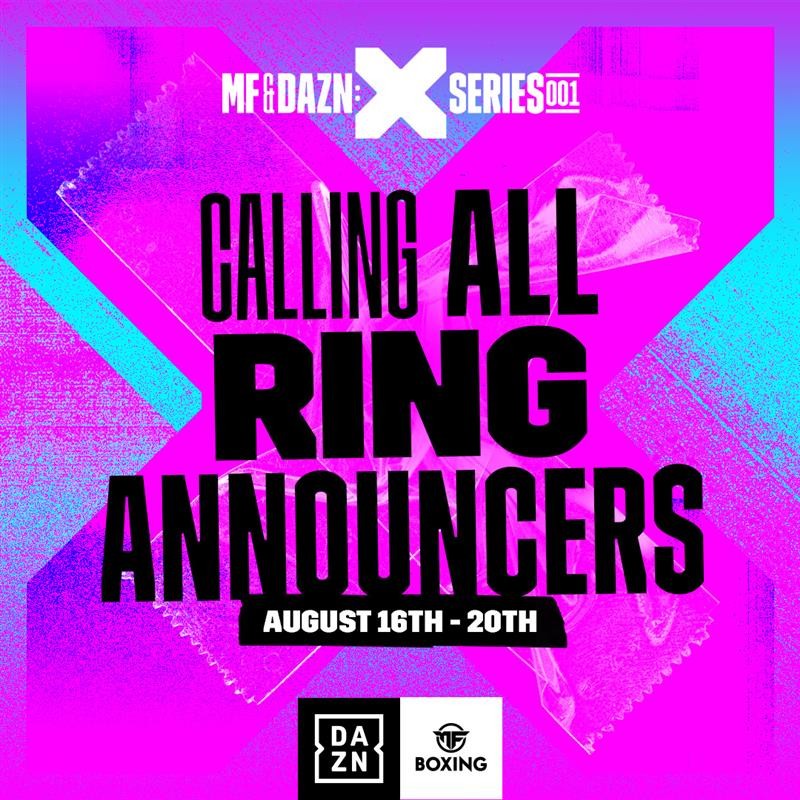 To participate in the X Series Ring Announcer Talent Call, participants must submit a short video showcasing their ring announcer skills tagging @MisfitsBoxing and @DAZNBoxing and geo-tagging your location. Participants must be over the age of 18.
By sharing their video, participants consent to Misfits Boxing and DAZN using their video as part of the event broadcast, side programming, on their social media channels, and any other channels and platforms. The winning submission will be selected by a Misfits Boxing and DAZN judging committee at their sole discretion. 
Submissions must be in English. DAZN and Misfits reserve the right to not select any applicant in its sole discretion, if it does not receive a sufficient number of eligible and qualified Submissions. The finalists will be notified of their selection and instructed to call a phone number to confirm and send in 2 more video examples of their ring announcing. If the finalist does not respond via social media or call the phone number as instructed, the finalist's spot will be given to another applicant.
Finalists who are selected by the judging committee will be required to announce X series fight nights beginning with KSI vs. Swarmz. DAZN and Misfits reserve the rights to remove the ring announcer from their position if necessary.

Participants must be over the age of 18 or under 18 and travel with and be accompanied by a guardian.