The Canadian Olympic Association announced Tuesday that it will be sending 371 athletes to Tokyo for the 2020 Summer Olympics.
It's the largest team to represent Canada at a Games since 1984 in Los Angeles, and with the increased size comes bigger expectations.
While there will certainly be some that are simply happy to compete at the highest level of their respective sports, Canada boasts a number of athletes who will be favoured to bring home the hardware this summer.
Here are some of the top Canadian medal hopefuls:
Damian Warner (Decathlon)
It's rare when Canada can claim the best athlete in the world, but in 31-year-old Warner, it's as legitimate a declaration as they come. The Olympic decathlon arguably crowns the best all-around athlete on the planet, and Warner is a bonafide gold-medal favourite heading into Tokyo.
A bronze medallist at Rio five years ago and with numerous podium finishes at the world championships over the years, Warner is hitting his peak at just the right time. Already the owner of the decathlon best record for the 100m (a blazing 10.12 set in 2019), the London, Ont., native added two more DBs to his personal record book in May with a 13.36 time in the 110m hurdles and an 8.28m distance in the long jump that broke the Canadian record — for any long jumper, decathlon or not.
Warner now owns three of the ten decathlon-best records, and he goes into Tokyo having improved his personal best to 8995 — the fourth-highest score of all time.
Rosie MacLennan (Trampoline)
If there's such a thing as a lock for the podium, MacLennan is it.
The only Canadian athlete to ever win gold in back-to-back Olympics in the same event, the 32-year-old has a chance to make history again if she were to top the podium for a third successive Games.
"It's not the centre of my focus. I know it's an opportunity that's there, but I've never gone into a competition pursuing gold," MacLennan said, as quoted by CBC. "I go into every competition with the intention to do the best that I can on that day and see where it lands me.
"Thinking about outcomes and results puts so much emphasis on things that are out of your control. And when I go into competition, I'm always constantly just trying to focus on what I can control. And that's my attitude."
Kylie Masse (100m backstroke, 4 x 100m medley relay)
Masse will almost certainly challenge for medals in multiple events in Tokyo, but the 100m backstroke is her bread and butter.
The 25-year-old is the two-time defending world champion at the distance, and she broke the world record en route to her 2017 title. While that time has since been beaten, Masse remains among the best backstrokers in the world, and she looks to solidify her standing with an Olympic medal.
Additionally, Masse will be part of the women's 4 × 100m medley relay that includes Rio 2016 100m freestyle gold medallist Penny Oleksiak, adding another potential podium finish for the LaSalle, Ont. native.
Evan Dunfee (50km race walk)
Imagine competing in the 50-kilometre race walk at the 2016 Olympic Games, being physically bumped out of third place by an opponent inside the final two kilometres, finishing fourth and setting a Canadian record, then filing a successful appeal against the third-place finisher to get yourself onto the podium. Now imagine that, hours later, said third-place finisher files his own appeal that's — somehow — also successful, knocking you back down to fourth and out of the medals.
That's the scenario lived by Dunfee, whose dream race turned into a recurring nightmare as he had the bronze medal virtually ripped out of his hands in Brazil.
Dunfee returns five years later with redemption on his mind, coming off a podium finish at the 2019 world championships.
The 30-year-old will only have one more shot at it as the 2020 Games will be the last to feature the 50km race walk. However, the outspoken Dunfee has some thoughts on that decision.
Erica Wiebe (Wrestling)
It's always tough to repeat as Olympic champion, and that's what Wiebe will be trying to do in Tokyo after claiming gold in the 75 kg freestyle in 2016. 
Now 32, the Stittsville, Ont. native was looking forward to defending her title in front of a raucous crowd in Japan, but new restrictions due to the ongoing COVID-19 pandemic mean that Wiebe won't be able to feed off the crowd as planned.
"I'm so used to rolling with the punches and the sport of wrestling in and of itself is you have to be adaptable," Wiebe told the CBC in May. "You have to be flexible on changing times and changing venues, changing everything. And so I feel like I've been prepared for this."
Andre De Grasse (100m, 200m & 4 x 100m)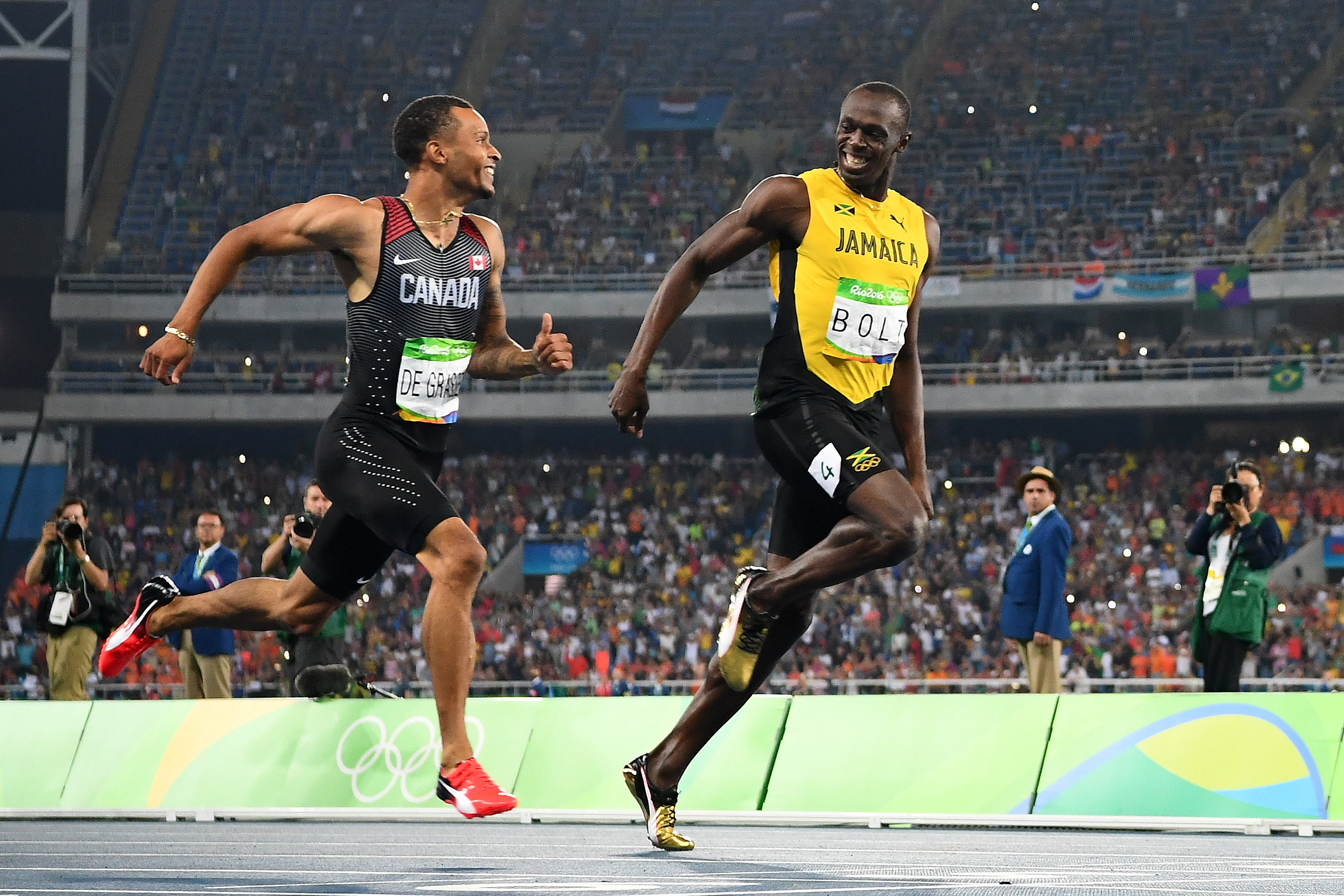 We all remember the images of De Grasse and retiring superstar Usain Bolt smiling at each other throughout their duels in the 100m and 200m events in Rio, with reports of a "bromance" brewing between the two sprinters. However, while the big brother-little brother vibe between the two was a highlight of the 2016 Games, there wasn't much more to their relationship than mutual respect.
Bolt was in the final stages of the most dominant career in the history of the sport, while then-21-year-old De Grasse was seen by the legendary Jamaican as a possible successor.
De Grasse hasn't yet lived up to the sky-high expectations brought on by those battles in Rio, but the Canadian still has the tools to pull off another three podium finishes. Admittedly, he's probably a bigger threat at the 200m — where he's won multiple races so far this year — than in the Olympics' glamour event, the 100m, but De Grasse has been known to rise to the bigger occasions and shouldn't be counted out.  
And he'll be part of an elite 4 x 100m team that has eyes on another podium finish, as well.
Canada women's soccer team
The darlings of London return to the Olympic stage in search of a third successive medal in women's soccer, led once again by all-time international goal-scoring leader Christine Sinclair.
It was at the 2012 Games that Sinclair and her teammates became household names in Canada, thanks mainly to their epic semifinal against the United States — in which Sinclair bagged a hat trick in a losing effort. Canada took home bronze that year, then followed up with another third-place performance four years later in Rio.
Now, 38-year-old Sinclair leads the line in what is likely her final Olympics, with the Canadians looking to equal or better their podium finishes from the previous two games.
While Sinclair is still the talisman, the likes of Kadeisha Buchanan, Ashley Lawrence and Janine Beckie have taken on leadership roles and will be key to bringing Canada andother medal.
Skylar Park (Taekwondo)
For Park, Taekwondo is a family affair.
The 22-year-old grew up with the sport, as her family owns a dojang in her native Winnipeg. Established by her grandfather, the space has trained several members of her family, including her father, aunts, uncles, and cousins. Now, the bronze medallist from the 2019 world championships will take some of her family with her on her maiden Olympic voyage.
"She will have myself, her Dad, as her coach, and her brother as her training partner," her father, Jae Park, told CTV News this week. "Skylar being the first Olympian in the family to go, it's a huge excitement for us and huge excitement for the whole entire family."
Park hopes the family connection will be her advantage, as most of her competitors will not be allowed to have relatives in the venue due to COVID-19 restrictions.
Either way, Park will be a force to be reckoned with in her Olympic debut, as she heads to Tokyo armed with a ton of competitive experience for her age. A gold medalist at 59 kg at the 2016 world junior championships, Park will compete in the 57 kg event, having captured numerous medals in that weight class over the past five years.
Canada women's national rugby sevens team
In eight seasons of the World Rugby Women's Sevens Series, Canada has seven top-three overall finishes. Unfortunately, the most recent season (2019-20) was ended prematurely due to the pandemic, with the Canadians sitting in second place in the standings.
The team claimed gold at both the 2015 and 2019 editions of the Pan American Games. And at Rio 2016, Canada toppled Great Britain to win the first-ever Olympic bronze medal in the sport.
It's clear that Canada is a world power in women's sevens, and anything less than a podium finish in Tokyo would be a disappointment.
"The opportunity to go to another Olympic Games with this team is very exciting," captain Ghislaine Landry said. "For the last five years, we've been training hard and hunting down podium finishes. I'm proud of our team and I know we are heading into the Games with a ton of talent and huge potential."
The team will be led by coach Mick Byrne after longtime boss John Tait was replaced amid an harassment and bullying investigation earlier this year.
Felix Auger-Aliassime (Tennis)
The 20-year-old from Montreal heads to Tokyo in good form, having reached the quarterfinals or better in each of his last three ATP tournaments. Auger-Aliassime fell in the final of the Stuttgart Open earlier this month before reaching in semis of the Halle Open six days later. Then, at Wimbledon, Auger-Aliassime defeated Nick Kyrgios and Alexander Zverev before exiting in the quarterfinal.
Along with Denis Shapovalov, Auger-Aliassime's run signalled the first time two Canadian men have reached the quarters at Wimbledon in the same year. 
Now Auger-Aliassime turns his focus to Tokyo as the highest-ranked Canadian player to participate in the 2020 Games.
"I told myself it would be incredible to walk one day in the opening ceremony among that handful of Canadian athletes that go to the Olympic Games," Auger-Aliassime told The Canadian Press. "It's really a childhood dream and to come true, it's awesome."
"Everything comes step by step, nothing happens overnight, but you see it coming," he added. "I will experience great emotions, as a tennis player but also as a person by going to the Olympics."