When is the World Cup? Teams, schedule, fixtures, kick-off times for Qatar 2022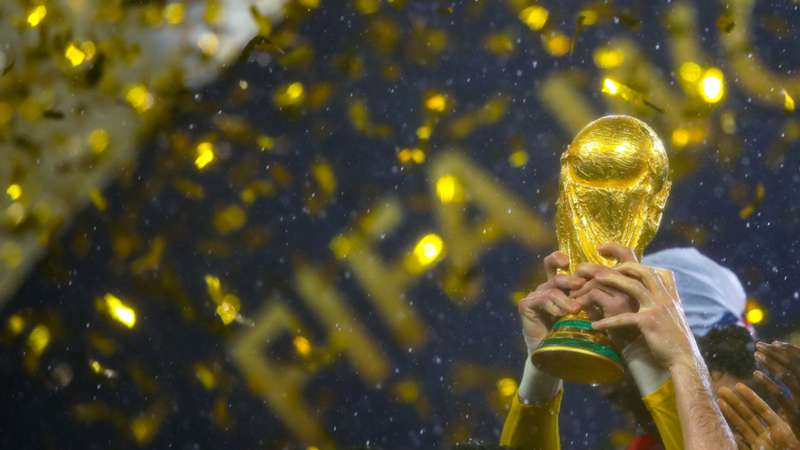 Getty
The biggest show in football knows its players, and now it also knows each team's journey towards glory.
With the World Cup draw complete, the full schedule and fixture list for Qatar 2022 is now also locked in. As of the draw date, 29 of the 32 teams had been confirmed. Three additional sides — Wales, Australia and Costa Rica — joined the party following last-chance qualifying matches in June.
Here are the full list of qualified teams, groups, fixtures and kick-off times for the 2022 World Cup:
When is FIFA World Cup Qatar 2022?
The opening match takes place Nov. 20, with the final set for Dec. 18.
Which teams are in World Cup 2022?
The 32 teams, split into eight groups of four, are:
Group A
Qatar
Ecuador
Senegal
Netherlands
Group B
England
Iran
United States
Wales
Group C
Argentina
Saudi Arabia
Mexico
Poland
Group D
France
Australia
Denmark
Tunisia
Group E
Spain
Costa Rica
Germany
Japan
Group F
Belgium
Canada
Morocco
Croatia
Group G
Brazil
Serbia
Switzerland
Cameroon
Group H
Portugal
Ghana
Uruguay
Korea Republic
World Cup 2022 schedule, fixtures, kick-off times
(All times listed are in Arabian Standard Time)
Group Stage
Sunday, November 20
Monday, November 21
Senegal vs. Netherlands, 13:00
England vs. Iran, 16:00
USA vs. Wales, 22:00
Tuesday, November 22
Argentina vs. Saudi Arabia, 13:00
Denmark vs. Tunisia, 16:00
Mexico vs. Poland, 19:00
France vs. Australia, 22:00 
Wednesday, November 23
Morocco vs. Croatia, 13:00
Germany vs. Japan, 16:00
Spain vs. Costa Rica, 19:00
Belgium vs. Canada, 22:00
Thursday, November 24
Switzerland vs. Cameroon, 13:00
Uruguay vs. Korea Republic. 16:00
Portugal vs. Ghana, 19:00
Brazil vs. Serbia, 22:00
Friday, November 25
Wales vs. Iran, 13:00
Qatar vs. Senegal, 16:00
Netherlands vs. Ecuador, 19:00
England vs. USA, 22:00
Saturday, November 26
Tunisia vs. Australia, 13:00
Poland vs. Saudi Arabia. 16:00
France vs. Denmark, 19:00
Argentina vs. Mexico, 22:00
Sunday, November 27
Japan vs. Costa Rica, 13:00
Belgium vs. Morocco, 16:00
Croatia vs. Canada, 19:00
Spain vs. Germany, 22:00
Monday, November 28
Cameroon vs. Serbia, 13:00
Korea Republic vs. Ghana, 16:00
Brazil vs. Switzerland. 19:00
Portugal vs. Uruguay, 22:00
Tuesday, November 29
Ecuador vs. Senegal, 18:00
Netherlands vs. Qatar, 18:00
Wales vs. England, 22:00
Iran vs. USA, 22:00
Wednesday, November 30
Australia vs. Denmark, 18:00
Tunisia vs. France, 18:00
Poland vs. Argentina, 22:00
Saudi Arabia vs. Mexico, 22:00
Thursday, December 1
Croatia vs. Belgium, 18:00
Canada vs. Morocco, 18:00
Japan vs. Spain, 22:00
Costa Rica vs. Germany, 22:00
Friday, December 2
Ghana vs. Uruguay, 18:00
Korea Republic vs. Portugal, 18:00
Serbia vs. Switzerland, 22:00
Cameroon vs. Brazil, 22:00
Round of 16
Saturday, December 3
Netherlands vs. USA, 18:00
Argentina vs. Australia, 22:00
Sunday, December 4
France vs. Poland, 18:00
England vs. Senegal, 22:00
Monday, December 5
Japan vs. Croatia, 18:00
Brazil vs. South Korea, 19:00
Tuesday, December 6
Morocco vs. Spain, 18:00
Portugal vs. Switzerland, 22:00
Quarterfinals
Friday, December 9
Croatia vs. Brazil, 18:00
Netherlands vs. Argentina, 22:00
Saturday, December 10
Morocco vs. Portugal, 18:00
England vs. France, 22:00
Semifinals
Tuesday, December 13
Argentina vs. Croatia, 22:00
Wednesday, December 14
France vs. Morocco, 22:00
Third-place match
Saturday, December 17
Croatia vs. Morocco, 18:00
Final
Sunday, December 18
Argentina vs. France, 18:00