While injury woes have been the story of Bianca Andreescu's recent career, the newly-minted 21-year-old has forged quite a few memorable moments for a player who's only really been a top-tier star on the WTA Tour for a little over two years.
It was spring 2019 when the affable Canadian burst onto the world stage by storming her way through all challengers at Indian Wells, before also claiming the Rogers Cup and U.S. Open titles later that year.
Her 2020 season was completely derailed by injuries, and this year has seen a bout with COVID-19 added to the list of ailments that have kept her off the court more often than not.
Even among the frustrating injury layoffs, Andreescu has shown in spells this season why she's a force of nature when healthy. And with the rest of 2021 still to come, a rested and motivated Andreescu will pose a threat to every woman on the circuit.
To remind the tennis world just how good the Mississauga, Ont., native can be when she's on her game, here's a look back at the 10 best wins of her career so far:
10. Andreescu vs. Buzarnescu
2021 Australian Open - First round
6-2, 4-6, 6-3
As noted, Andreescu missed all of 2020 due to injury. No one knew how she would look after such a long layoff, but she put all doubts to rest with a convincing three-set first-round victory over veteran Mihaela Buzarnescu at the Australian Open earlier this year.
It wasn't perfect — Buzarnescu was allowed back into the match after a dominant opening set by Andreescu — but the Canadian showed that she was still capable of competing at a high level while shaking off a considerable amount of rust.
9. Andreescu vs. Pegula
2019 Oracle Challenger Series - Final
0-6, 6-4, 6-2
This win brought Andreescu her first professional title — albeit at a WTA 125K event — and provided a glimpse of her soon-to-be-trademark grit as she fought back from a 0-6 first set to defeat Jessica Pegula. She'd go on to claim several more comeback victories later in her career — some even on this list.
8. Andreescu vs. Hsieh
2019 ASB Classic - Semifinal
6-3, 6-3
Another early example of brighter things to come, Andreescu made light work of Taiwan's Hsieh Su-wei on Jan. 5, 2019, to reach the first WTA Tour final of her burgeoning career.
A still very raw Andreescu smashed four aces but also committed five double-faults in the victory, breaking Hsieh on four of nine opportunities.
7. Andreescu vs. Sakkari
2021 Miami Open - Semifinal
7-6, 3-6, 7-6
Toughness and mental fortitude have defined Andreescu's young career so far, and there's no greater example of this than her semifinal victory over Maria Sakkari in this year's Miami Open. 
Andreescu had to battle for every point against the 25-year-old from Greece, so much so that both of her set victories came via tiebreak. It was an impressive display from a player who had barely seen any consistent action on the court for well over a year up to that point, and was the fourth straight three-set victory for Andreescu at the South Florida event.
6. Andreescu vs. Bouchard
2019 Rogers Cup - Round of 64
4-6, 6-1, 6-4
On the way to her second WTA Tour title of the year, the 2019 match-up between Andreescu and fellow Canadian Genie Bouchard felt like a passing of the torch.
Bouchard was Canada's best-known player after a stellar run to the 2014 Wimbledon final, but her career never really reached the heights that seemed inevitable just a few years earlier. Still just 25 at the time, Bouchard claimed the first set against Andreescu before being steamrolled by her younger opponent in the second.
The deciding set was much closer, but Bouchard wasn't able to match her compatriot's aggressiveness and superior return game.
5. Andreescu vs. Rus
2019 Fed Cup World Group II
6-4, 6-2
Still just 18 at the time, Andreescu had already ascended to become Canada's biggest weapon in Fed Cup play, and — after sweeping past Richel Hogenkamp in straight sets — the then-teenager made quick work of Arantxa Rus to lead Canada to an easy victory over the Netherlands and a spot in the World Group playoffs.
4. Andreescu vs. Osuigwe
2019 Australian Open - First round
7-6, 6-7, 6-3
By the time the 2019 Australian Open started, it was already a foregone conclusion that Andreescu was going to be a problem. In her first foray into the bright lights of a Grand Slam event, Andreescu faced down fellow youngster Whitney Osuigwe — nearly two years Andreescu's junior — and proceeded to create an early-round classic between a pair of competitors looking to make their mark on the tennis world.
The first two sets went to tiebreaks, with the women claiming one each, before Andreescu pulled away and didn't look back.
3. Andreescu vs. S. Williams
2019 Rogers Cup - Final
3-1 (Walkover)
It was a dream final for Andreescu: Squaring off with her self-professed idol, Serena Williams, in Andreescu's hometown tournament. With the crowd cheering her on, Andreescu was set for a battle of the ages against the G.O.A.T., but Williams had to retire early in match due to injury concerns.
It likely wasn't the way Andreescu would've wanted her first final against Williams to go, but she'd have the opportunity for a fuller experience just a few weeks later.
2. Andreescu vs. Kerber
2019 Indian Wells - Final
6-4, 3-6, 6-4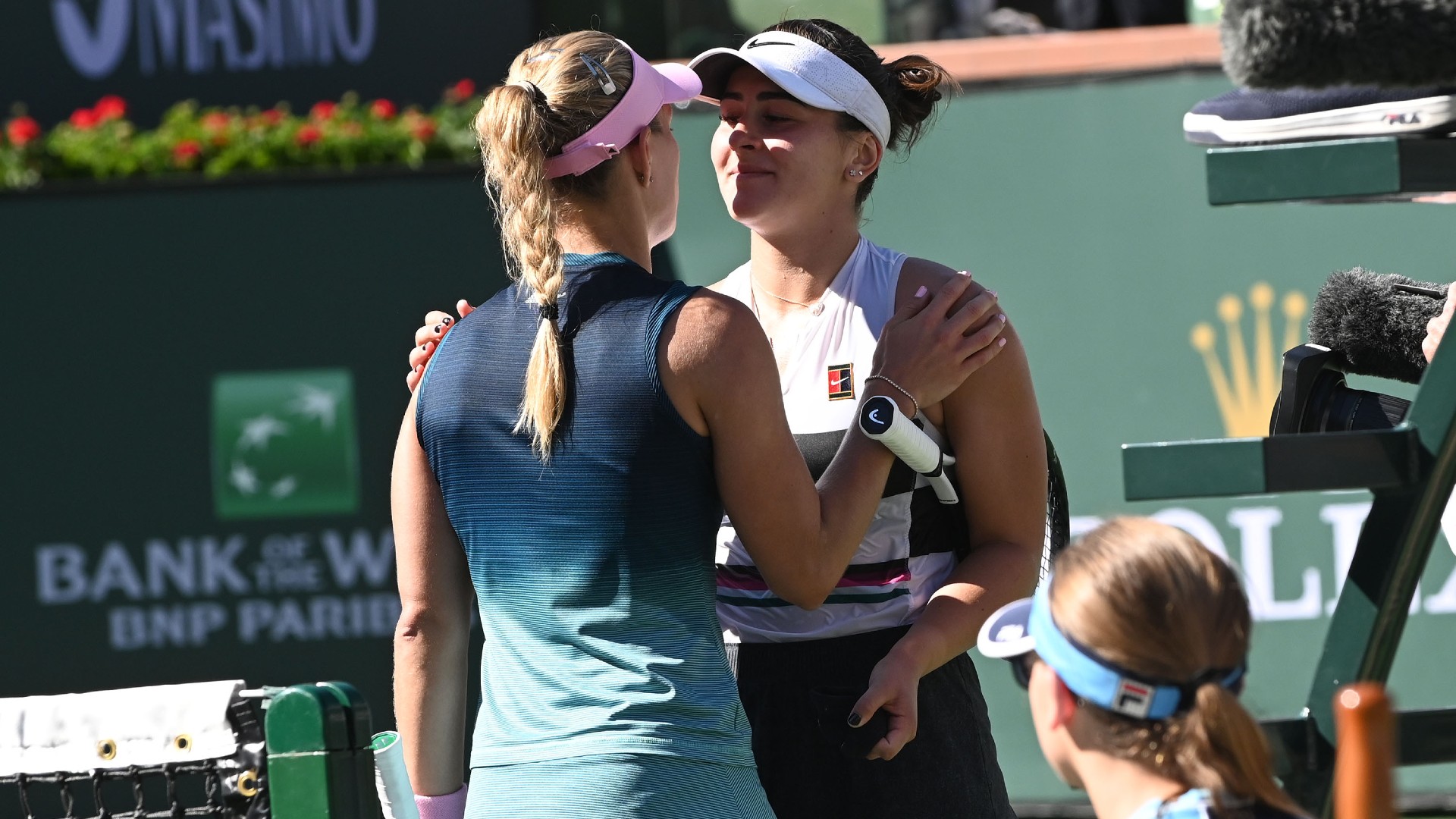 In a classic match-up between a plucky upstart and a decorated, established star, Andreescu faced a stern test in the final of the 2019 Indian Wells Masters. Angelique Kerber is a former World No. 1 and owns three Grand Slam titles, so she was not going to be intimidated by the young Canadian's seemingly endless energy and fight.
Indeed, Kerber battled back to force a third set, eventually falling to Andreescu in a tense match that could have gone either way.
Andreescu's mannerisms apparently got to Kerber — the German called the Canuck a "drama queen" after their next encounter (just six days later in Miami).
1. Andreescu vs. S. Williams
2019 U.S. Open - Final
6-3, 7-5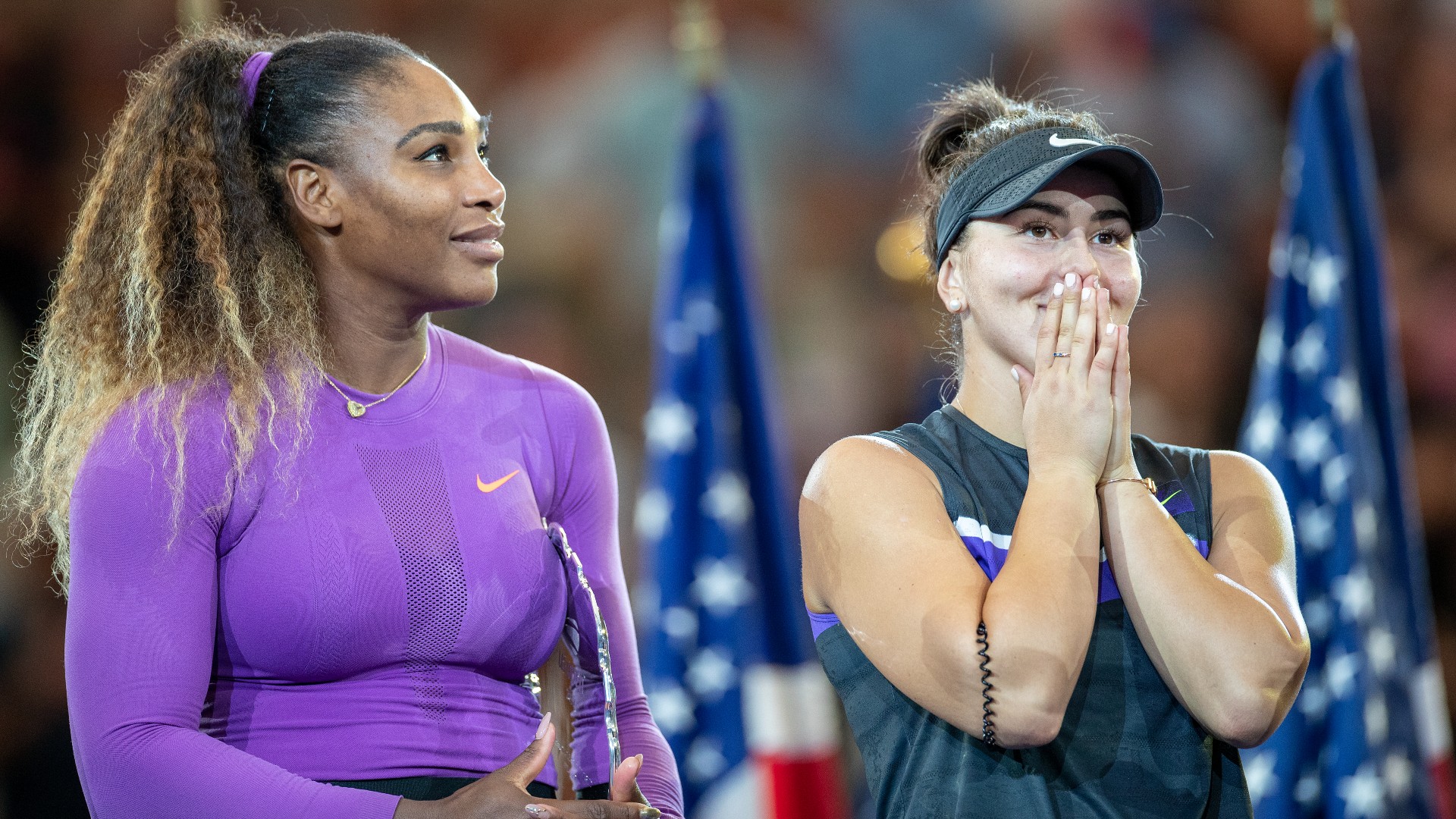 Less than a month after claiming the Rogers Cup title in a walkover against Serena Williams, Andreescu once again found herself opposite the legendary American. This time, though, there were no injury concerns as the pair went toe-to-toe over two sets, during which Andreescu matched Williams' power and finesse.
In the end it wasn't really much of a contest at all, as Andreescu outplayed her famed opponent from start to finish to claim her first (and only) Grand Slam title in style.