The marquee game of the NFL goes down on Sunday, Feb. 7, at Raymond James Stadium in Tampa as the hometown Tampa Bay Buccaneers meet the Kansas City Chiefs in Super Bowl 55.
The Chiefs (17-1) made it back to "The Big Game", dispatching the Buffalo Bills 38-24. Patrick Mahomes led the way going 29 of 38 for 325 yards, along with three touchdowns. Travis Kelce was the frequent recipient of those completions, as he caught 13 balls for 118 yards and two touchdowns to help the Chiefs advance to their second consecutive Super Bowl as they look to win back-to-back championships. 
The Buccaneers (14-5) had to win three playoff games on the road to make their first Super Bowl since winning it all in 2003. Tom Brady, who will appear in his tenth Super Bowl, got the Bucs past the Packers, 31-26. Brady went 20 of 36 for 280 yards, with three touchdowns and three interceptions.
The Chiefs and Bucs met in Week 12, with the former escaping the "Sunshine State" with a 27-24 victory. 
Can Brady win the Lombardi trophy for the seventh time? Or does Patrick Mahomes dethrone Brady and capture his second in a row?
Here is everything you need to know about Super Bowl 55.
When is Super Bowl 55?
Date: Sunday, Feb. 7, 2021
Kickoff time: 6:30 p.m. ET
For the third time in history, the Super Bowl will be played on Feb. 7. It's the latest the NFL's big game has been scheduled, and the 2021 installment joins Super Bowl 50 (Panthers vs. Broncos) and Super Bowl 44 (Saints vs. Colts) as those that were played on that date.
How to watch Super Bowl 55
U.S.: CBS                      
U.K.: BBC One, Sky Sports and NFL Game Pass
In the United States, Super Bowl 55 can be watched on CBS with Jim Nantz and Tony Romo on the call.
Then across the pond, people can watch the game on BBC One, Sky Sports (pay a fee) or NFL Game Pass (also a fee). 
More details about how to watch in other countries can be found at NFL.com. 
Where is Super Bowl 55?
Tampa wasn't supposed to host this edition of the Super Bowl — Raymond James Stadium was voted on by NFL owners as an alternative to LA's new SoFi Stadium, which was originally selected but will instead host Super Bowl 56.
In looking for a relatively last-minute replacement, the league turned to an old reliable city as Tampa has hosted four previous Super Bowls. This edition will be the third to be played at Raymond James Stadium, following Super Bowls 35 (2000) and 43 (2008).
The 65,618-seat stadium can be expanded to 75,000. It opened in 1998 and underwent a $100 million renovation that was completed in 2018.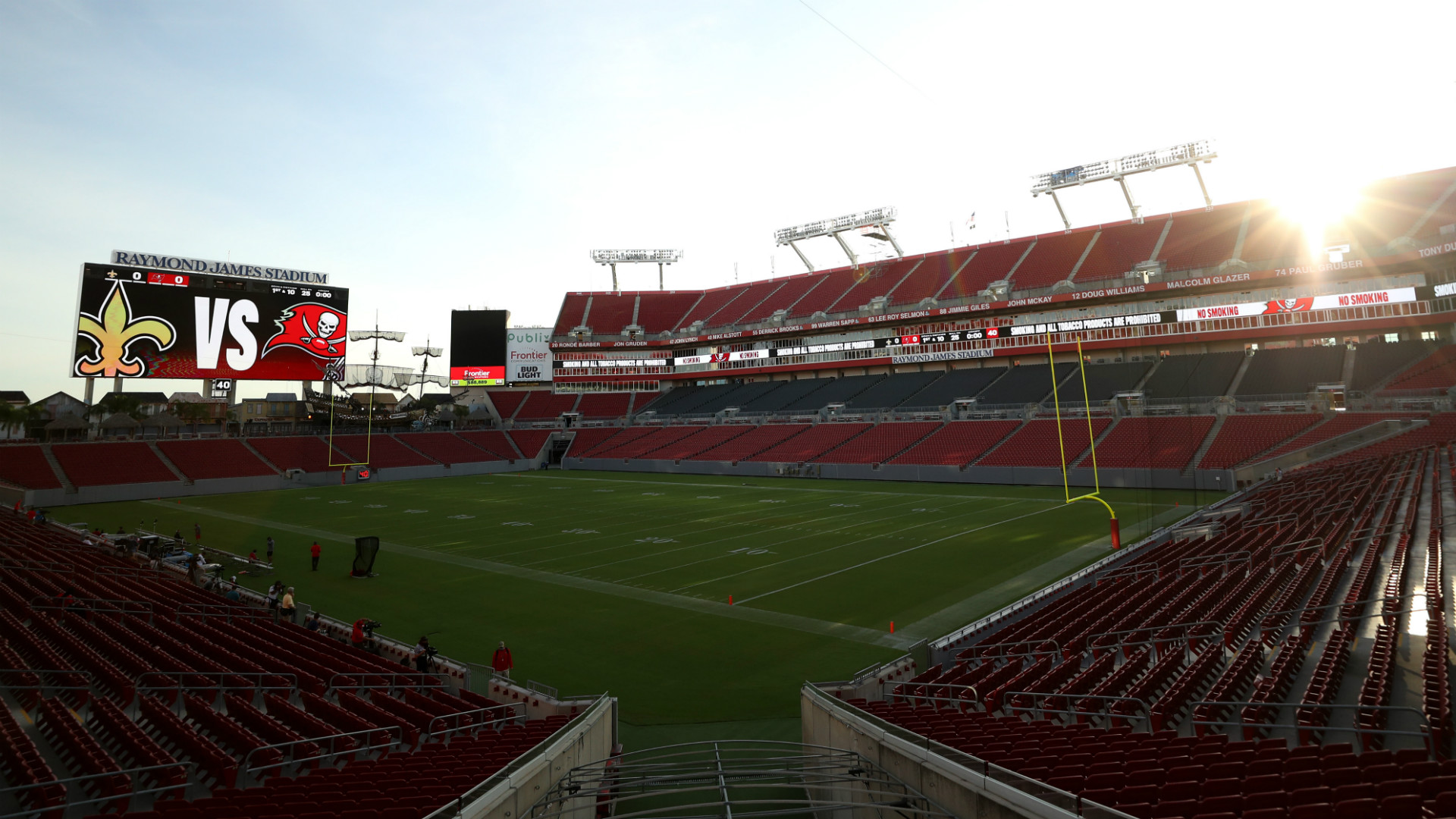 According to the Raymond James Stadium website, the renovated venue has "the most advanced HD video system in use today." With 31,000 square feet of video display space (two 9,600 square-foot boards at the north and south end of the stadium, plus 2,300 square-foot tower walls), it ranks as the third largest video board system in the NFL.
The sound system has over 400 speakers throughout the stadium, providing 750,000 watts of power.
Super Bowl 55 odds
BetMGM has the Chiefs as 3.5-point favorites to defend their crowns over the Buccaneers. The over/under opening is at 57.5 points.
Odds are, as always, subject to change.