Special offer: KSI vs. Joe Fournier is the best value directly on DAZN.com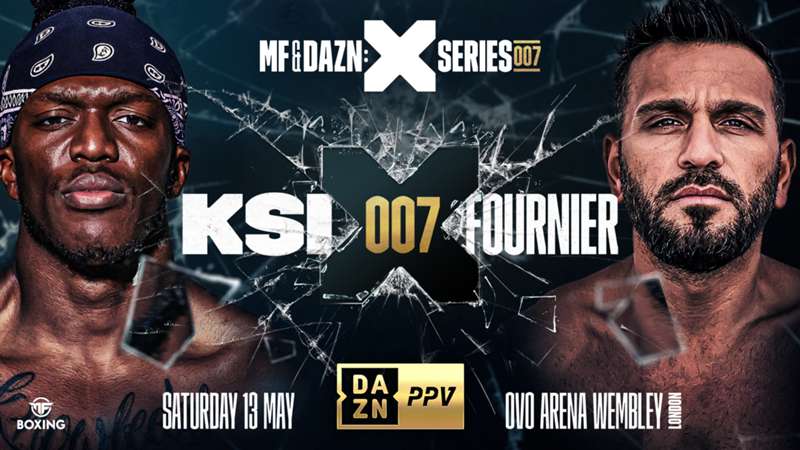 DAZN
DAZN has a huge fight this weekend as KSI takes on Joe Fournier this Saturday.
DAZN gives new subscribers a special time-limited introductory offer only directly on DAZN.com 
PPV priced at £19, plus one month's subscription to DAZN, available for £0.99 for a limited time only when purchased with the PPV directly on DAZN.com 
Full KSI vs. Joe Fournier undercard announced and to be broadcast globally on DAZN 
The full card for Saturday's mega event between KSI and pro boxer Joe Fournier has been confirmed. The co-main event features Deji, who is making his first appearance in the ring after losing to Floyd Mayweather late last year, and Swarmz, who lost to KSI in X Series 001.  
The event will be broadcast live from Wembley Arena (London, England) on DAZN and DAZN PPV worldwide this Saturday, 13 May 2023, from 17:00 BST (12:00 EDT) with the main card expected to take place at 21:40 BST (16:40 EDT).  
In the UK, the pay-per-view (PPV) is priced at £19 as an add-on to the DAZN subscription. DAZN is offering new subscribers an incredible introductory deal that prices the PPV plus one month's access to DAZN's full service at just £19.99, representing a significant discount to the standard monthly subscription.
See below for full details of how to purchase the fight and pricing for global markets.   
Full card details and running order for Saturday (all times subject to change):   
Little Bellsy vs. Lil Kymchii (19:15 BST) 
Viruzz vs. DK Money (19:30 BST) 
Tennessee Thresh vs. Paigey Cakey (20:15 BST) 
Salt Papi vs. Anthony Taylor (20:35 BST) 
Deji vs. Swarmz (21:00 BST) 
KSI vs. Joe Fournier (21:40 BST) 
HOW TO PURCHASE AND WATCH KSI VS. JOE FOURNIER IN THE UK 
For existing subscribers, open DAZN and click on the tile on the home screen or visit My Account within the DAZN app to purchase the fight.  
For new customers, the easiest and cheapest way to purchase the PPV is to: 
This mega event will also be available to purchase on Virgin Media set top boxes, on the newly launched DAZN PPV channel on Sky 495, and through the DAZN app which can be downloaded on Smart TVS, including Samsung, LG, Sony and Panasonic, and on Games Consoles, including Playstation and Xbox. Subscribers also have access to DAZN on their Amazon Fire TV, Amazon Fire TV Stick, Google Chromecast and Apple TV and can find the app on their iPhone, iPad, android and mobile devices.    
Please note, however, that the best value for new subscribers is to buy the PPV directly on DAZN.com as the deal is not available on other platforms, only as a direct customer who follows the four steps detailed above.  
The event will be broadcast around the globe: 
KSI vs. Fournier will be live on DAZN PPV markets around the world including in the USA ($19.99) CA (C$19.99), AUS (AUD $14.99), NZ (NZD $14.99), NLD (€9.99), MEX (M$ 180), FR (€9.99), SWE (kr 105), DEN (kr 35), NOR (kr 50), FIN (€9.99) and BR (R$ 49.90) plus a month's subscription to the DAZN service.