Trainer defends Daniel Dubois over 'quit' claims; Hearn says Warren rushed him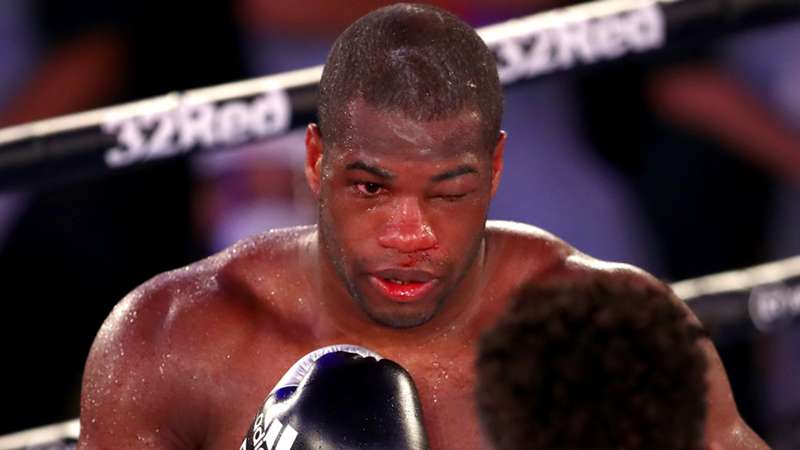 DAZN
Daniel Dubois' trainer defended his fighter after he took a knee and conceded his fight with Joe Joyce on Saturday.
Joyce took the European, British and Commonwealth heavyweight belts with the victory after Dubois decided he could not continue after suffering an eye injury.
It was later confirmed that the 23-year-old Londoner had suffered an orbital fracture during the fight, as well as suspected nerve damage. The repeated blows to his left eye also resulted in swelling that prevented him from seeing out of it.
Several fighters including David Haye, Carl Frampton and Dillian Whyte suggested that Dubois had "quit" and criticised his determination, but trainer Martin Bowers disagreed.
Speaking to 5 Live Boxing, Bowers said: "What do we want to see, a kid lose an eye?
"Going into the 10th round I said we had three rounds left in the fight and one left in the eye," he said.
"The next round, come what may, I was pulling him out.
"As I'd said it, I turned round and Daniel was on his knee. I could see it wasn't there. It wasn't not there because he didn't have any bottle. People who say that are twisted and wrong."
Bowers praised Dubois, who faced perhaps his first serious pushback from an opponent in his career, which saw him meet Joyce as an undefeated prospect.
He continued: "It's because they are in real fights with real fighters. I was trying to get that across to him: 'Do you want to be one of them and have you got that in you?'
"It's brutal. Boxers who get in the ring are special people. People saying he took a knee is rubbish. I am not having that."
Meanwhile, Matchroom promoter Eddie Hearn joined the chorus of boxers who believed Dubois had given up.
Speaking on an Instagram broadcast, he said: "I think it was about the fourth or fifth round I thought, 'He don't fancy this'. He went to the corner and the corner team were saying things like, 'Come on! This is the fight game!'
"I thought, 'Calm down, it's only the fourth round.' And I think they just knew he was mentally weak. I'm not sure?
"Do you know what, I always feel like it is difficult for a non-fighter to say to a fighter he quit," he added.
"I think you have to look at what the fighters are saying. Every fighter says Dubois quit. So I guess, in boxing terms, yes."
Hearn suggested that Dubois' promoter Frank Warren had failed the heavyweight by rushing him into a top-level fight without allowing him an intermediate step up. 
"I think it will be very difficult to come back from that but, at the end of the day, I think they rushed him. I thought they matched Dubois really poorly coming through.
"Sam Jones was right; they never gave him that middle fight. They went from English title level to world top 15, because that is what Joe Joyce is."