How to watch PFL regular season events on DAZN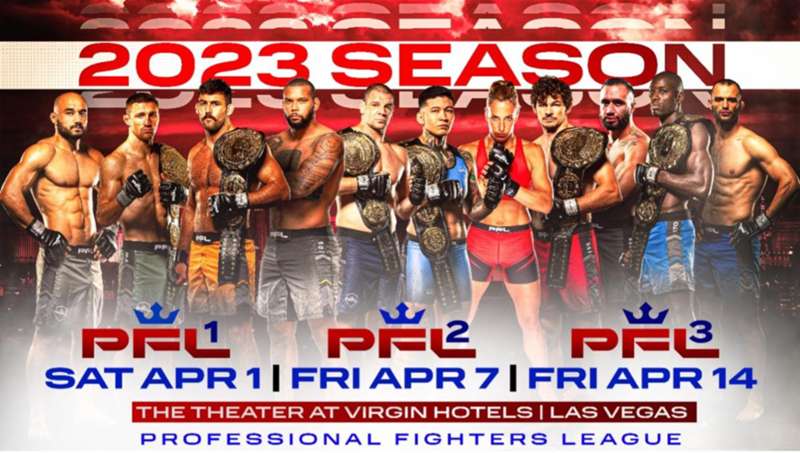 PFL
The Professional Fighters League kicks off its 2023 regular season schedule with three events in April.
Things get underway on Saturday, April 1 at The Theater at Virgin Hotels Las Vegas and continue at the same venue on each of the two subsequent weekends as elite fighters from around the world start their journey towards the six $1 million winners' prizes.
Here's the schedule for the first three events of the regular season, plus where you can watch on DAZN.
PFL regular season: April schedule
PFL 1 – April 1, 2023 
Main: Brendan Loughnane vs. Marlon Moraes (FW)
Co-Main: Robert Wilkinson vs. Thiago Santos (LHW)
PFL 2 – April 7, 2023 
Main: Ante Delija vs. Yorgan De Castro (HW)
Co-Main: Larissa Pacheco vs. Julia Budd (WFW)
PFL 3 – April 14, 2023 
Main: Olivier Aubin-Mercier vs. Shane Burgos (LW)
Co-Main: Sadibou Sy vs. Jarrah Al-Silawi (WW)
Where to watch main PFL events on DAZN: Full list of countries
Viewers can watch PFL on DAZN in the following countries:
Europe
United Kingdom (including all territories), Ireland, Spain, Germany, Italy, Greece, Portugal, Austria, Belgium, Switzerland, Albania, Tajikistan, Andorra, Turkey, Armenia, Turkmenistan, Azerbaijan, Ukraine, Belarus, Uzbekistan, Bulgaria, St Pierre & Miquelon, Czech Republic, Faroe Islands, Georgia, Gibraltar, Greenland, Guernsey, Hungary, Israel, Jersey, Kazakhstan, Kyrgyzstan, Malta, Slovakia, Denmark, Finland, Norway, Sweden, Estonia, Latvia, Lithuania, Netherlands, Poland and Iceland
APAC
Cambodia, Timor, Micronesia, Fiji, Indonesia, Japan, Kiribati, Laos, Macau, Malaysia, Marshall Islands, Mongolia, New Caledonia, Samoa, Singapore, Solomon Islands, Taiwan, Thailand, Vietnam, Philippines, New Zealand
Caribbean
Saint Martin
What devices are supported on DAZN?
DAZN is available on web browsers at DAZN.com (except Argentina, Chile and Colombia) and also has apps available for all of the following TV and streaming devices:
| | | |
| --- | --- | --- |
| iPhone, iPad | Amazon Fire TV | Playstation 4 |
| Android phones, tablets | Amazon Fire TV Stick | Playstation 5 |
| Amazon Fire tablet | Android TV | XBox One |
|   | Apple TV | XBox Series X | S |
|   | Google Chromecast |   |
|   | LG Smart TV, Smartcast |   |
|   | Panasonic Smart TV |   |
|   | Samsung Smart TV |   |
|   | Sony Smart TV |   |