IMPACT Wrestling on DAZN: How to watch, what's on, list of TV shows and events available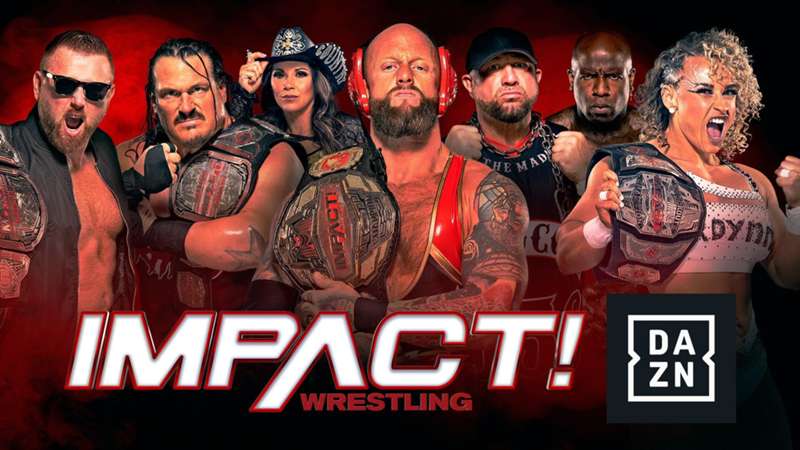 DAZN
IMPACT Wrestling, the popular pro wrestlng company that has provided sports entertainment for over 20 years, has joined DAZN, the sports streaming service, in an exciting partnership for all fans of combat sports and entertainment.
The deal means the latest weekly episodes of IMPACT television will be available on the app, as well as annual special events and more, plus a selection of archive content featuring legendary names such as Sting, Kurt Angle, AJ Styles, Samoa Joe and more.
Here's the rundown on where you can watch IMPACT on DAZN, what's on and more.
Tip: Press ctrl/command + F to search for your country by name, to quickly discover if it appears in any exclusions.
Can I watch IMPACT on DAZN in my country?
The great news is that IMPACT Wrestling will be available in most parts of the world, including countries with big IMPACT fan followings such as the UK, Ireland and Canada!
For a rundown of which countries will not have IMPACT on DAZN, please see below.
IMPACT on DAZN: Excluded countries
IMPACT has signed a deal with DAZN worldwide, except for the following countries: 
United States, India, American Samoa, Angola, Bangladesh, Benin, Bhutan, Botswana, Burkina Faso, Burundi, Cameroon, Cape Verde, Central African Republic, Chad, Comoros, Congo, Equatorial Guinea, Ethiopia, Gabon, Gambia, Ghana, Guinea, Guinea-Bissau, India, Ivory Coast, Kenya, Lesotho, Liberia, Madagascar, Malawi, Maldives, Mali, Mauritius, Mayotte, Mozambique, Namibia, Nepal, Niger, Nigeria, Pakistan, Rwanda, Sao Tome & Principe, Senegal, Seychelles, Sierra Leone, South Africa, South Sudan, Sri Lanka, St Helena and Ascension Island, Swaziland, Togo, Uganda, United Republic of Tanzania, Zambia, Zimbabwe.
In addition, select countries (including Germany) will be excluded from the deal for the time being due to contractual obligations elsewhere. Please watch this space for updates, if you reside in a country that isn't listed above but nonetheless does not have IMPACT appear on the DAZN app.
Will IMPACT be exclusive to DAZN?
The following countries will be able to watch IMPACT Wrestling exclusively on DAZN:
Belgium, Brazil, Croatia, Czech Republic, Denmark, Finland, Italy, Netherlands, Norway, Romania, Slovakia, South Korea, Sweden.
Everywhere else, IMPACT will be non-exclusive or unavailable on DAZN (see above list of exclusions)
Which IMPACT shows will be on DAZN and when?
DAZN will air:
IMPACT! The weekly flagship television show lands on DAZN the day after it has aired in the United States, except for Armenia, Belarus, Georgia, Kazakhstan, Kyrgyzstan, Moldova, Russia, Tajikistan, Turkmenistan, Uzbekistan and Ukraine, who can watch the episodes seven days after they first air in the US.
Before The IMPACT! The weekly show, which airs just before the main IMPACT! offering in the United States, will also land on DAZN the following day. For this show, that includes the above CIS countries.
IMPACT! in 60: The weekly archive show will also be available each week on DAZN.
Can I watch IMPACT PPV events on DAZN?
All 12 annual specials - including eight events such as Throwback Throwdown and Sacrifice, and four tentpole events - Hard To Kill, Rebellion, Slammiversary and Bound For Glory - will arrive on DAZN seven days after they first air.
Will DAZN show PPV events live in the future?
Watch this space!
Can I watch classic IMPACT! and TNA on DAZN?
Select matches, shows and classic moments from the 20-year-plus IMPACT! archives will indeed be available not only on the DAZN subscription service, but via DAZN social media channels including Twitter and YouTube.
Where can I watch the entire IMPACT/TNA archive on demand?
Check out iMPACT's own service, IMPACT Plus, for full unrestricted access to the 20-year-plus archive.
What else can I watch on DAZN when I sign up for IMPACT?
Depending on where you are, DAZN provides subscribers with a host of live boxing, MMA and professional wrestling each month, as well as top-level soccer, American football, tennis, motorsports and more in select markets.
In Canada, home of IMPACT's parent company Anthem, you can watch the NFL, UEFA Champions League, WTA tennis and much more, for example.
Not only that, but a host of award winning sports documentaries such as Green Lions, Maradona, The Making Of Canelo and more are joined by archived boxing classics and regular fresh content for sports fans such as The DAZN Boxing Show, The DAZN Soccer Show and 10 Rounds.
Click here to find out more about your country's specific offering.