Philadelphia Eagles exact sweet revenge against Kansas City Chiefs on Monday Night Football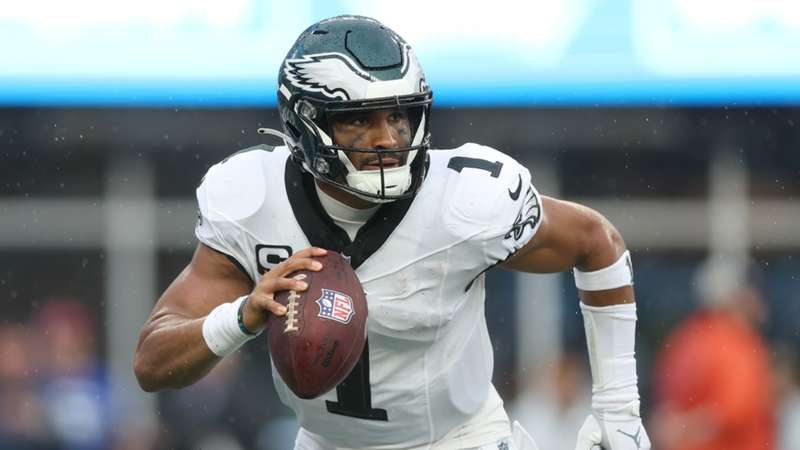 Getty
The Philadelphia Eagles had been waiting to face the Kansas City Chiefs for an opportunity to exact sweet revenge over their Super Bowl LVII loss to Patrick Mahomes and company.
Jalen Hurts and the Eagles made sure to get that retribution as they erased a 10-point halftime deficit by scoring 10 unanswered points in the second half en route to a 21-17 road victory at Arrowhead Stadium on Monday Night Football. Hurts finished with 150 yards passing and two rushing touchdowns.
After pulling within 17-14 of the Chiefs via a seven-play, 61-yard drive — punctuated by Hurts' rushing touchdown — in the third quarter, the dynamic quarterback used the Eagles' vaunted tush-push play in the fourth quarter to get another rushing TD, giving Philly a 21-17 lead.
The defending Super Bowl champion Chiefs would have a chance to win the game late, however, Mahomes' deep pass to Marquez Valdes-Scantling was dropped by the wide receiver despite him beating his man in 1-on-1 coverage and bobbling the ball, before dropping it in the end zone with 1:50 left in the game.
A few seconds later, Mahomes' throw to Justin Watson slipped through the wideout's hands as the Chiefs' league-high 26 dropped passes this season once again reared its ugly head.
With the victory, the Eagles improve to a league-best 9-1 this season, while the Chiefs fall to 7-3.
Here's how the entire Chiefs-Eagles' Monday Night Football game went.