Alexander Povetkin's promoter challenges Tyson Fury to come and fight in Russia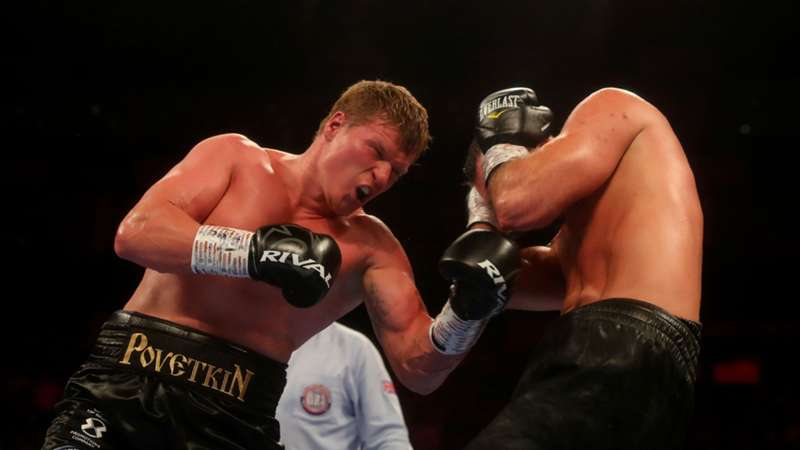 DAZN
It appears Alexander Povetkin (36-2-1, 25 KOs) will indeed pursue mandatory status to the WBC heavyweight championship if he can replicate his win over Dillian Whyte (27-2, 18 KOs) on Nov. 21, and his promoter Andrey Ryabinskiy has pitched the Luzhniki Stadium in their native Russia for a potential challenge of current champion Tyson Fury (30-0-1, 21 KOs).
Povetkin's stunning knockout of Whyte at the fourth and final Matchroom Fight Camp card in August led to a swift use of the fight contract's rematch clause by Whyte and his promoter, Eddie Hearn.
The Londoner was the WBC's mandatory challenger heading into the contest, but the sanctioning body are now awaiting the result of the rematch before confirming a mandatory for after Fury's trilogy fight against Deontay Wilder, currently being discussed for a date in December.
Ryabinskiy confirmed to Sky Sports that they have every intention of pushing for that title fight as soon as possible if the 41-year-old Povetkin can repeat his success against "The Body Snatcher".
"We will work in this direction," said Ryabinskiy. "The fight for the world title is a big event in the career of any fighter, and with every reason for this, of course we will seek a mandatory defence from the WBC."
The massive Luzhniki Stadium in the Russian capital of Moscow can hold up to 80,000 spectators, and even with the current COVID-19 restrictions, could allow for more socially-distanced ticket-buyers than many more traditional boxing venues.
Ryabinskiy said of stadium, which also hosted France's World Cup final victory in 2018: "Why not? This is one of the possible locations.
"If such a fight takes place, it will really become an event in the boxing world, no matter where it takes place: in Russia or in any other country in the world."
Fury will be the solid favourite in fight three against Wilder after stopping the American in the seventh round of fight two in February. Their first encounter ended in a draw.
And though it remains to be seen if Fury retains the WBC title when the trilogy is finally set in stone, Ryabinskiy reiterated a message from Povetkin himself confirming his desire to test himself against "The Gipsy King".
The promoter said: "You know, Sasha [Povetkin] has a very simple answer to this: 'Champion, you say? Hadn't lost yet? Does everyone consider him the strongest in the division? Then, of course, I want to box with him!'"
And though Povetkin is the oldest fighter near the top of the heavyweight ranks, Ryabinskiy refuses to rule out additional big fights after the Whyte rematch and a potential title fight with Fury.
"I'll say it again: Sasha is only happy to box with the strongest opponents," he said. "The rematch with Joshua will certainly be interesting for him.
"And with Wilder he has a long history. Some time ago the fight did not take place. If it takes place now, it will be interesting."