Deontay Wilder makes Oleksandr Usyk vs. Anthony Joshua prediction - 'You never know'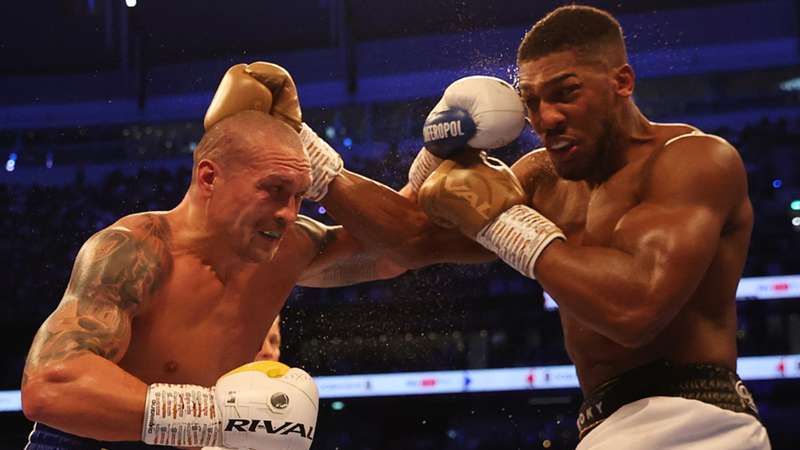 Matchroom Boxing
Deontay Wilder has backed Oleksandr Usyk to successfully defend his belts against Anthony Joshua this weekend.
The heavyweight pair fight on Saturday in Jeddah, Saudi Arabia, in a much-delayed rematch following their first fight in 2021.  The 34-year-old Ukrainian was the convincing winner in North London and is now the favourite for the second fight.
Wilder meanwhile is beginning his comeback from his most recent title fight, when he failed to win back the WBC belt from Tyson Fury in October last year.
"It's been a long journey for me and as of today it continues," he told the PBC Podcast.
"I thought so many times about whether I should stay out of the business or come back.
"Once I got my statue in my hometown and saw so many people arrive and celebrate with me and my family, to see all the emotions, grown men crying in front of their children and saying, 'He is a real true king,' made me feel like my job is not done.
"So, here I am once again, looking forward to returning to the ring.
"So where all my Bombzquad people at? It's time to put on your war gear. And let's go to work, baby. Bombzquad is back."
Wilder has now set up a fight with Finnish heavyweight, Robert Helenius.
Looking back to the Fury fight, Wilder said: "It was a good fight while it lasted. It was a great time.
"Fighters, we risk our lives for others' entertainment and that night we just got a lot of entertainment for everybody."
Turning his attention to Usyk vs. Joshua, the Bronze Bomber explained: "My heart says Usyk easily, he's got the momentum now," Wilder said as he gave his opinion.
"But this is boxing and you never know.
"I wish them the best of luck and hope they get out of the ring just like they came in – safe and sound."