Deontay Wilder's rematch clause against Tyson Fury expired in October, says Bob Arum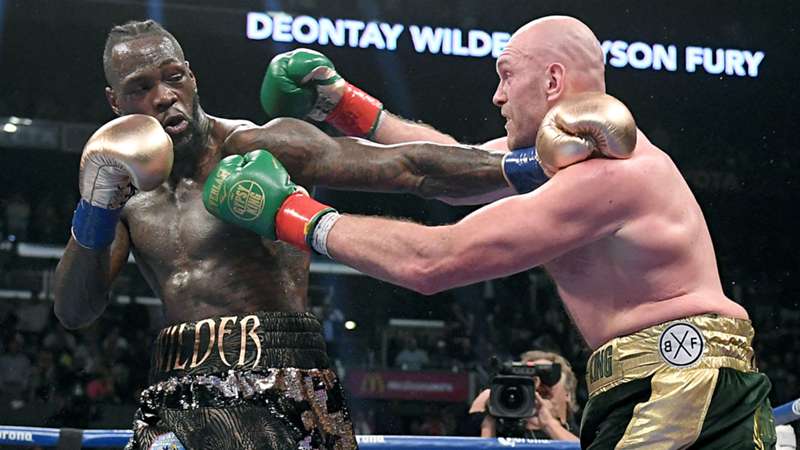 DAZN
Bob Arum has confirmed that Deontay Wilder's contractual right to a rematch with Tyson Fury is no longer valid, though the former heavyweight champion is continuing to explore his legal avenues.
Fury took Wilder's WBC title in February with a seventh-round stoppage win. It was the second fight between the pair, with Fury somehow peeling himself off the canvas late in the first match to avoid a knockout and salvage a draw.
A big trilogy fight was envisioned by Arum and all concerned when the papers for the rematch were signed. However, the Brit's emphatic success led to some wondering if there was much point going through with the third.
Nonetheless, Wilder invoked the rematch clause with little hesitation, only for the COVID-19 pandemic to compel Arum and Frank Warren to sit tight and wait until they could once again sell tickets. Ultimately, a December fight in Las Vegas for a limited crowd also fell through.
In an interview with Marc Gatford for Betway Insider, Arum provided an update on the Wilder situation, and compared the complaints made by "The Bronze Bomber" about that fateful second Fury fight to the rants of soon-to-be-ex-President, Donald Trump.
"The contract says Wilder's rights ran out at the end of October and I really believe that contract displays clearly that Wilder does not have a claim for a third fight," explained Arum.
"Wilder had some surgery but that was taken care of in the contract, a 90-day delay from the date of the proposed rematch in July — and that has ran out.
"It's one thing to bring a claim and it's a second thing to be successful. I believe that Wilder has no rights any longer for a third fight and therefore his claim will be denied. But I can't stop them from thinking otherwise and taking it to litigation.
"But I think we'll have a resolution on December 12. If Joshua is beaten and is then unavailable, I'll have a talk with Tyson as to whether he wants to pursue a fight with Wilder."
Indeed, if Joshua retains his titles at the SSE Arena, Wembley, he and Fury are likely to begin immediate negotiations alongside Arum, Warren and Eddie Hearn. 
However Arum has been in the game long enough to know that in boxing, plans can change in a flash. And so he will wait and see what happens before completely ruling out the WBC champ voluntarily revisiting the Wilder trilogy in 2021.
"It's all on hold, we are going to see what happens with Pulev," Arum continued. 
"If Pulev beats Joshua there's no Joshua fight for Tyson Fury because Joshua has a rematch clause. At that point, Fury is out there looking for opponents and I'd think the best available opponent would be Wilder.
"But it's up to Fury to decide. Wilder has said some weird, Trumpian things that make no sense — he sounded like Donald Trump! Fury took offence and rightly so. If Joshua is not available, Fury will have to decide whether to overlook his remarks and go with a Wilder fight — that's up to Tyson Fury."