Devin Haney lines up fight plans for after the coronavirus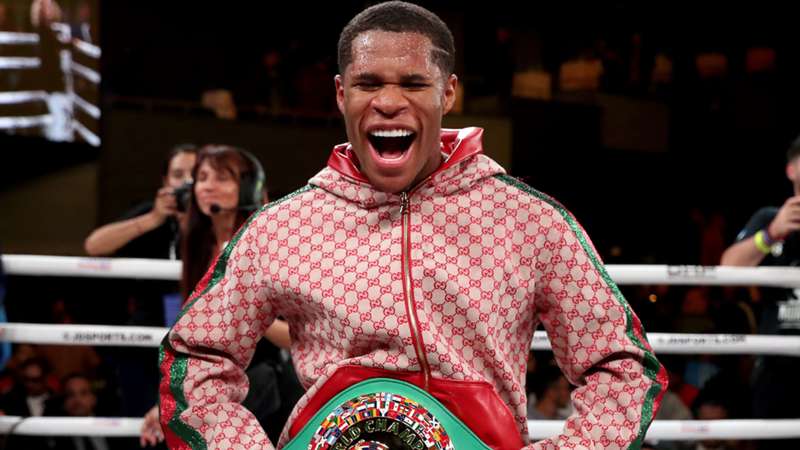 DAZN
The coronavirus outbreak has sports — not to mention the world — at a standstill, but that isn't stopping Devin Haney from laying out his plans for when the global pandemic subsides.
The WBC lightweight "champion in recess" took to his Twitter account earlier in the week and said he intends to face mandatory challenger Javier Fortuna once there's a handle on the spread of COVID-19.
Haney (24-0, 15 KOs) scored a unanimous decision over Alfredo Santiago in November, but he injured his shoulder during the bout and had surgery the following month. The WBC stripped him of the title due to the injury, and Luke Campbell vs. Fortuna was set for the vacant world title on April 17, although the coronavirus outbreak has postponed that fight. The WBC also designated Haney as its "champion in recess," which means he'll be granted an immediate shot at the vacant strap once he's healthy to get back into the ring, as reported by ESPN. How the messy situation between Campbell, Fortuna and Haney gets clarified remains to be seen.
"The Dream" had previously been eyeing early summer for his next fight, but that projection is currently pending on the coronavirus pandemic.
In the meantime, Haney has never felt better according to his Instagram account, in which he wrote "I'm stronger & faster than ever."
An even sharper Haney would be a scary force to deal with, considering how brilliant he has already been. The 21-year-old had four victories in 2019, highlighted by pounding Zaur Abdullaev to a corner stoppage after the fourth round in September to win the WBC lightweight title and then defending the strap in his win over Santiago less than two months later.
Following Ryan Garcia's first-round KO of Francisco Fonseca last month, Haney pressed Garcia and called him out for a potential fight in the near future.
"Let's make it happen. When can we make it happen?" Haney told Garcia directly to his face.
Garcia responded: "We're good fighters. Let's f—ing fight."
The 30-year-old Fortuna (35-2-1, 24 KOs) is coming off a second-round TKO of Jesus Marcelo Andres Cuellar in November.