Devin Haney vs. Regis Prograis: Which champion would win?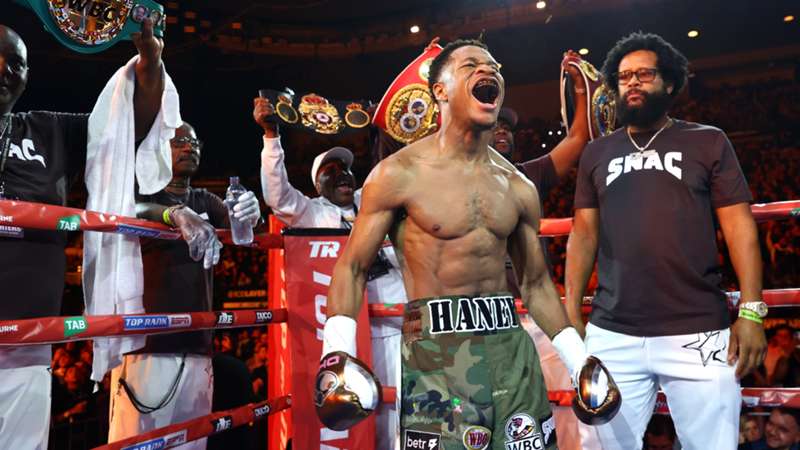 GettyImages
Sergio Mora believes that Regis Prograis would have the edge over Devin Haney should they fight.
Haney's last fight was a close win over former unified champion Vasiliy Lomachenko, and after two fights to defend his undisputed status at lightweight, there is mounting speculation that he will move up a division.
Prograis fights this weekend against Danielito Zorilla, live on DAZN, and should he get past that to retain his WBC strap at 140lbs, then a fight between Haney and the incumbent could be made.
Speaking to the DAZN on JABS, former world champion Mora told Chris Mannix that he believes 34-year-old Prograis, as the bigger man, would be the likely winner.
He said: "Putting me on the spot, I'd have to say right off the bat, Regis Prograis. He's a natural 140-lber, smart, strong southpaw. 
"The power's there, the style's there, the hunger's there, and ever since losing that fight [in 2019 to Josh Taylor], Prograis has gone on four straight wins, four by knockout. The power is the deciding factor here and Haney has already been shook at 135. If he steps up, five pounds difference, it's going to be a big difference against a monster like Regis Prograis.
"Let's go back to the Lomachenko, he took a lot of stuff for that, but you've got to remember Lomachenko is a smaller fighter, older fighter, coming up, so he made it that close, a smaller fighter, a natural 126-lber, against the best, the elite in Devin Haney, in a fight a lot of people think Lomachenko won - including myself - then how are you going to figure Haney moving up another division against a legitimate power puncher in Regis Prograis, that's when you have to weigh up the factors.
"And Prograis is four and 0, four knockouts since that fight, so he's believing in his power. Age doesn't matter because he hasn't physically been beaten, nor has Haney.
"It's a prime fight. I don't think moving up is avoiding Shakur Stevenson. Everyone is going to be avoiding Stevenson, it's the wrong style for everyone. Haney became undisputed by fighting one fighter pretty much, George Kambosos. But at 140lbs, the belts are fractured, and Prograis is one of them and he is a monster.
"When you move up in weight, the chin doesn't gain any muscle. When you're dehydrated, your punch resistance goes down, but if you're moving up to 140 and those others are coming down from 150 and one of them cracks you, how are you going to take that?"