Gervonta Davis makes weight on second attempt as weigh-in issues continue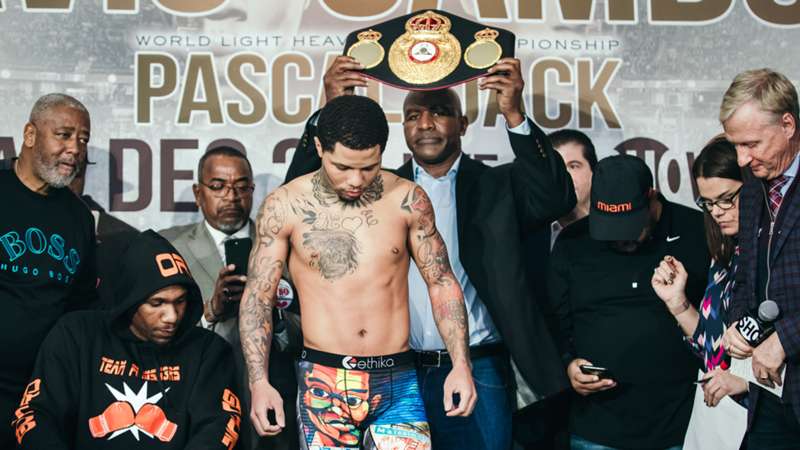 DAZN
Gervonta Davis' issues making weight have followed him in his move up to lightweight.
"Tank" tipped the scale at 136.2 pounds, 1.2 pounds over the 135-pound weight limit, on his first attempt Friday for his fight Saturday night vs. Yuriorkis Gamboa. He then shoved Gamboa during the faceoff, perhaps out of frustration over his weight woes, and nearly sparked a skirmish between the two camps.
The 25-year-old Davis was given an additional two hours to make weight, and he came in at 134.8 pounds on his second attempt. He'll have to pay a fine to the Georgia Athletic Commission but the WBA world lightweight title will remain at stake for the bout at State Farm Arena in Atlanta.
Regardless of how the fight transpires, Davis' trouble making weight seems to be the most serious obstacle in his path to boxing greatness.
In August 2017, Davis registered two pounds over the limit during the weigh-in for his fight against Francisco Fonseca and then declined to make a second attempt after two hours. As a result, he was stripped of his IBF super featherweight title. Davis also failed to make weight on his first attempt for his fight against Hugo Ruiz last February.
Neither of those issues on the scale affected Davis (22-0, 21 KOs) in the ring; he knocked out Fonseca and Ruiz. Boxing fans will find out Saturday how much Friday's weigh-in affected the two-time super featherweight champion in his bid to become a world titleholder in another division.