Heather Hardy and Amanda Serrano patiently waited until they couldn't any longer.
"Come on already, Lou!" Hardy shouted over to their longtime promoter, Lou DiBella, who was wrapping up a call on his cellphone.
DiBella then stood between the two boxers and posed for a photo opp, with the Brooklyn Bridge, East River and New York City skyline serving as the glorious backdrop on this cloudy, but serene Tuesday in Brooklyn.
"Did you have to suck it in?" Serrano teased DiBella, gesturing toward his gut following the photos that were just snapped.
There are plenty of reasons for Hardy and Serrano to be in a buoyant mood during the buildup to their fight for Hardy's WBO featherweight title at the Hulu Theater at Madison Square Garden on Friday, Sept. 13, live on DAZN.
As Brooklyn fighters, they're friends who have sparred each other before and continued to support each other through the years in both boxing and mixed martial arts (Hardy and Serrano have compete in both).
They're each set for the biggest payday in their respective careers for this fight.
And the winner has an agreement in place to face Katie Taylor for what's bound to be an even bigger purse and more eyes on the bout.
All that spells the time being right for the Brooklyn boxers to finally throw hands.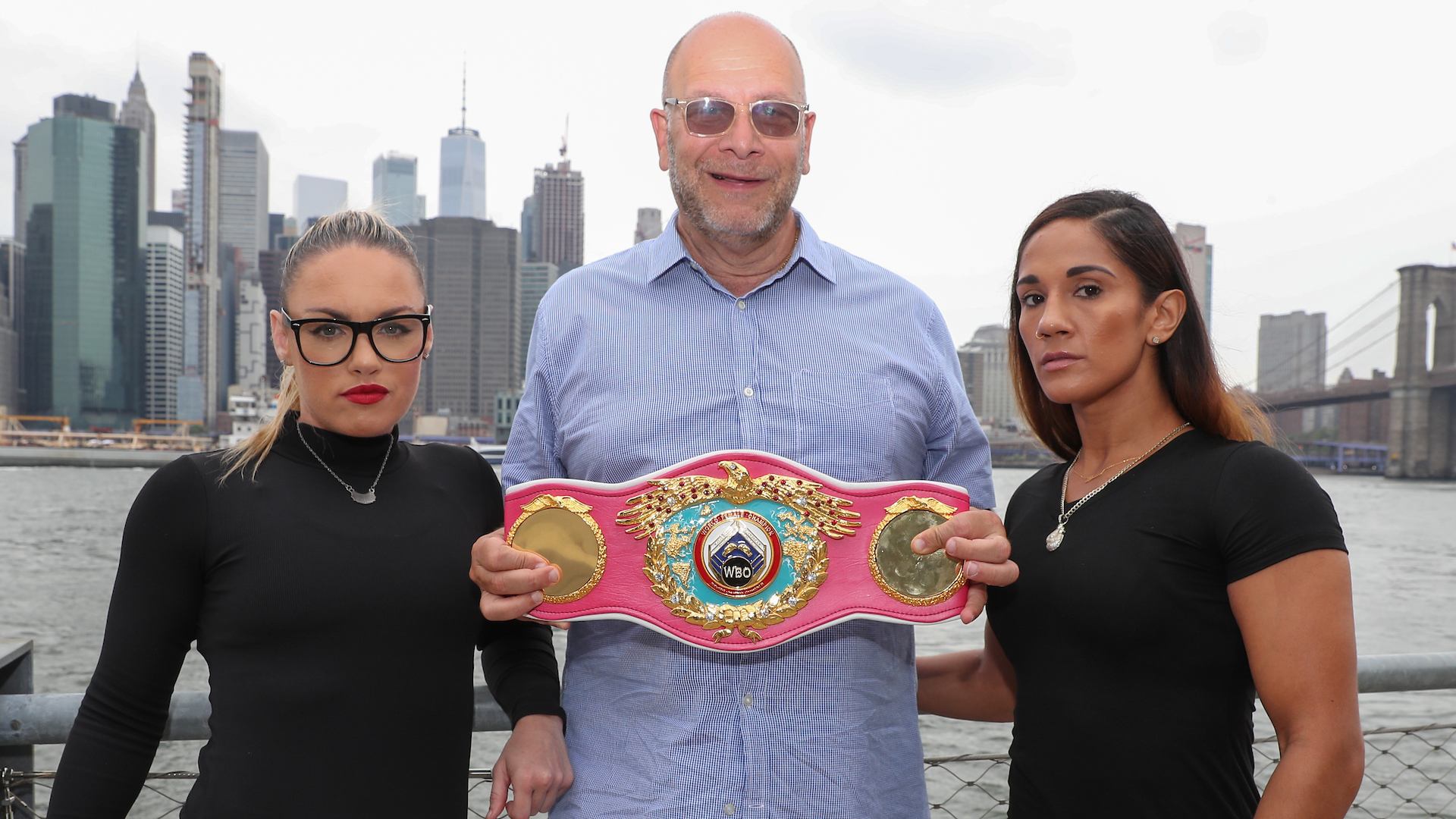 "It had to be for a reason," Serrano tells DAZN News. "For a world title, which she has. A great platform, which we have with DAZN and a good money fight, so it came together and now we're fighting September 13."
Added Hardy to DN during a separate interview: "Her manager Jordan [Maldonado] pretty much said that we're never going to fight each other unless it makes sense, unless it's for money.
"Whoever wins the fight gets Katie next. To me, that's college tuition for my daughter. I'm fighting more for my pride (than) for my belt. I don't even care about the damn title."
Maldonado, Serrano's longtime trainer, says that as much as the timing is finally right for Hardy and Serrano to fight, there's a level of urgency for both of the women as well.
"I know both girls need this," he says. "Heather is 37; Amanda is 30, she's only going to be around for another one or two years left in the sport. If we don't take advantage of this, it's never going to happen.
"This is a huge fight for New York, for Brooklyn," Maldonado continues. "Both girls are going to give it their all. It's unfortunate that we have to fight each other to get that opportunity (against Taylor), but otherwise you don't get that opportunity."
Serrano says she first met Hardy back when "The Heat" was just simmering as an amateur in the Golden Gloves about a decade ago. They've supported each other since, as Hardy (22-0, 4 KOs) went on to become the current WBO featherweight titleholder and Serrano (36-1-1, 27 KOs) the only seven-division world champion in boxing history. More recently, both women have been seguing back and forth between boxing and mixed martial arts, as yet another badge on their respective combat sports resumes.
The two have also sparred together over the years, with both remembering the sessions as being ultra tough.
"We're so much alike," Serrano says. "She doesn't back down and I don't back down. The sparring sessions were never easy. I always had to make sure I was in shape to spar with Heather."
Hardy was impressed as well.
"I felt her power," she says, "and I'm prepared for it now."
Maldonado also remembers the sessions from several years back.
"We sparred maybe three times," he says. "It was a little too brutal, so we had to put an end to it.
"Both girls have improved, both girls are better and there are high stakes, so it's going to be awesome."
As much as fight fans and boxing pundits alike will be eyeing the winner of Hardy vs. Serrano to take on Taylor, the undisputed world lightweight champion, DiBella says this fight Sept. 13 should be celebrated on its own for a couple of reasons.
For starters, both Hardy and Serrano have championed the wage gap being closed between female and male boxers over the years, and their lobbying and diligence has led to their biggest payday to date — albeit against each other.
"I'm happy they're both getting career-high paydays for the fight," DiBella says. "That being said, I wish it was more."
And then, there's the forward fighting styles that each will haul into the ring in exactly one month.
"It's a tremendous matchup of styles," DiBella says. "Heather is a warrior spirit. I've often compared her to the Arturo Gatti and Micky Ward of women. Amanda's got those gaudy credentials — those seven world titles in seven weight classes, always in the pound-for-pound discussions. Heather has worked her way into that list.
"Amanda is a real big mountain to climb and Heather is the reigning champion," he adds, "so this is a sensational matchup."
Before their faceoff photo opps in front of Madison Square Garden and the Brooklyn Bridge on Tuesday, Serrano posted this image of her and Hardy onto her Instagram account with the hashtags "#NotPersonal" and "AllBusiness."
She expounded upon those sentiments Tuesday, when speaking with DN.
"It's never personal. It's business," Serrano says. "If it wasn't going to be me, it's going to be someone else challenging her for the title. She has to defend it. So, why not make it a big thing? Brooklyn vs. Brooklyn. A great fight, a great money fight.
"And trust me … there's not going to be one empty seat at Madison Square Garden."
MORE: Hardy-Serrano part of loaded card with Devin Haney vs. Zaur Abdullaev