Is Oleksandr Usyk or Tyson Fury the lineal champion after the WBC champion retired?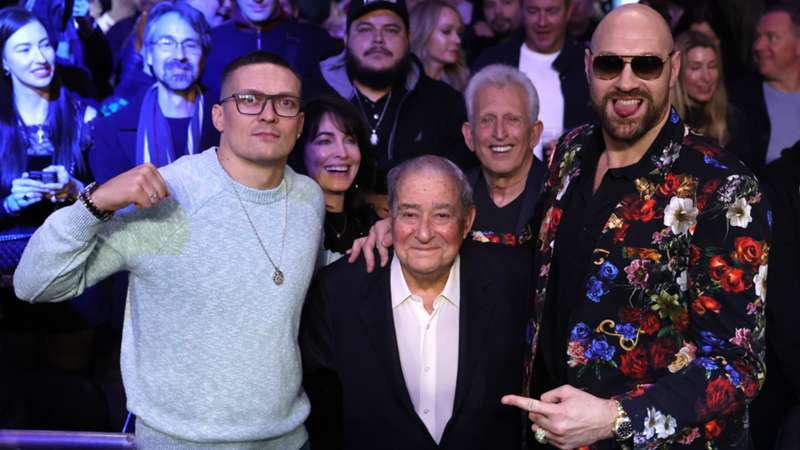 DAZN
The DAZN Boxing Show discussed the collapse of the proposed undisputed clash between Oleksandr Usyk and Tyson Fury.
Negotiations for the two heavyweights reportedly collapsed over demands regarding the rematch split in Fury's favour.
The WBC champion has been active on social media since putting the blame on Usyk, and Barak Bess said that the enigmatic Fury may have made too many demands for his opponent to accept.
He explained: "I always say that it's up to the fighter to decide what his worth is, and I think what Tyson Fury is feeling is that even if I lose a rematch, it should be 50-50 because I'm the star. It's his right to say that, but is it fair? 
"No. It sounds strange coming from the mouth of the guy that says I'll fight for free, donate our purses to charity."
He continued: "I say throw the rematches out anyway, just fight. I hate that the rematch clause is the cause of them not fighting and us not getting an undisputed champion."
He added that given Fury's brief retirement before his fight against Derek Chisora last year, Fury should not be regarded as lineal champion instead.
He said that the boxing community, "allowed you to say you're a lineal champion.
"In reality, you're not, because you left [when Fury retired]. It should have been given to Deontay Wilder or Anthony Joshua, because he had three belts. So in that case it would be Oleksandr Usyk."
Akin Reyes implored Fury to take a standalone fight, given the opportunity to cement his legacy as a great.
He said: "We know that Tyson Fury is a phenomenal fighter at his size, what he can do. He could be one of the best heavyweights ever if that resume keeps piling up. Usyk, skilled fighter, former undisputed cruiserweight, beat Anthony Joshua, so he would be another notch on his belt, another big name to add to that legacy so he can be added to the greats. 
"So why not take that opportunity? Why are we thinking about rematch clauses? All or nothing, make this one fight happen."