Juan Francisco Estrada vs. Roman 'Chocolatito' Gonzalez III: Keys to victory for both fighters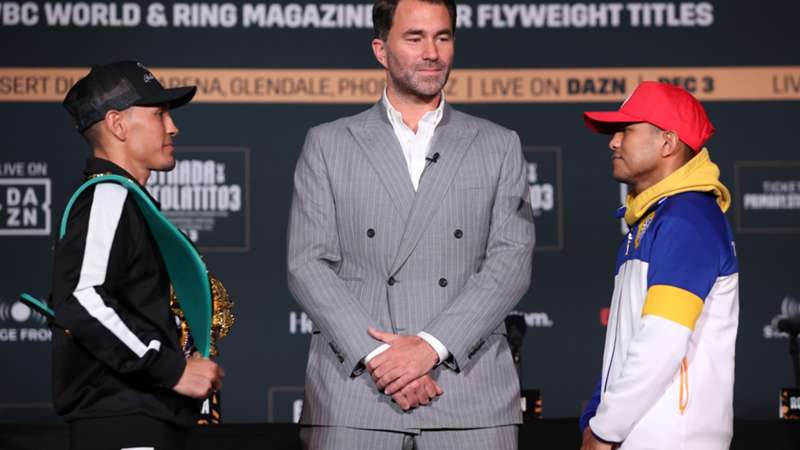 DAZN
The last time Juan Francisco Estrada and Roman 'Chocolatito' Gonzalez shared a ring, they combined for over 2,500 punches in an all-out fire fight of a war. Though that March 2021 rematch — which ended in a controversial split-decision for Estrada — will be hard to top, both fighters will try in Saturday night's trilogy at the Desert Diamond Arena in Glendale, Arizona, and live on DAZN .
The fact that this third fight between the rivals has the vacant WBC super flyweight title on the line only ups the ante. With the stakes at a fever pitch, DAZN lists the keys to victory for both Gonzalez and Estrada.
Keys to victory for Roman 'Chocolatito' Gonzalez
Cut off the ring—the earlier, the better
If 'Chocolatito' can work his mastery and brilliant angles early to cut off the ring in this trilogy, he can immediately set the tone for his kind of fight. The veteran and future Hall of Famer is best when smothering his opponent and launching stiff combinations, while moving opponents into spots they don't want to be in. His ability to cut off the ring during the early rounds could spell the difference on the cards that the Nicaraguan needs to make sure he avenges that controversial split-decision loss to his rival in March 2021.
Pound the body toward combinations upstairs
Gonzalez's right hand to the body is an unforgiving punch. I'd like to see 'Chocolatito' commit to the body early with some deposits in the first few rounds, dropping that right hand to the gut before piecing it together with perhaps a left-handed uppercut or hook upstairs. Of course, these combinations would work best if Gonzalez has cut off the ring as aforementioned and is in the process of bully boxing Estrada. 
Break Estrada's will with power and timing
'Chocolatito' almost broke Estrada's will during the 12 round of their rematch as the Nicaraguan's right hand repeatedly connected en route to the Mexican fighter lowering his hands. Yet, both kept trading fire, resulting in over 2,500 combined punches with 'Chocolatito' landing with slightly more accuracy. It's easier said than done to break a fighter's will the caliber and warrior heart of an Estrada but if there's one boxer to do it, it's 'Chocolatito.' He can do it with a timed power shot that depletes — if not ends Estrada's night. Whether Gonzalez can conjure that shot, remains to be seen.
Keys to victory for Juan Francisco Estrada
Be first to the fight
The rematch had Estrada doing a great job coming right out of his corner and immediately taking the fight to the older Gonzalez, who has more boxing miles on him. Estrada mixed it up immediately, depositing punches to the body and splitting 'Chocolatito's' guard with piercing jabs. He must assert himself immediately in this trilogy as well. His ability to bring the fight to 'Chocolatito' will be vital as it will once again allow the boxer-puncher to turn his punch volume up several notches and be the aggressor, favouring him on the scorecards.
Don't let 'Chocolatito' cut off the ring
The Nicaraguan is a master at cutting off the ring and then chopping down his opponents. From the opening round of their rematch last March, Estrada was able to make a statement by pushing off on 'Chocolatito,' making sure that the veteran and future Hall of Famer had to reset his stance. Doing so prohibited Gonzalez from cutting off the ring and while he reset, Estrada peppered him with punches. Although Gonzalez's persistence allowed him to cut off the ring more effectively later in the bout, Estrada should look to continue to resort to the push off to frustrate and keep 'Chocolatito' on the back foot where the Mexican boxer can pressure and deliver the incessant output he favors.
Push off with shoulder, unload left hook
There were plenty of sequences in their sequel when Estrada and Gonzalez would be shoulder to shoulder, trying to establish inside position and unleash a power shot. During a few of those sequences, Estrada buried his shoulder into Gonzalez's chest and pushed the smaller fighter off, only to unload and just  miss on what would have been an explosive left hook. A bit more timing and Estrada can push off with that shoulder, fire away and detonate that left hook toward explosive results. He does that, and it could pay big dividends.