Top Rank president Todd DuBoef explains collapse of Tyson Fury vs. Oleksandr Usyk talks, not giving up on fight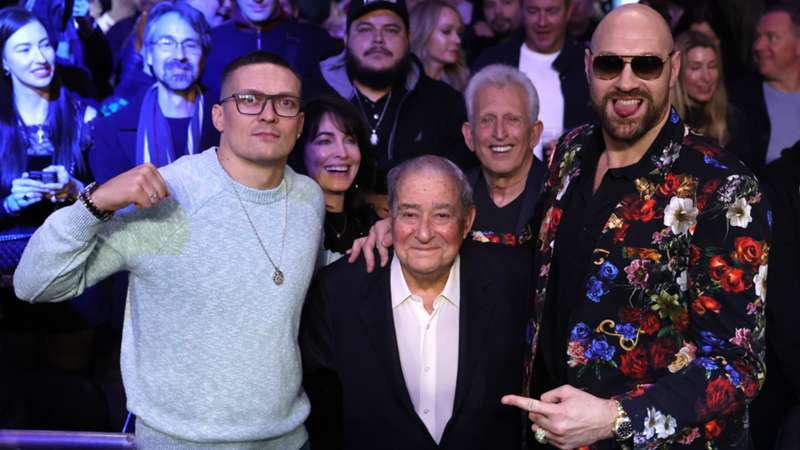 DAZN
Top Rank president Todd DuBoef explained why the proposed undisputed clash between Tyson Fury and Oleksandr Usyk failed to materialise.
There were high hopes as representatives from both fighters negotiated with the aim of securing a new undisputed champion for the first time since Lennox Lewis' victory over Evander Holyfield in November 1999.
Talks collapsed and Usyk now looks set to face his WBA mandatory Daniel Dubois, potentially in Poland, while Fury appears once again to be rifling through his rolodex to secure an opponent.
However, speaking to Sky Sports, DuBoef explained one of the reasons talks fell through is because of the number of mandatories lining up for the two champions, though he hoped a fight could still be made.
"I think one of the defining factors was the timing of it because unfortunately you have the mandatories and when you have all these titles you have a line of No 1 contenders," he said.
"It's a little bit of organisation dysfunction that happens in this sport because we're a century-and-a-half old, you try to manage it but I think that created some of the issues and the urgency of trying to get it in a certain amount of time.
"There are a number of issues and that was one of them.
"Ideally it would have been nice if the fight had already happened.
"Usyk is a big fight for [Fury], [Anthony] Joshua is a big fight for him, those are the two fights we'd love to see him do and I think those are the two fights he'd like to do.
"Our objective has always been an alignment with what we think is best for him, the sport and the fans and those are the two at the top."