Tyson Fury vs. Francis Ngannou: Champion explains why he did not fight Anthony Joshua, Oleksandr Usyk or Andy Ruiz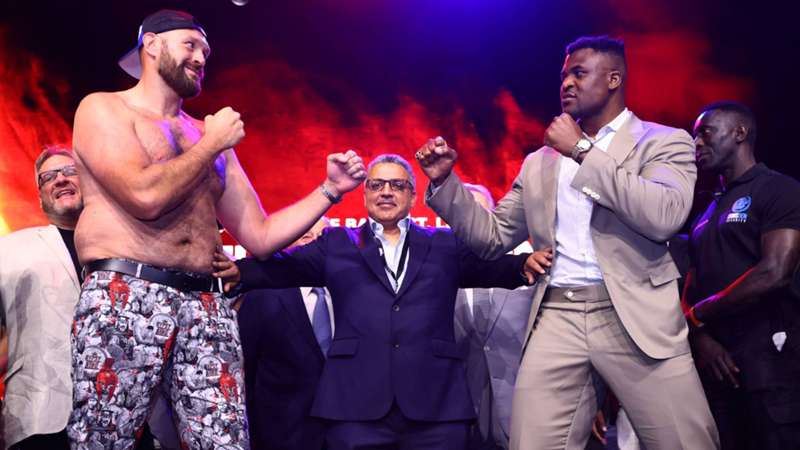 Mikey Williams/Top Rank via Getty Images
Tyson Fury has explained why he chose to fight Francis Ngannou instead of defending his WBC championship.
The heavyweight had been linked with fights against Anthony Joshua, Oleksandr Usyk, and Andy Ruiz, but a variety of reasons were given for why those respective fights could not be made.
Fury has instead elected to take on former UFC champion Ngannou on October 28 instead.
The British fighter suggested that it was not his fault that he would be fighting a man making his boxing debut, instead.
"This is not about Usyk or any other boxers. It's about me and him doing combat and there is no more to it. All these boxers, they had their chances over the last nine months to do a deal with me, they didn't so we've moved on and took a real man who is willing to challenge himself," Fury said, reported Sky Sports.
"Facts are facts: [Anthony] Joshua bottled it, Usyk bottled it and Andy Ruiz asked for $20m, so he bottled it too. And here's another one - [Deontay] Wilder was asked to fight Ruiz in a final eliminator in February [for Fury's WBC title]. Both said no so they bottled it too!
"I took a real man on who was willing to step up to the challenge," he added. "If they've got something to say about it, I'm standing here.
"It has taken a guy from MMA to come and challenge me, step up to the plate and give me a challenge when no other actual so-called boxer will step up to it. Full credit to Ngannou."