Fans can get an inside look at Canelo Alvarez's preparation for his Nov. 2 fight against Sergey Kovalev on Tuesday, when the first episode of "40 Days: Canelo vs. Kovalev" debuts on Uninterrupted and DAZN.
"40 Days: Canelo vs. Kovalev" is a three-part docuseries following Alvarez and Kovalev in the leadup to their fight. The first episode airs Oct. 22, the second Oct. 24 and third Oct. 31. The episodes will be available on Uninterrupted's channels, and the DAZN platform and its social media channels.
"40 DAYS goes deep into what's at stake for each fighter which is especially interesting in a match like this where each side is out to prove something different," Uninterrupted CEO Maverick Carter said in a press release. "Together with DAZN, we're giving boxing fans like me a front row seat into Canelo and Kovalev's thinking and process."
The docuseries is a collaboration between sports streaming platform DAZN and Uninterrupted, a platform founded by LeBron James and Carter that allows athletes to produce and participate in documentaries, TV shows and podcasts. James and Carter are executive producers of the series, along with Mexican soccer star Carlos Vela. Also appearing in the docuseries are DJ Khaled, Draymond Green and Gabriel "Fluffy" Iglesias, who discuss how they remain at the top of their game by creating new challenges.
"Being a part of 40 DAYS has been a gratifying experience, not only because of my passion for boxing," Vela said in a press release, "but also because I get to support one of Mexico's greatest athletes and fellow countryman Canelo Alvarez as he takes on this challenge."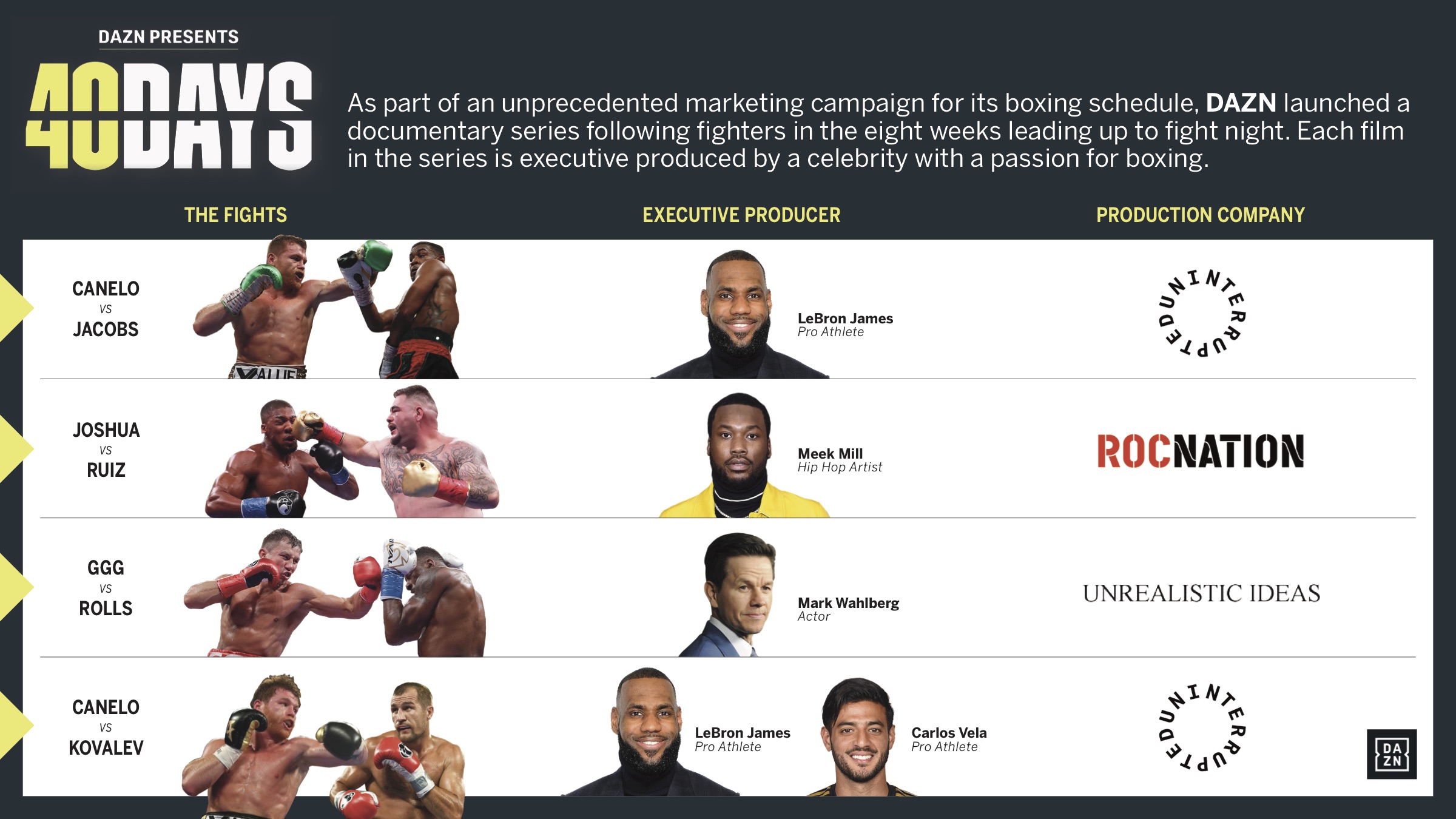 The day after each episode of "40 Days" appears on Uninterrupted and DAZN, it will also be shown on platforms such as Univision, NBC Sports Network and other regional sports networks.
Alvarez is moving up two weight classes to challenge Kovalev for the WBO light heavyweight championship in a 12-round fight Nov. 2 in Las Vegas. It will be streamed exclusively on DAZN.
Alvarez is coming off a unanimous decision win over Daniel Jacobs in May, moving his record to 52-1-2. Kovalev's last fight was in August, when he beat Anthony Yarde by TKO to move to 34-3-1 in his professional career.