Derek Carr and spectacular one-handed catch from Chris Olave lead Saints to 20-17 win over Panthers on Monday Night Football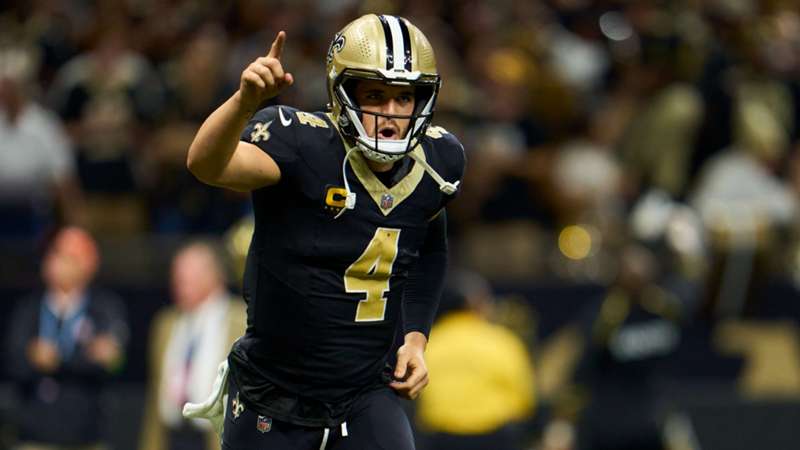 Getty
Derek Carr patiently waited for the right time to strike on a deep ball.
When he found Chris Olave in 1-on-1 coverage against Vonn Bell, the veteran quarterback pulled the trigger and the wide receiver responded by hauling in a spectacular one-handed catch. The electric play was good for a 42-yard gain and paved the way for the New Orleans Saints to break a third-quarter tie, score on the drive and never look back en route to a 20-17 win over the Carolina Panthers on Monday Night Football.
The road victory from the Bank of America Stadium in Charlotte, North Carolina improved the Saints to 2-0, while the Panthers fell to 0-2.
With both defenses playing stingy and the score stuck at 6-6 in the third quarter, Olave's unbelievable catch was the highlight of the Saints' 10-play, 75-yard drive that ended with a 2-yard touchdown rush from Tony Jones Jr. to give the Saints a 13-6 lead, which they'd extend to 20-9 in the fourth quarter with Jones' second rushing TD of the game. Carr finished with 228 passing yards and one interception. Jones rushed for 34 yards and two TDs, while Olave had six receptions for 86 yards.
Rookie quarterback Bryce Young, the No. 1 pick in the 2023 NFL Draft, was desperate for playmakers through a majority of Carolina's drives, but did find Adam Thielen late for a touchdown and two-point conversion to pull the Panthers to within 20-17, which stood.
Young wound up with 153 passing yards and that one touchdown, while rushing for another 34 yards. He was sacked four times, including once when he was strip sacked for a fumble.
Here's how the entire Saints-Panthers' game went.