How many Super Bowls have the Los Angeles Rams won? List of championships, appearances, last Super Bowl win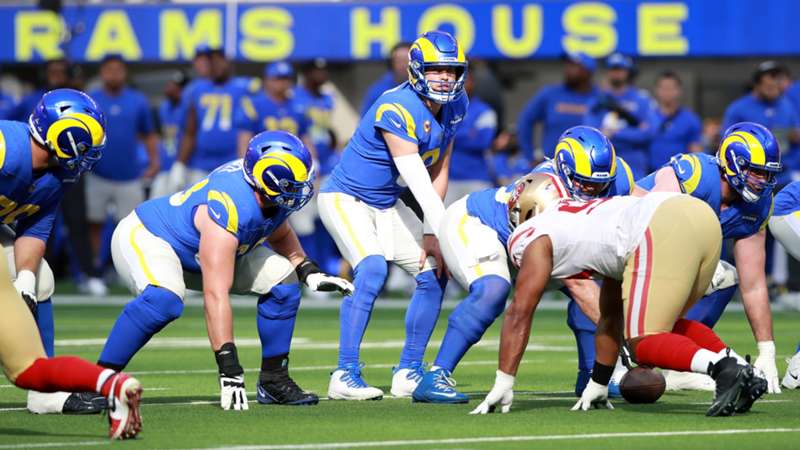 Getty
The Rams joined the NFL back in 1936, originally representing the city of Cleveland, Ohio before moving to Los Angeles in 1946.
The franchise was on the move again in 1995 when the Rams moved to St. Louis for 10 years before returning to the City of Angels, but not before claiming their first Super Bowl win.
But before the year 2000, the Rams had only appeared in one Super Bowl back in January 1980, when a record attendance of 103,985 watched on as Pittsburgh Steelers came to Pasadena, California and beat the Rams 31-19.
The Rams frequently reached the post-season during the 1980s but failed to reach the Super Bowl again until the franchise's move to St. Louis changed their fortunes.
Off the back of 10 seasons without an appearance in the play-offs, the Rams put everything right in one go as they won Super Bowl XXXIV, beating the Tennessee Titans in Atlanta for their first Vince Lombardi trophy.
Another Super Bowl defeat followed in 2002, but after the arrival of Sean McVay as head coach in 2017, the Rams decided they had waiting long enough for another Super Bowl and began trading away picks in return for star players to bring the franchise success.
And the move paid off at the second attempt, as the Rams put defeat at Super Bowl LIII behind them to beat the Cincinatti Bengals in their home SoFi Stadium in February 2022.
Exactly how successful have the Rams been? DAZN finds out below. 
Los Angeles Rams Super Bowl appearances
The Rams have appeared in the Super Bowl on five occasions.
| | | |
| --- | --- | --- |
| Date | Game | Result |
| January 20, 1980 | Super Bowl XIV | Pittsburgh Steelers 31-19 Los Angeles Rams |
| January 30, 2000 | Super Bowl XXXIV | St. Louis Rams 23-16 Tennessee Titans |
| February 3, 2002 | Super Bowl XXXVI | New England Patriots 20-17 St. Louis Rams |
| February 3, 2019 | Super Bowl LIII | New England Patriots 13-3 St. Louis Rams |
| February 13, 2022 | Super Bowl LVI | Los Angeles Rams 23-20 Cincinatti Bengals |
How many Super Bowls have the Los Angeles Rams won? 
The Los Angeles Rams have won the Super Bowl two times in five appearances, only four franchises have ever lost more than three.
When was the last Los Angeles Rams Super Bowl win?
The Rams last won the Super Bowl in 2022, as wide receiver Cooper Kupp went for 92 yards and two touchdowns off 10 targets in an MVP performance. 
DAZN will deliver the NFL Game Pass International service from the 2023 season across the world (except the U.S. and China), find out more here.