Who is Carolina Panthers quarterback Bryce Young?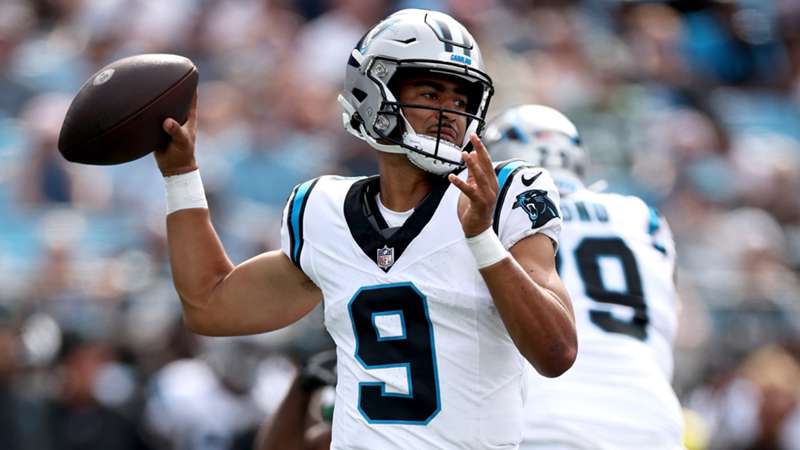 Getty
Carolina Panthers quarterback Bryce Young is having a tough start to life in the NFL in his rookie campaign.
The Panthers have put a lot of faith in Young to be their new franchise quarterback, and it is understandable when you look at his pre-NFL production.
DAZN takes a look at Young's career to date.
Heisman Trophy winner in college
Young went to high school at Mater Dei High School where he threw for 13,520 yards and 152 touchdowns.
That caught the attention of some of the biggest colleges in the country, and having originally opting for USC, Young changed his mind and joined Alabama.
After a season behind now-New England Patriots quarterback Mac Jones, Young had one of the best sophomore years of all time.
It was a year in which Young notched up 4,872 yards for 47 passing touchdowns, and seven interceptions - as well as adding three touchdowns on the ground.
That led to him winning the Heisman Trophy - awarded to the most outstanding player in college football - as well as several other awards.
In his junior year at college, Young led Alabama to an 11-2 record before announcing he would be entering the 2023 NFL draft.
Panthers trade up to take Young
Approaching the 2023 NFL Draft, there were several teams in need of a new franchise quarterback, and the Chicago Bears held the number one overall pick.
Bears starting quarterback Justin Fields impressed in 2022, so Chicago were open to offers from other franchises should they want to trade up to have their pick of the quarterbacks.
Young was not guaranteed to be the first quarterback off the board, C.J. Stroud and to a lesser extent Anthony Richardson were both expected to go in the initial picks.
But the Carolina Panthers wanted Young, and they gave up a lot to go and get him! In total the Panthers traded away their 2023 1st, 2023 2nd, 2024 1st, 2025 2nd and best wide receiver DJ Moore.
Tough start to life in the NFL
The trade for Young has put enormous pressure on the quarterback's shoulders in a team which is lacking talent across both the offense and defense.
It has not been the start to the season Young and Panthers fans would have hoped for, as they have lost their opening four games of the 2023 season.
To Young's credit, he has started just three of those games and has not thrown an interception since the first week of the season.
The rookie has been steadily improving, and despite the tough start to the season Young will improve and grow into the role as he gets more experience at NFL level.