Who is Houston Texans quarterback C.J. Stroud?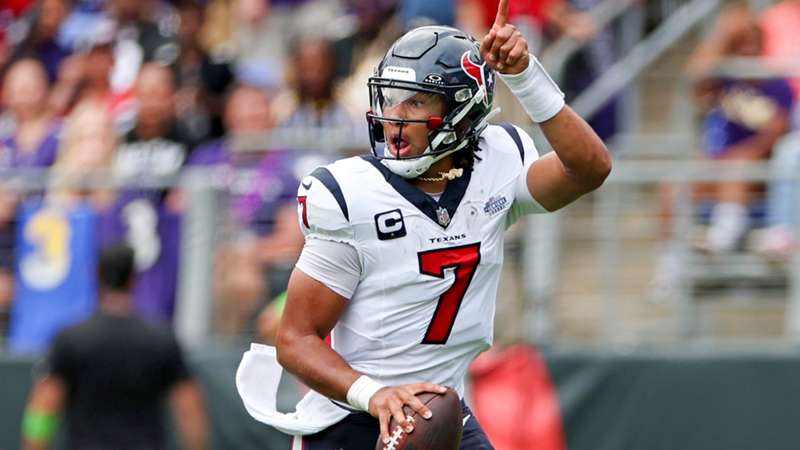 Getty
The Houston Texans' rookie quarterback C.J. Stroud has taken the league by storm through the first four weeks of the 2023 season.
The 22-year-old out of Ohio State has taken no time adjusting to the intensity of the NFL, and the Texans look like they have found their quarterback for years to come.
DAZN takes a look at Stroud's career to date.
Two time Heisman finalist in college
Stroud went to high school at Rancho Cucamonga in Southern California, the rival school of fellow rookie quarterback Bryce Young.
Following high school, Stroud committed to Ohio State college and spent his true freshman year as the back-up to now-Chicago Bears quarterback Justin Fields.
After Fields' selection in the 2021 NFL draft, Stroud became Ohio State's starting quarterback and led them to a 10-2 record in his first year - throwing for 4,435 yards and 44 touchdowns.
Stroud finished fourth in Heisman voting, and finished the season by throwing six touchdowns and 573 yards in a 48–45 Rose Bowl win over Utah, both of which are school and Rose Bowl records.
Another strong season followed in 2022, with Stroud ranked first or second in every single season, single game or career statistic for passing yards or passing touchdowns in Ohio State history.
Stroud was once again a Heisman Trophy finalist at the end of 2022, this time finishing third behind Caleb Williams and Max Duggan.
Texans take Stroud second overall
With friend and rival Young selected first overall by the Carolina Panthers, the Houston Texans then took Stroud with the second pick in the 2023 NFL Draft.
The selection made Stroud the highest drafted quarterback out of Ohio State of all time.
The Texans made the rookie compete for the starting job through preseason with Davis Mills, but Stroud won the battle and was named the Week 1 starter by head coach DeMeco Ryans.
Impressive start to NFL life
Having won the starting job, it was then time for Stroud to make his NFL debut, and a road trip to face the Balitmore Ravens is not the kindest of match-ups.
While the Texans lost the match, Stroud looked comfortable in his role despite throwing no touchdowns in the contest.
The three weeks which followed have proved that Stroud is an NFL calibre quarterback - and a very good one at that.
The rookie has thrown two passing touchdowns and no interceptions in three straight games, throwing for over 280 yards in each game.
His statistics are made all the more impressive by the lack of top tier receivers the Texans have on their roster. Give Stroud an elite wide receiver to work with and who knows how good he can be!