Who is Indianapolis Colts quarterback Anthony Richardson?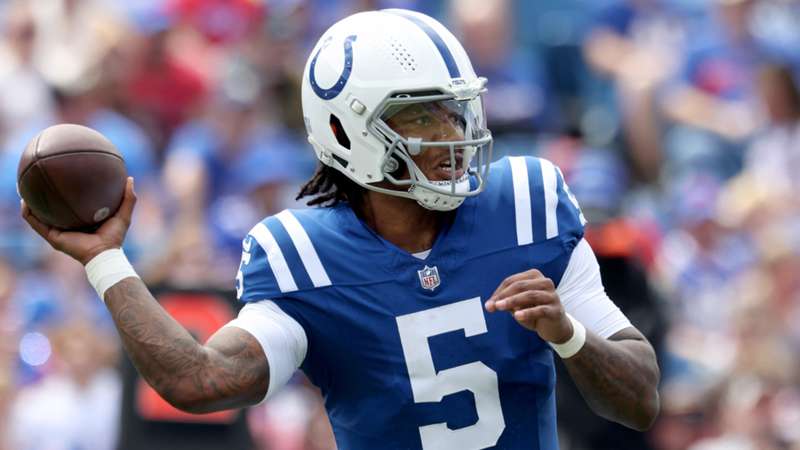 Getty
Indianapolis Colts quarterback Anthony Richardson looks well at home in the NFL through the first four weeks of his rookie season.
The 21-year-old's stat-line coming out of college was far from eye-catching, but few quarterbacks going into an NFL draft can claim to have had the athletic profile of Richardson.
DAZN takes a look at Richardson's career to date.
Limited games as starter in college
Born in Miami, Florida, Richardson played high school football for Eastside High School in Gainesville, Florida.
There, he threw for 4,633 passing yards and 37 passing touchdowns but most notably rushed for a further 41 touchdowns on the ground.
Richardson remained in the Sunshine State and committed to play college football for University of Florida.
The quarterback started just one game in his first two years, before going 6-6 with his 12 starts in 2022 and completing just 53.8% of his pass attempts.
However, Richardson's ability to throw the football has not been his best weapon, and at the NFL Combine he stole the show.
Richardson flies up draft boards at combine
Going into the combine everyone knew that Richardson was a talented athlete, but few knew just how big a performance he would put in.
Richardson drew comparisons to Cam Newton and deservedly so, as he displayed a very similar skillset to the 2015 NFL MVP.
Richardson's 40.5 inch vertical jump was the highest by a quarterback since 2011, and he went one better in the broad jump when he set a new quarterback record with 10' 9".
In the highly anticipated 40-yard dash Richardson ran a 4.44, good for fourth best among quarterbacks in combine history.
As a result, teams at the top of the first round started taking a considerable interest, and despite starting just 13 games in college Richardson was selected fourth overall by the Indianapolis Colts.
Rushing upside on show from start
Richardson has put his dual-threat ability to good work in the early stages of his NFL career for the Colts.
In his three games as a starter - having missed Week 3 through injury - Richardson has rushed for four touchdowns while throwing for a further three.
His accuracy was point of concern coming out of college, and in Week 4 against the Los Angeles Rams the rookie completed just 11 of 25 pass attempts.
That being said, the 11 completions were good for 200 yards and two touchdowns so the explosive play upside has also been a part of his passing game.
Richardson is still a work in progress in the passing game, but if the first four weeks of the 2023 season are to go by the Colts have an entertaining and explosive quarterback moving forward.