Chad Hanekom and In Jae La staredown at tense Brave CF 66 weigh-in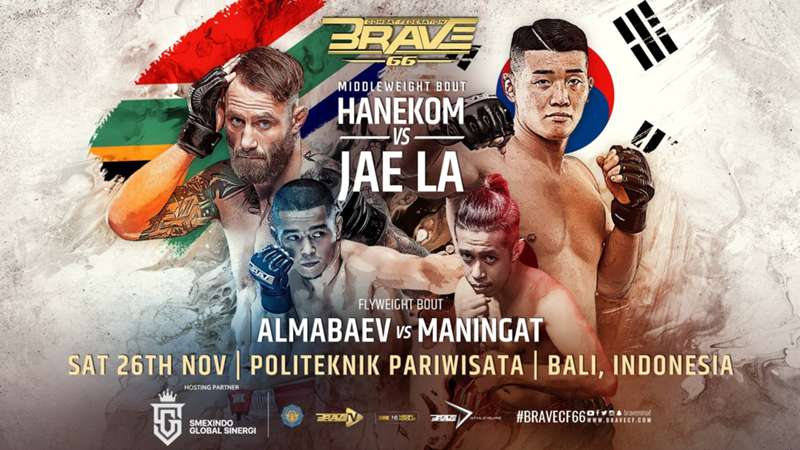 Brave CF
One day before Brave Combat Federation's much-anticipated return to Indonesia, the 20 athletes involved in the Brave CF 66 fight card successfully went through the, 'battle before the battle,' making weight and staring down their opponents one last time before fight night.
The most tense staredown was courtesy of the main event between Chad Hanekom and In Jae La. Both men battle for a world title shot at middleweight and 'Superman' Hanekom set the mood with a chilling staredown of his smiling opponent La. Hanekom wouldn't even flinch or break eye contact with In Jae until Brave CF officials stepped in.
Another very tense staredown came between Mohammed Farhad and Ruel Panales. Both men shook hands but their demeanor suggested they were ready to go there and then, with Panales even screaming after they turned to face the crowd in Bali.
Brave CF 66 marks the first show in Indonesia in four years as the fastest-growing promotion in the world makes its much-anticipated debut in Bali after the success of Brave CF 12, which took place in Jakarta, back in 2018.
Official Brave CF 66 weigh-in results:
Main Card
Middleweight: Chad Hanekom (83.45kgs) vs In Jae La (84kgs)
Flyweight: Asu Almabaev (57.1kgs) vs Kenneth Maningat (56.8kgs)
Bantamweight: Fajar ''Macho Kamacho'' (61.45kgs) vs Nkosi Ndebele (61.6kgs)
Heavyweight: Junior Tafa (103.7kgs) vs Nicolas Djurdjevic (101.6kgs)
Middleweight: Zagid Gaidarov (83.7kgs) vs Abel Brites (83.7kgs)
Preliminary Card
Bantamweight: Mohammed Farhad (61.55kgs) vs Ruel Panales (61.05kgs)
Flyweight: Dansheel Moodley (57.15kgs) vs Jenel Lausa (56.15kgs)
Atomweight: Gillian Goh (47.55kgs) vs Shi Yin Tan (47.9kgs)
Light Heavyweight: Oloan Silalahi (92.75kgs) vs Wilem Natalex Munster (91.75kgs)
Featherweight: Achterson Andre Rumainum (63.2kgs) vs Randi Febian (63.6kgs)