How do weight classes work in MMA? Weigh-in rules, rehydration clauses, catchweights and more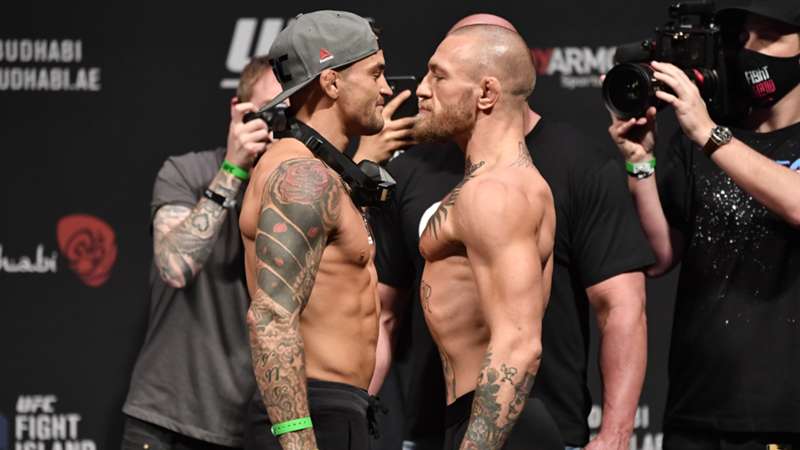 DAZN
DAZN News explains how weigh-ins within mixed martial arts work as well as rehydration clauses and catchweights.
How do weight classes work in MMA?
Weight classes are used to classify fighters at different weights.
However, with there being an array of promotions including the UFC, Bellator and ONE FC, some differ when it comes to weight classes.
For example, the UFC has 12 weight divisions compared to ONE FC's eight.
There are also some weight classes which don't exist in some MMA promotions, such as atomweight which is used in ONE FC, but not the UFC.
What are the weight divisions in MMA?
While there is a weight limit for each division, some promotions such as the UFC allow an extra pound when a title isn't at stake, these non-title weight limits are in bold.
Flyweight: 125lbs / 126lbs
Bantamweight: 135lbs / 136lbs
Featherweight: 145lbs / 146lbs
Lightweight: 155lbs / 156lbs
Welterweight: 170lbs / 171lbs
Middleweight: 185lbs / 186lbs
Light heavyweight: 205lbs / 206lbs
Heavyweight: 265lbs / 266lbs
Super heavyweight: N/A
There are also fights which take place at straweight and atomweight, but these are very rare.
How do MMA weigh-ins work?
Unlike boxing where there is likely to be just one weigh-in, MMA has two.
Quite often fighters will be scheduled to for a the legitimate weigh-in before taking part in a ceremonial weigh-in where the fighters will be able to pose in front of the world's media for the all important face-off.
The full set of weigh-in rules can be found below, but there are some differences between different states in the US.
Every fighter has to cut the weight and hit the limit for the specific weight class or go slightly below.
Weigh-ins begin on the morning of the day before the fight. Fighters who hit the weight will have around 24h to rehydrate.
If a fighter takes part in a non-title fight, he/she cannot weigh more than one pound over the limit for that weight class.
If it is a title on the line, then the fighters cannot weigh more than half a pound above the limit.
A fighter who misses the scale by a large margin can still compete. But they have to give 20% of their income from that fight to their opponent.
In California, a fighter can't compete if they cut more than 15% of what the commission determines is their healthy weight.
The doctors will follow a fighter on a fight day, and if he or she is still dehydrated, doctors can make a call to pull the fighter out of the fight.
What are rehydration clauses?
It's no secret that weight-cutting is a major problem in MMA, especially in the UFC.
Despite implementing rules to minimise the problems that arise from weight-cutting, fighters often miss the scales and can sometimes collapse.
This has led to rehydration clauses becoming a major part of any MMA fight.
In general, fighters who make weight will then have approximately 24 hours to rehydrate and then on a fight day doctors will follow a fighter, and if he or she is still dehydrated, they can pull the fighter out of the fight.
What are catchweights?
Catchweight is a term used in boxing and MMA to describe an agreed, non-standard weight limit that's beyond the existing weight classes of that sport.
MMA fighters are required to 'weigh-in' before a fight, to show they don't exceed the upper weight limit for the weight-class they're competing in. 
But fighters can 'game' the weigh-in system and hit the scales significantly lighter at the weigh-in than they would on fight night. While this is standard practice, it does run the risk of unfair competition. Especially when there's a big natural weight difference between the two competing fighters. 
This is when a catchweight can be used to accommodate a size mismatch between fighters. A catchweight can be agreed when a bout is originally scheduled or made late notice, usually as the result of the botched weight cut.