Jared Cannonier vs. Sean Strickland: Keys to victory for both fighters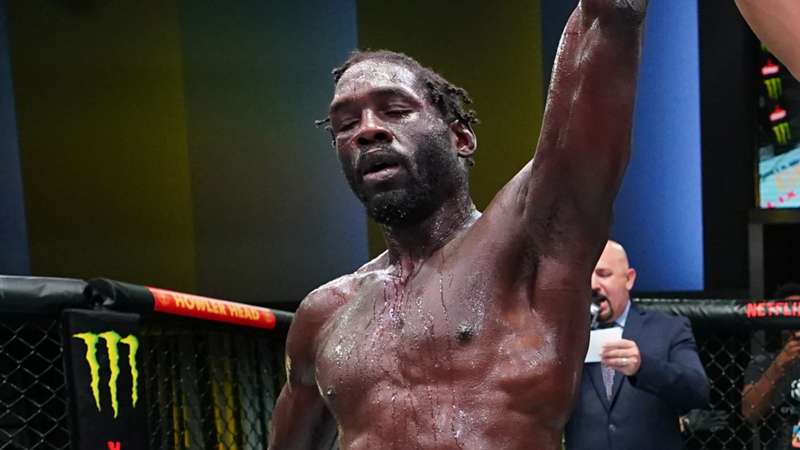 DAZN
Jared Cannonier and Sean Strickland are Nos. 3 and 7, respectively, in the UFC's middleweight rankings.
Therefore, their main event to headline UFC Fight Night at the UFC Apex in Las Vegas on Saturday carries heavy ramifications.
Both middleweights are coming off losses as Cannonier suffered a unanimous decision defeat against Israel Adesanya and Strickland was knocked out by Alex Pereira in July.
Will Cannonier also introduce Strickland to his heavy hands? Or will Strickland's boxing be enough to get this pivotal win.
With the stakes high, DAZN lists the keys to victory for both fighters.
Sean Strickland's keys to victory
Assert crisp jab early
Israel Adesanya was able to keep Jared Cannonier at bay during many sequences of their July fight by using crisp jabs. Strickland can resort to the same tactics. If he can split Cannonier's guard and land a stiff right hand early, it's up to Strickland to maintain that lead weapon against his opponent's surges and pressure. Doing that could empower Strickland with the agency to keep peppering Cannonier from a healthy distance or piece power shots together and step into the pocket to inflict some significant damage. Remember, Strickland was critical of himself for not taking enough chances following a split-decision win over Jack Hermansson in February. Here's his chance to make up for that.
Don't stand too upright
Strickland stood too upright and stiff against Alex Pereira in July and got blasted by absolute dynamite in the form of a hellacious left hook across the jaw to spell a first-round knockout. Now, Cannonier doesn't possess as explosive KO power as Pereira, the current middleweight champion of the world, but that doesn't mean that he's incapable of rocking Strickland. Therefore, it'd behoove Strickland to not stand so upright. Bending his shoulders a bit to sit on strikes more would be wise.
Press Cannonier up against the Octagon
Strickland hasn't minced words about his intention to box Cannonier in the middle of the Octagon but he should look to mix it up a bit, too. Using his height and force to press Cannonier up against the cage would be wise. It could help toward sapping Cannonier's energy.
Jared Cannonier's keys to victory
Pressure, pressure, pressure and look for key counter
Despite having seven years on Strickland, Cannonier has to pressure him with volume striking and forward movement. Since we know that Strickland is hell-bent on letting his hands go, Cannonier must also look for a key counterpunch in traffic. Pereira caught Strickland by surprise with that monstrous left hook and Cannonier can, too, if it's timed right. A counterpunch within that constant pressure could uncork just the shot needed.
Level change to test Strickland's agility
We'll quickly find out if Strickland shows the same upright style against Cannonier that he did against Pereira. Whether he does or not, though, Cannonier should test Strickland's mobility with level changes that end with lunging right hands. A lot of those shots barely missed their mark against Adesanya in July. If Cannonier can time them better against Strickland, perhaps those level changes and right hands can land with more consistency and do significant damage in this pivotal matchup.
Utilize inside leg kicks
It's in Cannonier's best interest to launch some inside leg kicks with the hopes of weakening Strickland's base and perhaps even getting the taller fighter to bend at the waist. Any effects from Cannonier's powerful leg kicks could be used as an opening to strike with the knockout blow upstairs. We know that Strickland wants to box in the middle of the Octagon but if he manages to press Cannonier up against the cage, the latter fighter could also resort to knees against his opponent's legs. Overall, softening Strickland's legs just enough to connect with something major upstairs is a definite key.