UFC 248: Zhang Weili retains UFC women's strawweight title with split decision over Joanna Jędrzejczyk in instant classic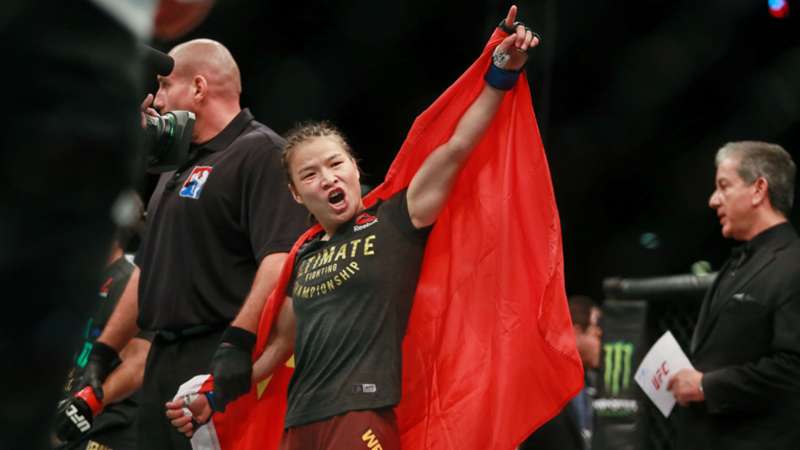 DAZN
LAS VEGAS — In an instant classic, Zhang Weili retained her UFC women's strawweight title with a split-decision victory over Joanna Jędrzejczyk in an absolute barnburner from bell to bell.
The pace was frantic from the opening round with wild exchanges inside the pocket as the women teed off on each other. Neither fighter could pull away from the other, although Zhang's constant pressure likely put her ahead in a narrow fight. But Jędrzejczyk's diverse attack that mixed in combinations, leg kicks, high kicks and body shots clearly took their toll on the champion. 
The second round saw Jędrzejczyk land some hard right hands to close the frantic exchanges while Zhang would connect with a thudding right hand that occasionally staggered the former champion. Although some may have written off Jędrzejczyk, the Polish fighter certainly came to fight and put on a hell of a show that saw her refuse to back down.
Zhang's power showed, and a grotesque swelling formed on Jędrzejczyk's forehead beginning in the second round. As the hematoma took cartoonish proportions, Jędrzejczyk continued to press on and rattle her opponent with a head kick in a thrilling third round. 
Fans at T-Mobile Arena realized that they were witnessing a classic fight and showered the Octagon with applause ahead of the fourth round where the pace continued with no signs of slowing down. 
The fifth round appeared to start with both fighters taking a measured pace, but it didn't last long as Zhang and Jędrzejczyk resumed firing punches and kicks at a blinding pace. 
In the end, Zhang earned two scores of 48-47, while a third judge saw it in favor of Jędrzejczyk, 48-47. An epic encounter that will certainly be revisited at some point between two of the best women in the world.