UFC 249 results: Justin Gaethje demolishes Tony Ferguson to win interim title; Cejudo stops Cruz and retires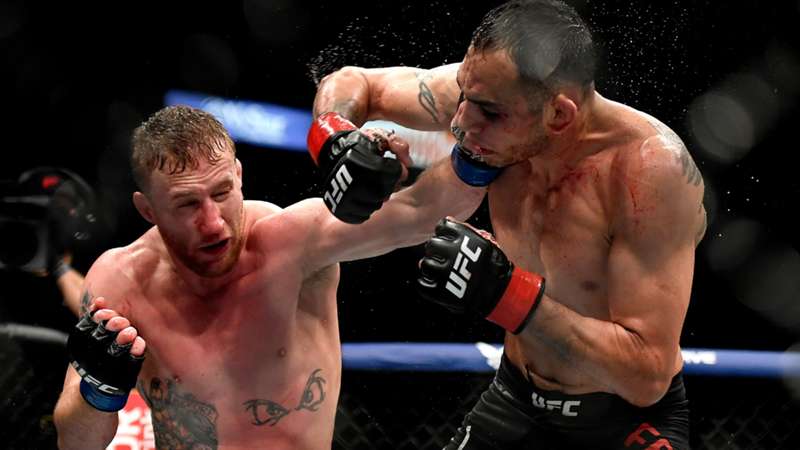 DAZN
Plans for a Tony Ferguson vs. Khabib Nurmagomedov fight can be canceled for the immediate future because Justin Gaethje put on a performance of a lifetime by stopping Ferguson in the fifth round to become the new UFC interim lightweight champion at UFC 249. 
The first major UFC event since the coronavirus pandemic shut down the sporting world took place at the VyStar Veterans Memorial Arena in Jacksonville, Fla., with no fans in attendance and social distancing practices in place. It led to an eerie night of fights where every punch, kick and breath could be heard. And that was downright scary as the main event saw Gaethje dominate Ferguson with a brutal display of striking that culminated in a fifth-round stoppage. 
UFC 249 was originally scheduled to be a lightweight title showdown between Nurmagomedov and Ferguson. But the cursed fight was blown to bits by COVID-19, and Justin Gaethje ended up getting the call when Nurmagomedov was stuck in Russia and couldn't compete. Rescheduled from April 18 to May 9, Ferguson put his 12-fight winning streak on the line and saw it utterly dismantled by Gaethje over the course of five rounds. 
To his credit, Ferguson showed an iron chin as he ate a wicked variety of power shots that left him bloodied and battered. However, he never stopped coming forward and sought to bring the fight to Gaethje. Ferguson's best moment came at the close of the second round when he dropped Gaethje with an uppercut in the final seconds. 
That was the only highlight he would have as Gaethje cranked up the pressure and put on a blistering performance that saw him bounce hooks and leg kicks off of Ferguson at a frightening pace. Ferguson had no quit in him but was a bloody mess heading into the fifth round. A poised Gaethje never rushed the finish and took his time as he picked Ferguson apart. Ferguson had nothing left but heart, and Gaethje finally put him out of his misery with a thudding jab that caused him to stagger back. Referee Herb Dean had seen enough punishment and mercifully called the fight off.
The victory set up a unification fight between Nurmagomedov and Gaethje, which is sure to be a massive fight.
Elsewhere on the card, Henry Cejudo bid the world of MMA farewell after scoring a controversial second-round stoppage against Dominick Cruz to retain the UFC bantamweight title. 
Cejudo started off determined to slow Cruz down with leg kicks. But Cruz began finding his rhythm in the second round and started landing combinations on the two-division champion.
In a stunning turn of events, a clash of heads in the final minute of the round cut Cejudo badly and caused the fight to be paused to examine the gash. Upon the fight resuming, Cejudo landed a knee on Cruz that sent the former champion to the canvas. Cejudo chased Cruz to the canvas and unloaded a series of punches that caused the referee to step in with two seconds left and stop the fight. 
Cruz had his gripes with the decision, but there likely won't be a rematch as Cejudo announced that this would be his final fight in the UFC. Whether the retirement of a 33-year-old will stick or not is anyone's guess.  
Here's how it all went down.
UFC 249 results, highlights
(All times Eastern)
Justin Gaethje dominates and stops Tony Ferguson in the fifth round to claim interim title
Round 5 (1:03 a.m.): Nothing but heart is keeping Ferguson up as Gaethje hurts him badly throughout the round with a series of punches and kicks that would have ended any other fighter in the division. A combination has Ferguson rattled, but Gaethje plays it cool and lays off. He continues picking Ferguson apart and rips him with another left and right hand. Ferguson fighting on fumes and Gaethje is simply unloading. Ferguson is trying to fight back, but he's a bloody mess. Gaethje sticks him with a stiff jab, and Ferguson stumbles into the cage. Referee Herb Dean has seen enough. Time of stoppage is 3:39.
Round 4 (12:58 a.m.): The one-way traffic continues as Gaethje's leg kicks are limiting Ferguson's mobility. A Gaethje right hand nearly decimates Ferguson's equilibrium but, somehow, he's hanging in there. Just a brutal display of offense. 10-9 Gaethje (40-36 Gaethje)
Round 3 (12:51 a.m.): The most brutal round of punishment by far. Gaethje dominates the round with a bevy of power shots as Ferguson's face begins to fall apart. A left hook and a right hand staggers Ferguson badly. There's no reason why Ferguson is still upright. It's insane. But this is one-way traffic by Justin Gaethje. An absolutely brutal display of power. 10-9 Gaethje (30-27 Gaethje)
Round 2 (12:45 a.m.): Gaethje is landing with incredible frequency, and Ferguson is doing nothing but standing there and taking them. Gaethje continues to land as Ferguson starts to ramp up the pace. As the round closes, Ferguson lands a hard uppercut that drops Gaethje. But Gaethje survives and does more than enough to take the round. 10-9 Gaethje (20-18 Gaethje)
Round 1 (12:40 a.m.): Gaethje and Ferguson exchange leather for much of the first round with Gaethje landing some hard shots. To his credit, Ferguson doesn't do so much as blink when those hard let hooks land. Ferguson's keeps moving and lands some solid jabs, but Gaethje takes the round and looks very sharp. 10-9 Gaethje
Henry Cejudo retains title with controversial 2nd round stoppage of Dominick Cruz; announces retirement
12:13 a.m.: After retaining the title, Henry Cejudo announces that he's done with mixed martial arts and has accomplished everything he set out to do. He adds that he wants to start a family and has been competing since he was a child. His time is up. Yes, Henry Cejudo is retiring at the age of 33.  
Round 2 (12:12 a.m.): Cruz is beginning to find his rhythm and connecting with combinations. A clash of heads cuts Cejudo open. As the round is coming to a close, Cejudo lands a knee that drops Cruz. Cejudo pounces and lands hard punches but Cruz is attempting to get up. The referee stops it as Cruz is getting to his feet. Bad stoppage but Henry Cejudo retains his title. Time of stoppage was 4:58.
Round 1 (12:03 a.m.): Cejudo commits to leg kicks throughout the first round in an effort to slow down Cruz. Cruz moved well but didn't do enough to take the round. Will be find a rhythm, or can Cejudo continue to chop him down? 10-9 Cejudo.
11:50 p.m.: It's bantamweight title time as Dominick Cruz looks to reclaim his past glory after spending over three years out of the Octagon when he faces current champion Henry Cejudo. Cruz hasn't fought since losing to Cody Garbrandt at UFC 207 in December 2016. Cejudo will be making the first defense of his title after beating Marlon Moraes last June. Can Triple C turn back the challenge of an all-time great?
Francis Ngannou destroys Jairzinho Rozenstruik in 20 seconds
11:34 p.m.: Well, I hope you didn't blink. Ngannou remembers how he stunk up the arena against Derrick Lewis and met Rozenstruik right in the middle of the Octagon. A wild exchange ended with a left hand that sent Rozenstruik into the next century. He needed only 20 seconds to punch his ticket for a title fight. Heavyweights beware. 
Also, Daniel Cormier was all of us.
11:17 p.m.: It is announced that the legendary Georges St-Pierre will be the next inductee in the UFC Hall of Fame. There are few, if any, more deserving than the Canadian who dominated the welterweight division, stepped away from the UFC and won the middleweight title upon his return. An exceptional talent.  
Calvin Kattar lands brutal elbow to stop Jeremy Stephens in the second
11:07 p.m.: Stephens started fast but Kattar methodically worked the leg and picked up the pace late in the first round. By the time the second frame started, he was in a full rhythm and began landing with more frequency. And then it happened. Stephens stepped in with a punch and was met with a short elbow from Kattar that short-circuited Lil Heathen. Kattar followed him to the canvas and added a hard elbow that split Stephens' forehead wide open. That's all she wrote. Time of stoppage was 2:42.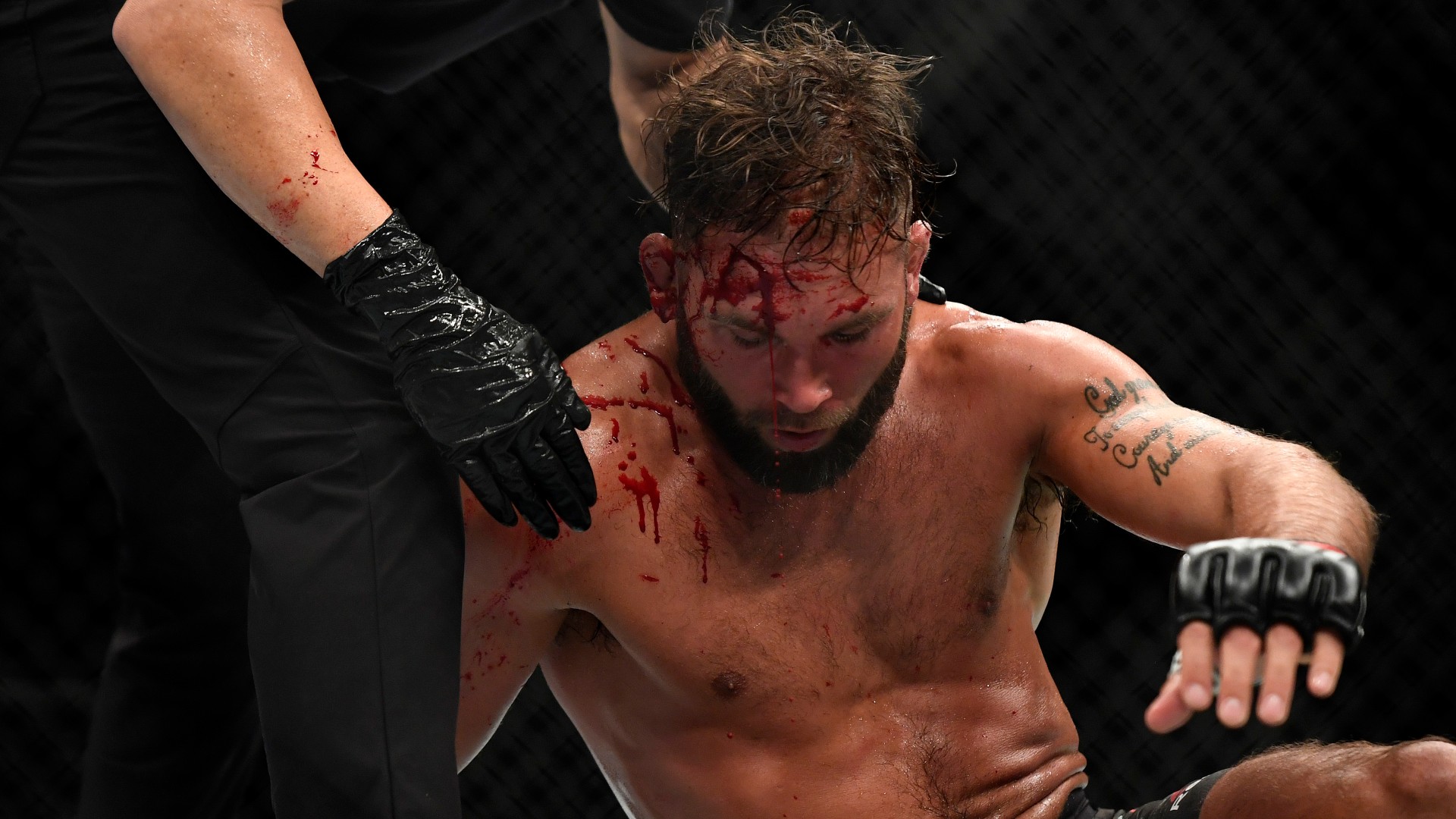 10:53 p.m.: Up next is a catchweight fight between Jeremy Stephens and Calvin Kattar. Stephens is looking to get back in the win column for the first time in two years but has ridiculous power in both hands and feet. Kattar is looking to prove that he's a player at 145 pounds and needs to get by Stephens to prove his worth. Stephens was the only fighter to miss weight on Friday, and the two agreed to a 150.5 catchweight battle. 
Greg Hardy earns first decision victory of UFC career over Yorgan De Castro
10:41 p.m.: After a great first round that nearly chopped Hardy down, De Castro completely took his foot off the gas in the second round and allowed Hardy back into the fight. Maybe De Castro bet on himself to lose a decision and needed to slow Hardy down to make sure that would happen. A totally bizarre game plan by De Castro, although it appears that he may have broken his foot at some point with one of those leg kicks that fell short. Nevertheless, he gave this fight away, and the judges agree, 30-27, 30-27 and 30-27. It's kind of surprising that Hardy won all three rounds, but it doesn't matter. 
10:27 p.m: De Castro is making mincemeat out of Greg Hardy's lead leg. A competitive first round found both having success with their striking, but De Castro's leg kicks have been absolutely brutal. Hardy needs to figure out how to check a kick or his mobility will be limited late in the fight. 
10:19 p.m.: We're kicking off the main card of UFC 249 with former NFL Pro Bowl defensive end Greg Hardy taking on Yorgan De Castro. Hardy is coming off of a loss to veteran Alexander Volkov, but that loss shouldn't be frowned upon. He'll have the opportunity to make up for it against De Castro in a fight that likely won't need the judges' scorecards.  
UFC 249 prelims 
9:59 p.m.: Donald Pettis def. Donald Cerrone. A hell of a fight between Pettis and Cerrone. Even though they're no longer the fighters they once were, they did show flashes of the talent that got them here. Pettis was exceptional with his strikes and was creative in finding his openings, while Cerrone was balls-to-the-wall action. The third round was excellent: Pettis landed several hard strikes but a vicious lead kick by Cerrone nearly took him out. Fans were certainly left satisfied as both fighters threw down but there could only be one winner, and Pettis took the unanimous decision with scores of 29-28 across the board. 
9:37 p.m.: We have a rematch between longtime favorites Donald "Cowboy" Cerrone and Anthony "Showtime" Pettis to close the prelims. Although both are in the twilight of their careers, it's still expected to be a thrilling showdown. Pettis was the first man to stop Cerrone, taking him out with a wicked body kick in the first round when the two met seven years ago. Can Cerrone get revenge or will Pettis own the night?
9:31 p.m.: Alexey Oleynik def. Fabricio Werdum. Well, it wasn't pretty as the two heavyweights labored through the fight. Oleynik started off strong and surprised Werdum with his striking but the former champion slowed things down with a takedown in the second. Oleynik came on strong late, however, and likely stole the round. Werdum took full advantage of a winded opponent in the third with his grappling and dominated the round. Unfortunately for him, that wasn't enough to win the fight as Oleynik escaped with a split decision. Scores were 29-28 and 29-28 for Oleynik and 29-28 for Werdum.
9:08 p.m.: Up next is a clash of heavyweights with former champion Fabricio Werdum taking on Ezekiel choke specialist Alexey Oleynik. A fight between two high-level grapplers usually ends up being a mostly standup affair. Let's see if that holds true between the 42-year-old fighters. 
9 p.m.: Carla Esparza def. Michelle Waterson. Waterson did exactly what she needed to do by controlling the distance and limiting Esparza's takedown attempts, but she didn't dominate in the striking department as most would have expected her to do, and so she left the door open for her opponent to steal the third round with a late rush. The scores ended up being all over the place, with Esparza taking a split decision through a 29-28 scorecard and a baffling 30-27 scorecard. Waterson earned a 30-27 scorecard. Very close fight, but strange scores. 
8:45 p.m.: Up now is Michelle Waterson vs. Carla Esparza in a battle of strawweights. Esparza is coming off back-to-back wins while Waterson is looking to get back into the win column after dropping a decision to Joanna Jedrzejczyk. Waterson is going to have to keep Esparza away and neutralize her wrestling in order to win this fight.  
8:29 p.m.: Vicente Luque def. Niko Price. If you predicted that Price vs. Luque would be a front-runner for fight of the night, then you deserve all of the awards. The pair put on a vicious display of striking that started with the opening bell and never let up. Both landed heavy shots in a mostly stand-up affair. If there were fans in the arena for this, they would have gone nuts. After 2 1/2 brutal back-and-forth rounds, Luque obliterated Price with a left hook. Somehow, Price survived, although his face was a mangled mess. The referee called a halt to the action so a doctor could look at Price's right eye. It was swollen beyond belief and the fight was rightfully halted. 
8:03 p.m.: Welcome to the first UFC event since the coronavirus pandemic shut down the sporting world. No fans and social distancing are (somewhat) in effect, so the atmosphere is totally different. But at least there is fighting, right? The early prelims are a wrap with Bryce Mitchell dominating Charles Rosa and Ryan Spann escaping with a decision after a rough third round. Kicking off the prelims will be a rematch between Niko Price and Vicente Luque. Luque won the first battle, but can he duplicate the feat? We'll find out. 
UFC 249 fight card (Winners in bold)
Main card 
Justin Gaethje def. Tony Ferguson via 5th round TKO for interim lightweight championship
Henry Cejudo def. Dominick Cruz via 2nd round TKO for the UFC bantamweight championship
Francis Ngannou def. Jairzinho Rozenstruik via 1st round KO; heavyweights
Calvin Kattar def. Jeremy Stephens via 2nd round TKO; featherweights.
Greg Hardy def. Yorgan De Castro via unanimous decision; heavyweight.
Prelims 
Anthony Pettis def. Donald Cerrone via unanimous decision; welterweights
Alexey Oleynik def. Fabricio Werdum via split decision; heavyweights
Carla Esparza def. Michelle Waterson via split decision; women's strawweights
Vicente Luque def. Niko Price via third-round TKO; welterweights.
Bryce Mitchell def. Charles Rosa by unanimous decision; featherweights.
Ryan Spann def. Sam Alvey by unanimous decision; light heavyweights.