How does Claressa Shields improve as an MMA fighter? Dan Hardy explains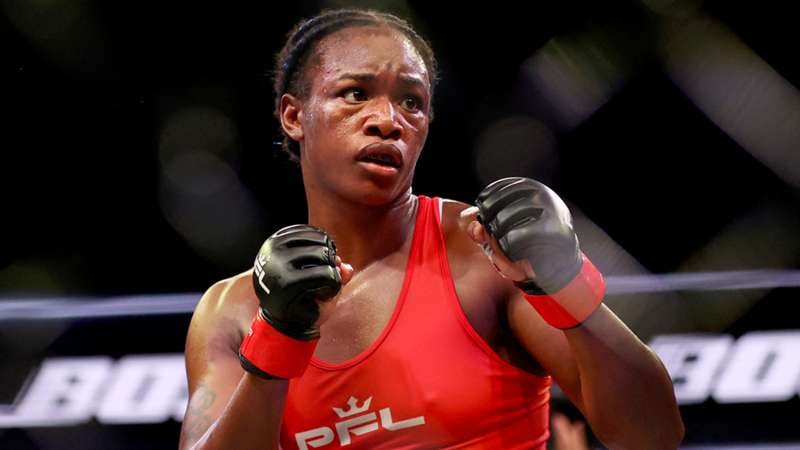 DAZN
Following her win over Maricela Cornejo, finding an opponent which will prove a tough test for Claressa Shields is quickly becoming harder and harder. 
But if a worthy dance partner cannot be found for the undisputed women's middleweight champion, maybe a return to MMA and the Professional Fighters' League could be what Shields needs to continue pushing herself as an athlete.
Shields' PFL debut came in June 2021 when she stopped Brittney Elkin in the third round and her reaction to that performance was something that impressed The DAZN MMA Show's Dan Hardy. 
"I watched her pro debut again the other day and the first thing that struck me was how elated she was when she won, it was almost like it had reinvigorated her a little bit," Hardy said. 
Shields' MMA success was short lived however she suffered her first loss inside the cage four months later when she lost to Abby Montes by split decision.
While it has clearly been a mixed start to Shields' MMA career, Hardy believes she can be a legitimate contender if she focuses on improving certain areas of her fight game. 
"It's an adjustment of range, the difference in mixed martial arts compared to boxing, the different dangers you've got when crashing forward, that was the thing she was struggling with," Hardy explained.
"To be honest, you watch the Canejo fight and you think to yourself that if she had the opportunity to double leg, she might have done just to get away from that right hand.
"That's the other thing she's got to watch out for in MMA is people dipping under that right hand when she's committing to it, it makes her far more timid to throw it and that's something she will overcome with time."