Three teams that could sign Lionel Messi after PSG departure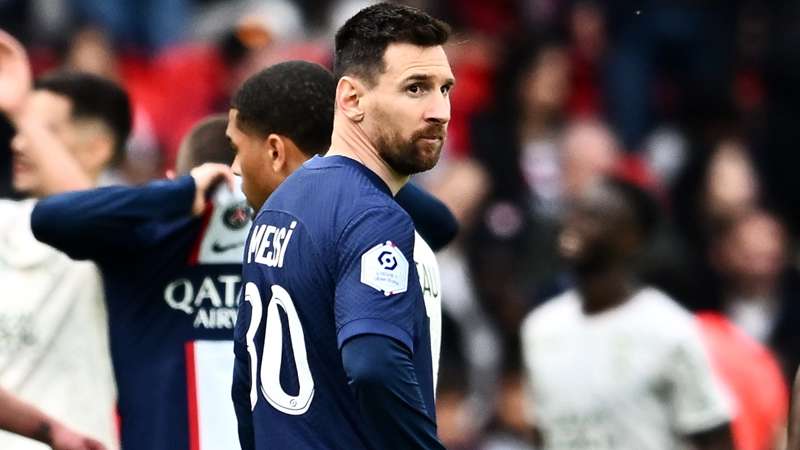 DAZN
Paris Saint-Germain head coach Christophe Gaultier confirmed on Thursday that Lionel Messi will not return for the 2023-24 season, as rumours swirl about the World Cup winner's next move.
Talk of the impending split between player and club has been happening for months, but Gaulthier's confirmation allows for the speculation about Messi's next destination to go into overdrive.
DAZN takes a look at the three most likely clubs that could get Messi's signature.
FC Barcelona
It's no secret that Barca want Messi back at the Camp Nou — and that Messi did not want to leave the club he was with from age 13 to 34.
However, a reunion is not as straightforward as some would like. The Catalans have famously had to rely on several economic "levers" over the past few seasons to afford their massive wage bill and remain in the upper echelon of the sport, which is part of the reason Messi left the club in the first place.
Very little has changed in that regard, with Barcelona still having to walk an economic tightrope that a player of Messi's financial demands would further complicate. However, when there's a will there's a way, and there may be enough of a will from both sides to see this over the line.
Inter Miami
Messi in South Florida would be a massive box office draw and him landing in MLS would follow the trail blazed by past superstars as Zlatan Ibrahimovic, Kaka and current Inter Miami co-owner David Beckham.
The Argentine has shown that he can still perform at a top level, which could be a strike against him moving to North America this summer. That being said, Inter Miami have reportedly offered him a substantial package of part ownership and sponsorship deals that could tempt the Messi family to cross the Atlantic Ocean.
Even with Miami currently under sanctions from MLS for skirting wage rules, the league would look the other way to get arguably the greatest player of all time into an Inter Miami shirt. 
Al-Hilal
If money was the sole factor, there would be no debate. The Saudi outfit has reportedly offered a massive pay packet to join old rival Cristiano Ronaldo in that country's league.
The numbers being thrown about are staggering: reports have surfaced of a two-year deal worth over €1 billion on the table for Messi should he chose to accept. It's life-changing money even for a man who consistently sits near or at the top of the annual richest athletes list, and the figures alone will cause him to give it real consideration.
That being said, there a cautionary tale in Ronaldo's brief time a Al Nassr so far, where the Portuguese has seen his legacy tarnished by poor results. Two years younger than Ronaldo, Messi may not want to risk the same fate just yet.