Bobby Lashley previews Survivor Series, African-Americans as WWE champion, competition in wrestling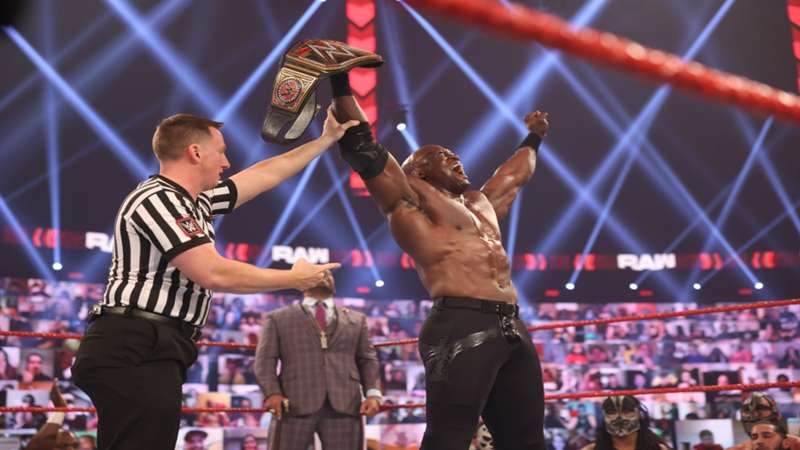 DAZN
Bobby Lashley's had a 2021 to remember. 

He beat The Miz to become the WWE champion in March. Then, he defended the title at WrestleMania 37, beating Drew McIntyre. Lashley successfully retained the belt against McIntyre, Kofi Kingston, Braun Strowman, Randy Orton, and then Goldberg at SummerSlam. After the match with Orton, it saw Lashley's 196-day title reign come to an end when Big E cashed in his Money in the Bank briefcase to win the championship on the Sept. 13 edition of Raw. 

After an unsuccessful attempt to regain the title, Lashley shifted his focus to a rematch with Goldberg at Crown Jewel in a no-holds-barred match. But, in what ended up being Goldberg's best match in quite some time, the iconic superstar beat Lashley. 

Lashley took a few weeks to recover and is now ready for Sunday's WWE Survivor Series as he's on Team Raw with Seth Rollins, Kevin Owens, Finn Balor, and Austin Theory as they battle Team SmackDown, which is comprised of McIntyre, King Woods, Baron Corbin, Jeff Hardy, and a mystery partner. 
Ahead of the last major event for WWE in this calendar year, Lashley speaks with DAZN News about Survivor Series, WrestleMania 38, African-Americans as WWE champion, and the current landscape in pro wrestling.
(Editor's note: This interview has been edited for length and clarity.)
DAZN: You have Survivor Series this Sunday that you can see on Peacock in the U.S. and the WWE Network everywhere else. Then you have tickets on sale for the biggest annual wrestling event of the annual year, WrestleMania 38 in Arlington, Texas, at AT&T Stadium, that you can get now through seatgeek.com. So which more and more are you excited for Bobby, Survivor Series, or WrestleMania?
Bobby Lashley: Well, right now, since I don't know who I have at WrestleMania, it's got to be Survivor Series. But you know, after Survivor Series, it's the Super Bowl, it's WrestleMania. There's nothing bigger than WrestleMania. So, of course, I'm gonna be excited about that. It's just at this point, I don't know who I have. At Survivor Series, I know what I have, and it's bragging rights. It's Raw versus Smackdown. It's kicking everything off. I'm really excited about Survivor Series right now.
DAZN: Let's be honest, Bobby, you're the captain of Team Raw. We all know who the real captain of this team is.
BL: (Laughs) Right, because that's who they're gonna call upon. Anytime anybody gets in any kind of danger on Team Raw, I guarantee you they're gonna be running over to tag me.
DAZN: At SummerSlam, you had the match with Goldberg. Then you had the two title matches that happened was Big E. And then you had the better than expected rematch with Goldberg that happened at Crown Jewel. How do you look at these last couple of months for you?
BL: Showing that I can be out there with anyone and I can do it with anyone out there. Bill's had some ups and downs, a lot of downs, but we had some ups. We had a good match in Saudi (Arabia). We had a good match at SummerSlam. Big E also. You can't have a good, good guy without a good bad guy. I hold so much for the roster across the board. Anybody that gets in the ring with me. They just have to survive. If they survive, it's gonna elevate their career. A lot of the guys I've worked with within the last year from Apollo, who is starting to do some big things and changed his career. Riddle as well. I think everything that I've been doing up to this point has been fantastic and only gonna get better.
DAZN: What did it mean to you to get in the ring with Big E for WWE's richest prize and have two African-American guys competing for the WWE Championship?
BL: I think it was phenomenally. It's what I try to say when people ask me about the race thing. The biggest thing for me is I like to make sure that it's a norm. I want to make all these things the norm. Like when I won the title, they were like, 'Oh, you're the third African-American, you're the third black champion, and then Big E was the fourth'. 
I'm like, 'We don't need to put that next to it anymore. It's just the norm'. I want it to get to the norm with anyone. We don't want to say, 'You're the second African-American, you're the second Mexican, you're the second this'. It's not even about that anymore. I think it's just making it a norm. Everybody gets the opportunity to win that title. We put in the work. You do the things you have to do. You hustle, and you have the opportunity to win it, and it's no asterisk by your name. It's just here's the guy. Here's the guy who it is now. I'm glad that we broke those barriers and started to make this a norm. But ultimately, I just wanted to be, 'Here's your champion, period'.
DAZN: Does it bother you, though, that there hasn't been more diversity for the WWE Championship?
BL: No. I think what it does is it gives an opportunity moving forward for there to be more. Everybody has that same opportunity. I think some of the other guys are gonna be excited because they have that opportunity to step up and win that title. And when they do, it's just gonna keep adding on. So I'm not disappointed. Because if you look at our roster, right now, we have a lot of African-American or black guys on the roster that can step up and potentially win a world title. So when they have the opportunity to do what they need to do and get to where they need to get, they'll be there. They'll have that opportunity.
DAZN: You look at what's going on right now in sports entertainment, and you really couldn't ask for anymore. There was a little bit of everything for everybody. WWE is the leader, and they're on top. But you look at other places, and everyone seems like they're doing pretty well. What do you make of the overall landscape right now in sports entertainment?
BL: I think it's great right now. I think there's a lot of competition. I think we're doing some big things, and we're moving into a big season for us, with some big news coming around. I think that it's a good time to be a wrestling fan, and it's a good time for a wrestler with a good time to step up for everyone. Everybody always says competition is good. I don't think really we have any serious competition. But the fans like it, the fans like the fact that there are other things going on that forces us to step up.
DAZN: You're the ultimate competitor. You've competed in mixed martial arts. Wrestling is very competitive, don't get me wrong, but you've been in combat sports. You were in the military. You get what competition is all about. On a personal level, does that drive you knowing what the landscape is right now?
BL: Yeah, it actually does. I think myself and a lot of the other guys wish some of the other competition does step up because we're ready. If you look at our roster, our roster is deep. We have something different. We have something special. There's a couple of things with it. There's one to have great wrestlers, and there's another thing to have superstars. We're chalk-loaded with both. We have guys that are just pure superstars, and you can take outside of our wrestling world will do other things, and they're going to be superstars. And we have some guys that are in the dressing room that are just great wrestlers. We have a little bit of everything. I think everyone here is like, if we need to step up, we have all the talent to be able to do it.