Kyle O'Reilly on how he wants to win the NXT title at In Your House, the influence of Shawn Michaels,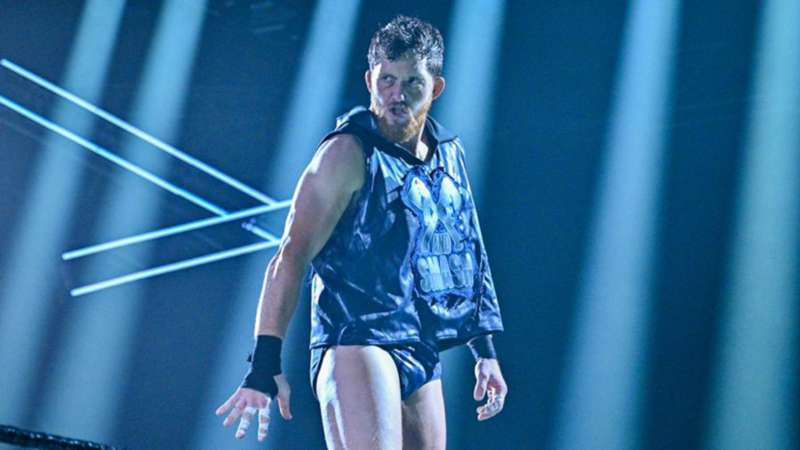 DAZN
Kyle O'Reilly has just about done it all in his run in WWE NXT.

He's a three-time tag team champion, was a member of the most dominant group — The Undisputed Era — and main-evented Takeover during WrestleMania this past April against former teammate Adam Cole.

O'Reilly is now going at it on his own and looks to accomplish the biggest feat of them all when the 34-year-old takes in a five-way match for the NXT heavyweight title at Sunday's NXT Takeover: In Your House against champion Karrion Kross, Cole, Johnny Gargano and Pete Dunne.
Ahead of Sunday's main event bout, O'Reilly talks with DAZN News about this current singles venture, the influence of Shawn Michaels and how he envisions winning the NXT title.
(Editor's note: This interview has been edited for length and clarity.)
DAZN: In your mind, do you want to go back to how you were back in Ring of Honor and PWG, or do you want to do something completely different and reinvent yourself? 
Kyle O'Reilly: I think it's important that as performers, we're always growing and evolving and trying to be different and unique. There's aspects of how I was in Ring of Honor and PWG that I certainly (would) like to capture again, more so like the intensity and the physical aspects of it as an in-ring performer. The look and all that sort is something that I'm playing with. I still really have no idea what I'm doing. I have no sense of style. I go to the thrift shop and just grab whatever kind of mishmash, mismatched outfits I can find. The more mismatched it is, the more I dig it. I like just throwing stuff at the wall and see what works, and if it gets people talking for better or for worse, then I'll take it. A lot of people hate the hair. A lot of people hate the new look, but what's old is in right now. 
DAZN: How much are you enjoying being back on the singles run because when you came to WWE, you started teaming again with Bobby and then Roderick Strong and how much of an adjustment was it for you to now go back and to focus solely on singles?
KOR: Certainly very difficult. For the better part of my entire run in NXT, I've been a tag team guy and happy to do so. I love tag team wrestling. I love all the tag partners I've had. I've been partners with Adam, Bobby, and Roddy and have been very successful. But this is just a whole new challenge and opportunity. And as performers, we want to grow and evolve. This is going to be a chance for Kyle O'Reilly to show that he can stand on his own. I'm going to take that opportunity and try to run with it. It is definitely more pressure, and I deal with a little more anxiety knowing that this is just on me. Whether it's a promo, a match, everything's on me. I don't got my buddies to bail me out if I flub my words or if something goes wrong, or I need backup, or some guys attack me. I'm on my own now. But I think that's what's beautiful about this sport. We all had those dreams of being a singles champion in WWE. Now, I'm getting to manifest that dream.
DAZN: I love how you incorporate a lot of MMA as it's more of a physical style of wrestling. What was it about mixed martial arts that made you want to incorporate some of that and bring that into your style in WWE?
KOR: It started as just a way for me to supplement my training as a way to help me become a better pro wrestler. Back when I first started trying to do a submission transition or kicks from kickboxing, it just didn't look right until I started actually training and getting the footwork down and the timing down. Now when I do something like an armbar or roundhouse (kick), you can see that it's a legitimate technique. I think that's helped me tremendously in progressing my style. I didn't start training until I'd already been a pro wrestler. I had those pro wrestler instincts with selling and timing. But now you add in the training, and I think that's where my style really took off. 
DAZN: How much confidence did you gain from that match with Adam at Takeover during WrestleMania week? 
KOR: Coming out the other side of it, I got a lot more confidence now. It's challenging main-eventing Takeover and WrestleMania week is the biggest wrestling week of the year. Here we are, two former friends, colliding in the main event of Takeover in an unsanctioned match. It's an uphill battle. Looking back now, I can be very proud knowing that we came up on the other end of it, and I like to think we delivered. It feels like every few weeks or every couple months is the biggest match until the match is over. Now, Sunday's the biggest match of my career. Once I'm the NXT champion, my first defense will be the biggest match of my career. I'm always building this pressure on myself. But I think that's what helps me deliver in the moment as well. It's like, 'All right, this is a rare opportunity. It is pressure. It's sink or swim'. Hopefully, I'm going to swim.
DAZN: Gargano and Cole have told how much Shawn Michaels has been there for them. How much have you leaned on Shawn to help you adjust on this new singles run?
KOR: Even before being singles, as a tag guy, he's a former tag guy himself. Since stepping foot in the door here, he's always been a guy I felt comfortable going to for advice. He's become a mentor to a lot of us, like myself, Gargano and Cole as well. He's always got just the right advice and what you need to hear at that time. He's been through it all, and he's seen it all. He's done everything there is to do, and most consider him the greatest of all time. So the fact that a guy like him is at my disposal to go, just for a simple question of what do you think about if I did this and to hear his thoughts on it, I can't emphasize enough how helpful that has been. It helps your confidence (when) a guy like Shawn says you can do this, you're good at this. That's all the confidence-booster you really need.
DAZN: A big thing lately on social media has been who's the best in the business right now. It's subjective. You got so many different companies out there. I know you watch a lot of wrestling, so in your mind, who are some of the best guys in the business right now? 
KOR: I think Finn Balor is. He's a guy who's done everything. (He's) a former Universal champion. For whatever reason, he came back to NXT and has just helped elevate every single guy that he's wrestled in NXT. He's helped elevate the brand of NXT just by him being here and by him putting everything into his work, delivering, and busting his ass when he certainly didn't have to. I think his work definitely speaks for itself because everything he's done has just been top-notch. I know myself, I've learned a lot getting to wrestle Finn. For my money, I'd say Finn Balor is at the top of that list right now.
DAZN: Five-ways can be tricky because there's so many guys in the match. What type of match do you prefer in a big-stakes match like this?
KOR: You always want to have a singles opportunity because then it's just you and your opponent. You have a higher chance probability wise of winning. A five-way match is something I've never competed in. We've done a number of four-ways and multi-team tag matches. How do you prepare for a five-way when you have to have your head on a swivel? There's going to be attacks coming from all fronts, every direction. You have to defend in every direction. When I see an opportunity, it might be over here might be behind me. I'm going to have to jump on those opportunities and just push the pace and attack relentlessly, which I try and do every single time and just be playing old-fashioned tough. That's what I have in spades. 
DAZN: How do you envision winning the five-way to become the NXT heavyweight champion?
KOR: In a perfect world, just me walking away with the title, that's enough of itself. But to really put the cherry on top of the sundae would be having Adam Cole tap out and then becoming the champion. I think that'd be almost as sweet as the victory itself.