New York Jets 2023 season: Schedule, games and how to watch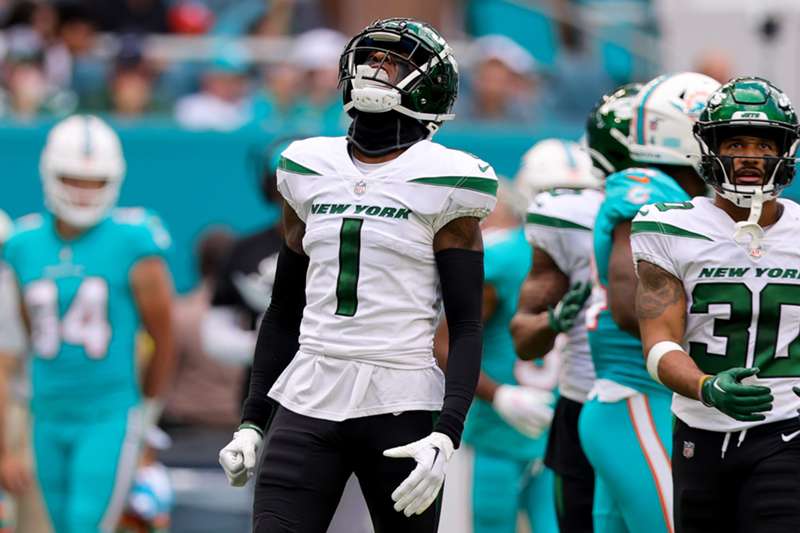 Getty Images
As far as late-season collapses go, they don't get much bigger than what the New York Jets went through in the 2022 season.
The Jets raced out to a 7-4 start to the campaign and then proceeded to lose the next six consecutive games, giving them a 7-10 record and a 12th straight year without playoff football.
Needless to say, the green side of New York is looking for a vast improvement in 2023. The Jets aim to replicate last year's hot start — without the subsequent collapse.
Here's everything you need to know ahead of New York's 2023 season.
New York Jets 2023 schedule
Dates & times subject to change
Aug. 3 at Browns (Preseason)
Aug. 12 at Panthers (Preseason)
Aug. 19 vs. Buccaneers (Preseason)
Aug. 26 at Giants (Preseason)
Sept. 11 vs. Bills
Sept. 17 at Cowboys
Sept. 24 vs. Patriots
Oct. 1 vs. Chiefs
Oct. 8 at Broncos
Oct. 15 vs. Eagles
Oct. 29 at Giants
Nov. 6 vs. Chargers
Nov. 12 at Raiders
Nov. 19 at Bills
Nov. 24 vs. Dolphins
Dec. 3 vs. Falcons
Dec. 10 vs. Texans
Dec. 17 at Dolphins
Dec. 24 vs. Commanders
Dec. 28 at Browns
Jan 7. at Patriots
How to watch the New York Jets on DAZN: Live stream info 
Every NFL game during the 2023 regular season and playoffs — including the Super Bowl — is available worldwide on DAZN, excluding the United States and China.
DAZN is the only place to watch NFL Game Pass International, with access to every regular-season NFL game and every playoff matchup. That's 335 games per season, and each game is available live* and on demand.
NFL GPI will be available through the DAZN app either as a standalone subscription or an add-on to an existing DAZN package to customers worldwide**, excluding the United States and China.
* In the United Kingdom, up two Sunday games per week will air on DAZN on a 24-hour tape delay.
** Viewers in Canada can access all NFL content through their regular DAZN subscription.
What is DAZN?
DAZN is a global sports streaming service that offers coverage of every NFL game and RedZone, both live and on demand.
Football fans worldwide also can enjoy 24/7 streaming of the NFL Network on DAZN, which includes complete coverage of the NFL Draft, Scouting Combine and Free Agency.
What devices are supported by DAZN?
DAZN has apps available for all of the following platforms: Apple TV, Chromecast, Amazon Fire TV, Amazon Fire Stick, Amazon Fire Tablet, Android Phone & Tablet, iPhone & iPad, Android TV, LG, Smart TV, Panasonic Smart TV, Samsung Smart TV, Sony Smart TV, SmartCast, Xbox One, Xbox Series X|S, PlayStation 4, PlayStation 5 and Roku.
Here is a full list of the devices where DAZN is available, in addition to web browsers on DAZN.com (if you are in Argentina, Chile and Colombia you must download the DAZN app from the Apple App Store or Android Google Play store and then sign up from there, rather than via web browser):
| Mobile Devices | TV & Streaming Devices | Game Consoles |
| --- | --- | --- |
| iPhone, iPad | Amazon Fire TV | Playstation 4 |
| Android phones, tablets | Amazon Fire TV Stick | Playstation 5 |
| Amazon Fire tablet | Android TV | Xbox One |
|   | Apple TV | Xbox Series X|S |
|   | Google Chromecast |   |
|   | LG Smart TV, Smartcast |   |
|   | Panasonic Smart TV |   |
|   | Roku |   |
|   | Samsung Smart TV |   |
|   | Sony Smart TV |   |