Caleb Plant teases fight with middleweight champion if Canelo Alvarez rematch can't be made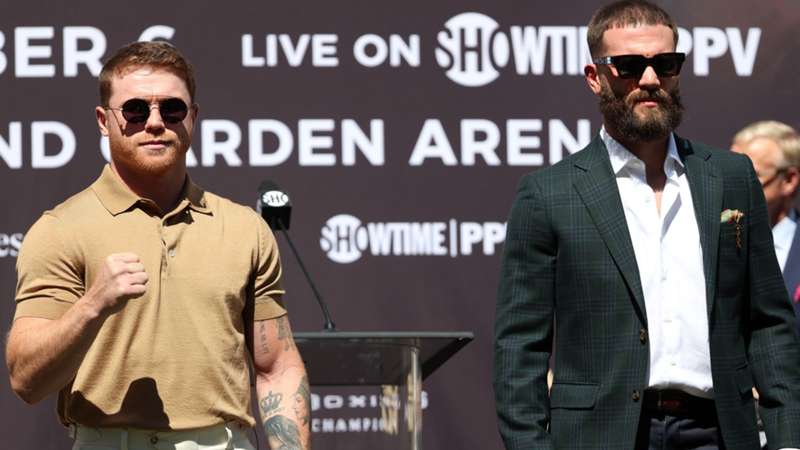 GettyImages
Caleb Plant has teased a fight with WBC world middleweight champion Jermell Charlo if a rematch with undisputed super middleweight champion Saul 'Canelo' Alvarez can't be made. 
Plant will be looking to place himself into a mandatory position when he takes on David Benavidez for the interim WBC super middleweight on Saturday, where the winner will be eyeing a shot at the Mexican. 
The 30-year-old already has previous experience when it comes to facing Alvarez. The pair met in November 2021 for the undisputed 168lb title in a fight which saw Plant stopped by Alvarez in the eleventh round. 
Since that loss, Plant has re-asserted himself into the world title picture with an impressive knockout victory against Anthony Dirrell and now is hoping a win over Benavidez can take him one step closer to facing Alvarez for a second time. 
"I would become the mandatory so technically no," Plant responded when asked by The DAZN Boxing Show about whether he wants anyone other than Alvarez if he gets past Benavidez. 
"But I'm just letting it be known now that if that isn't good enough, then I need to step to Jermall Charlo right after that and beat him. I would be more than willing and able to do that.
"He's already the WBC champ at 160, he can come up to super middleweight and first dibs.
"The focus right now is David Benavidez and that would put me in line to handle business as I should, right now I'm just focused on the fight in front of me."
Plant also had time to reflect on his November 2021 meeting with Alvarez and revealed what was the biggest lesson he learnt from the clash in Las Vegas. 
"I think the most important thing I took away from that fight wouldn't be anything technically, it would just be the experience," Plant said.
"Experience is something that you can't buy, you don't get it overnight, you have to go through the fire to get that, and I've done that, I've done that gracefully. I haven't made any excuses."