Tony Harrison: Jermell Charlo knows the fans want a rematch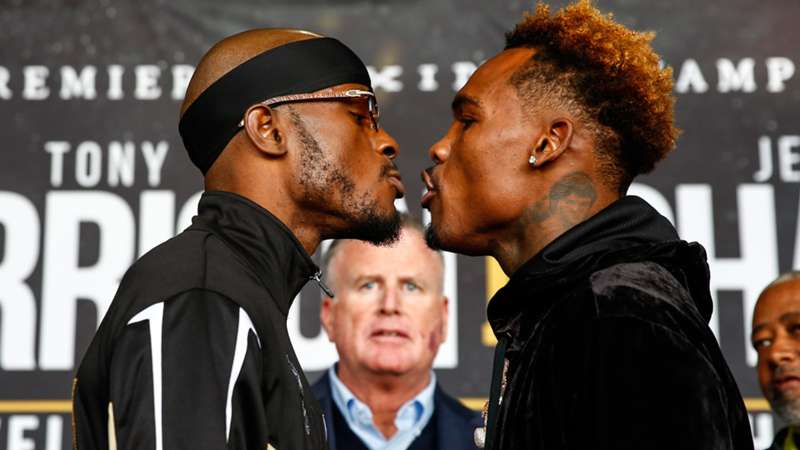 DAZN
Tony Harrison is aiming to continue the legacy of his trainer and father, Ali Salaam, who died in April last year.
Harrison has not fought since the death of Salaam, and his last action in the ring was a defeat to Jermell Charlo for the WBC world super welterweight title in December 2019, after beating Charlo in their first meeting a year before.
Recovering from his loss and the coronavirus pandemic have kept him away from competitive boxing and he is now due to face Bryant Perrella on April 17.
Speaking to Boxing with Chris Mannix, explained that it took a huge effort to come back to boxing and dedicate the rest of his career to his father's legacy.
"I think that everything has been tough, but it's just life. Life just happened a little faster than I expected," he said.
"It's a struggle, losing someone you've seen your whole life but I'm dealing with it pretty fairly. It was hard at first. His legacy continues and I understand how to make it continue and not disappoint him in ways I know I could disappoint him.
"Fighting is one of the ways we came together and understood each other and I'm going to continue that for him.
"Everything we do, not even in boxing, in the community, came from his heart. As a kid whatever you show your son that's what he does. My dad taught me everyday how to give my heart everyday to people who genuinely need it. Not even just money, but time. My dad gave his time to everybody, nobody could say he didn't. 
"Honestly when somebody passes that's instrumental to you and coached you, the only thing I was thinking was how could I repay him? How do I continue to make him proud - he's still with me spiritually and emotionally - and that's get myself off the couch and stop crying, stop weeping, and get your a— back in the gym."
The 30-year-old Detroit boxer said that his career was almost derailed and he had to redisover discipline and professionalism to make sure he could continue to fight.
"It was months, my life never stopped," he explained.
"The habits I was doing were the wrong kind of habits and cause me to go down the road where I wasn't going to make 154 ever again. It was more of a mental challenge to get myself back in the ring.
"It took a village. I took my brother to get my off my back, and I had to ride him, and I had to ride my cousin, and I had to ride my best friend. It took the village to kind of lift me up. 
"Mentally I felt I was back, physically I was still a little overweight. It took everybody around me who loved me and loved him to rebirth me and rejuvenate the champion again.
"I'm not doing this for money no more. I doing this for the legacy of Ali Salaam."
Discussing his defeat to Charlo, Harrison suggested that discipline when it came to his diet was a problem even before his time away from the sport.
"It's lonely because you can't take any shortcuts," he said.
"I find a way to snack on things I shouldn't be snacking on sometimes. I made it so hard to make the weight. I killed my body to do it, and I think that was the hardest part of the fight before I even fought. I took my body through hell to do it.
"For me, I have to do everything right. I deserved to be there. I was the most physical guy in the division. I pushed [Charlo] back for 11 rounds before my body gave out. I felt like I withstood his hardest punches early. As the fight went on I got more dehydrated.
"The shot that knocked me down wasn't even hard. My hand was up, there was no way it should have knocked me down. It's time to do this right."
Charlo and Harrison share a record of one and one in their two meetings, and Harrison is desperate to settle the argument between the two, while acknowledging the current champion is in charge of his own career.
"I'm a fighter, I'm a competitor. For the level of hatred we've got for each other, I don't understand why it wouldn't be a rubber match," he told Mannix.
"I told him congratulations for unifying. I don't need it to be for a belt, we can meet at a catchweight, but I don't want to retire from the sport of boxing with me and Jermell Charlo at 1-1.
"I think it would be great for the sport, and he knows the fans want to see it again, but the ball is in his court. He's chasing legacy."