Deen The Great shocks Walid Sharks in third-round TKO after being dropped twice at MF & DAZN: X Series 003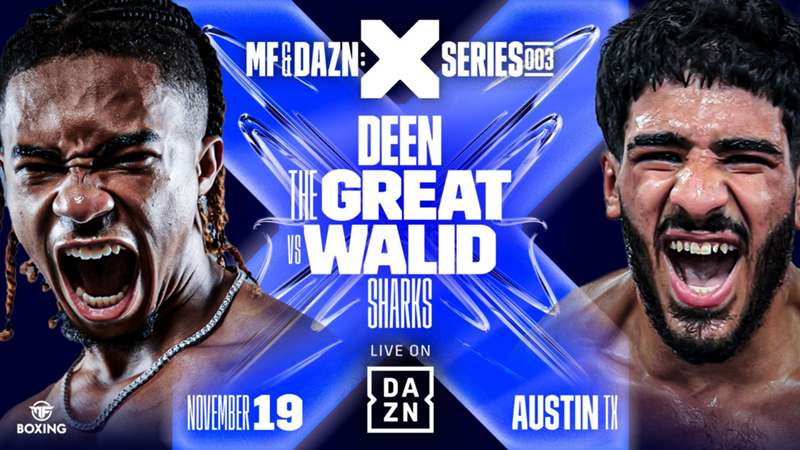 DAZN MF 3
Deen the Great wasn't looking so great after getting dropped twice in the second round.
But then the third round came along and Deen made sure to live up to his moniker. Deen the Great timed and unloaded on an electric right hand that dropped Walid Sharks with a thud en route to a spectacular third-round TKO in Austin, Texas on Saturday night, and live on DAZN, in the main event of MF & DAZN: X Series 003.
The rallying victory came after Walid Sharks dropped Deen in the opening round, although the referee ruled it a slip. Sharks wouldn't leave any doubts in the second round as he scored his first knockdown with a whipping left hook. Sensing he had Deen in trouble, Sharks dropped him again, doing it with a compact right hand for a 10-7 round.
An early left hook spelled that the end could be near for Deen the Great until he perfectly timed a right hand over the top, banging across Sharks' head. As Sharks crumbled to the canvas, he slowly got up off the apron but turned his back to the ref. By the time, Sharks turned around, the ref didn't see enough from his body language and bearings to let him continue and stopped the fight right there.
After the thrilling comeback, Deen the Great said he's game to fight on MF & DAZN: X Series 004 on January 14, live on DAZN pay-per-view.
Saturday night's co-main event had Josh Brueckner defeating Chase DeMoor by TKO, while former NFL star and UFC fighter, Greg Hardy, produced a unanimous decision over Hasim Rahman Jr.
Here's how the entire card went.