Chisora vs. Parker results: Joseph Parker wins gritty split decision over Derek Chisora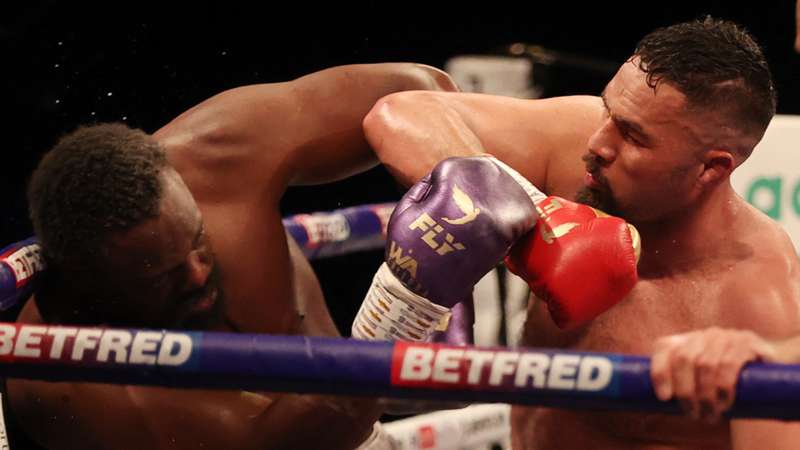 DAZN
Joseph Parker and Derek Chisora were both in must-win situations heading into their bout on Saturday. 
Parker survived an early knockdown and onslaught from Chisora to come back in the final two-thirds of the fight to win by split decision at the AO Arena in Manchester, England. DAZN News scored it 115-112 for Parker. 

"I thought it could go either way," Parker said in his post-fight interview. 

Seven seconds into the fight, Chisora sent Parker to the deck with a thudding right hand. The pressure of Chisora was giving Parker all kinds of problems and he couldn't get the Englishman off of him. Chisora stayed on the inside and consistently got Parker against the ropes and pounded the body.

Chisora couldn't keep the pace up and started to tire, which allowed Parker to take advantage of that in the fourth round. The former WBO heavyweight champion started upping his workrate, using his speed to slip out of the way of Chisora power shots, while landing combinations of his own and outboxing him. 

With Chisora needing a stoppage to win the fight, the 37-year-old let it all hang out in the 12th and final round. He landed two overhand rights, followed by a left and right hook to the body. Parker came back and rocked Chisora with a right hand. Chisora looked to be on the verge of being stopped, but Parker took his foot off the gas pedal, and it almost cost him as Chisora roared back with a relentless pace that included a stinging right hand and a combination to end the contest. 

But it ended up not being enough for Chisora, who was disappointed with the result. Chisora (32-11, 23 KOs) felt like he did enough to win and immediately pressed for a rematch.
"I'm getting upset now," Chisora said in his post-fight interview. "I bring everything, and this is the treatment I get from boxing. I think they don't like me… But you know what? I won't let them slow me down. No way. I will go again."

Parker (29-2, 21 KOs), who has now won five consecutive fights after losing back-to-back tilts to Anthony Joshua and Dillian Whyte, respectively, said he would be down for a rematch. 

Here is everything that happened at Derek Chisora vs. Joseph Parker.