Errol Spence Jr. vs. Terence Crawford has to be next after a win over Yordenis Ugas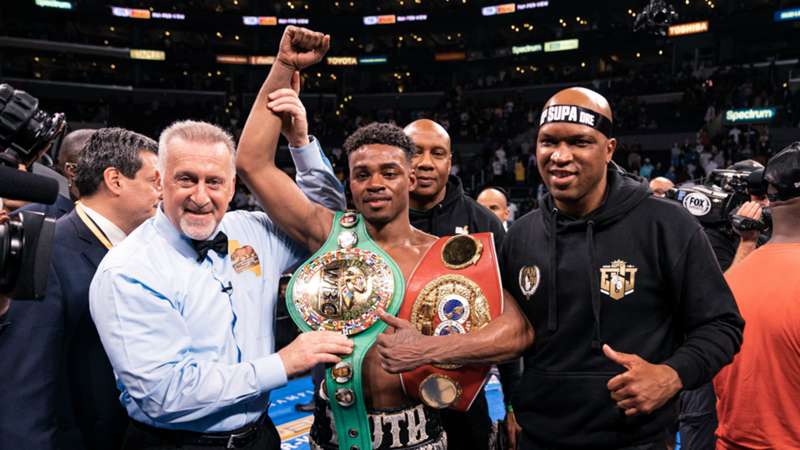 DAZN
Terence Crawford taunted Jermell Charlo after his split-decision draw with Brian Castano last July, tweeting "last night is the reason you not on the p4p list" and "gotta do better."
The WBO welterweight world titleholder followed that up in February by saying that he'd love to fight the May 14 winner between Charlo and Castano if he's unable to secure a bout with Saturday night's championship unification tilt between Errol Spence Jr. and Yordenis Ugas.
These comments should be taken as Crawford's caveat to boxing.
He's laying the groundwork for a backup plan. And if this alternate route is forced into action, it spells that boxing would get cheated out of another mega bout in Spence vs. Crawford. And what a shame that would be.
Spence vs. Crawford is arguably the best bout to make in the sport. Period.
Spence defeating Ugas isn't a foregone conclusion, though "The Truth" will enter the fight as the -650 favorite to the Cuban's +350 odds, according to BET MGM. Spence getting his hand raised over Ugas would have the 32-year-old adding the WBA welterweight world title to his current WBC and IBF hardware with Crawford's WBO strap as the sole missing link.
The fact that Crawford vs. Shawn Porter was able to be made last November, with Crawford then fighting under Top Rank, and Porter fighting under the PBC umbrella means that Crawford vs. Spence (another PBC fighter) could certainly be cemented.
Crawford currently being a free agent only heightens that feeling.
"Bob couldn't secure me the Spence fight when I was with him, so how is he gonna secure me the Spence fight when I'm not with him?" Crawford told a pool of reporters in November.
"I'm moving forward with my career right now and I wish everybody the best."
Now, there's foreseeably nothing holding Spence vs. Crawford back but themselves. Barring a monumental Ugas upset Saturday night, Spence vs. Crawford has to get made. This one can't fail because if it does boxing does with it.
Whether it's 50-50 split with pay-per-view points or 55-45 in favor of Spence due to him owning three of the four major welterweight world titles and his star power fighting at AT&T Stadium in Arlington, Tex., home of the Dallas Cowboys, booking this fight can't miss. Both fighters need to get paid royally and A-side, B-side egos need to be put aside to lock it in.
Boxing needs to finally find out who's the greatest welterweight of this generation and the only way to unearth that would be Spence vs. Crawford.
Both are undefeated and in their prime, with the 34-year-old Crawford's ledger at 38-0 with 29 knockouts to Spence's 27-0 with 21 KOs. Crawford and Spence have each tallied five title defenses, each counting a victory over Porter as a common opponent during that streak.
Spence didn't show any effects from his nightmarish single car crash in October 2019, as he returned to the ring to dominate and outpoint a formidable Danny Garcia via unanimous decision in December 2020.
A signed and promoted mega bout vs. Manny Pacquiao set for August 2021 was cancelled after Spence suffered a retinal tear to his left eye. If he's recovered fully from that injury to secure a victory over Ugas, Spence would make it six straight title defenses, turning the urgency up to a fever pitch to make "The Truth" vs. "Bud" happen that much more.
Yes, Crawford vs. the winner of the Charlo-Castano rematch is intriguing in its own right to see if the former could handle moving up to junior middleweight.
But the Spence vs. Crawford is instant boxing lore.
Hopefully, that comes to fruition instead of another dashed opportunity due to the business of the sport.
After all, boxing needs "The Truth" on who the greatest welterweight is right now.