George Kambosos Jr. announces fight against British lightweight contender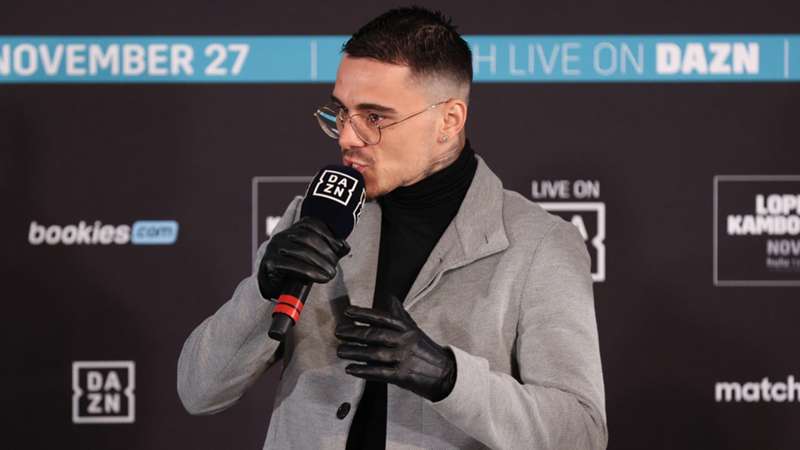 DAZN
George Kambosos will make his return to the ring against Maxi Hughes on Saturday July 22.
The former undisputed lightweight champion lost his belts to Devin Haney, who has since returned from their Australian double-header to fight against Vasiliy Lomachenko.
Kambosos impressed as he took those same belts off Teofimo Lopez, who has since moved up to 140lbs, but he now needs to regain his momentum and get a win under his belt.
Hughes is a well-fancied British lightweight, and a win for him would put him in contention for a title fight of some description later this year. On the line is Hughes' IBO belt, and the match-up serves as an IBF title eliminator.
Also on the bill for July is Keyshawn Davis, who will take on Belgium's former European champion, Francesco Patera.
"George Kambosos Jr. is still one of the lightweight division's premier attractions, and he has the chance to get right back to title contention with a win over an upset-minded Maxi Hughes," said Top Rank chairman Bob Arum. "Keyshawn Davis, in less than 10 fights, is already a contender and has all the makings of a future superstar. This is a sensational lightweight doubleheader for the fans in Shawnee and everyone watching on ESPN."
 
"George insisted on a meaningful fight to begin his comeback. He's never taken the easy route," said Lou DiBella, President of DiBella Entertainment. "Maxi Hughes is a legit top 10 lightweight and a high-risk fight for George coming off two losses against Devin Haney. This will be an IBF world title elimination bout and George will also challenge for Maxi's IBO lightweight world title. For Maxi, this is the opportunity he's been fighting for. This is his chance to prove that all of those fights he won as the underdog meant something."
 
Kambosos said: "I am extremely excited and motivated to make a serious statement against Maxi Hughes in my return fight in the United States, the Mecca of boxing.
"Having fought the best lightweight boxers in the world, I now know I have become an even better fighter and have added further artillery and weapons to my overall fight game. Maxi Hughes is a good boxer, a tough Englishman, and I'm sure he will try his best, but I know and he knows that his best will not be enough. Hughes is not elite, and when you have been in there with elite boxers like I have, you pick up on the mistakes in a boxer like Hughes. I will claim his IBO world title and the IBF world title eliminator position on July 22."
 
Hughes added: "I'm excited to realize my dream of fighting in the USA and to showcase my skills to a new audience. ll do what's necessary to get the win."