Is the Jamie Munguia fight Sergiy Derevyanchenko's last chance?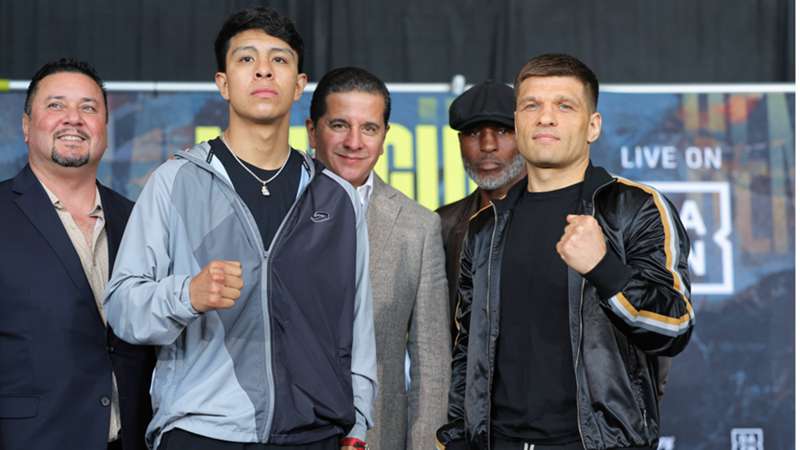 DAZN
The DAZN Boxing Show discussed Sergiy Derevyanchenko's last chance to avoid becoming a gatekeeping fighter.
The Ukrainian 37-year-old has had title chances before but never quite got over the line, despite pushing boxers such as Gennadiy Golovkin close.
On Saturday night in Ontario, California, the veteran will fight 26-year-old super middleweight contender Jaime Munguia live on DAZN.
Speaking on The DAZN Boxing Show, Akin Reyes suggested that Derevyanchenko needed a win to remain a credible fighter.
He explained: "He is stepping into that journeyman status, he was one foot in. He has the opportunity to step out of that to become a contender for champion status. If he gets stopped by Jaime Munguia, I would title him a journeyman. "
Barak Bess was sceptical of the idea, saying: "Maybe if he gets stopped. Derevyanchenko was in the middleweight division, but at that time that was very hard to get a belt in. you had GGG, [Jermall] Charlo, Canelo [Alvarez]. If you can't beat those guys, you can't be a champion. There are so many people who are going to die a champion because there were so many belts and they were able to beat lesser opponents.
"I wouldn't label him that when he had a tough fight with GGG, so he's past that level of journeymen. He's a good fighter, he's past contender, a title challenger that almost won,.the only guy that really hurt GGG physically. 
"That's because he's 37 now. So that means Roy Jones Jr. was a journeyman in his later days because in the latter part of his career he was losing? That never makes a man a journeyman."
  <