Joseph Parker vs. Junior Fa set for December 11 in Auckland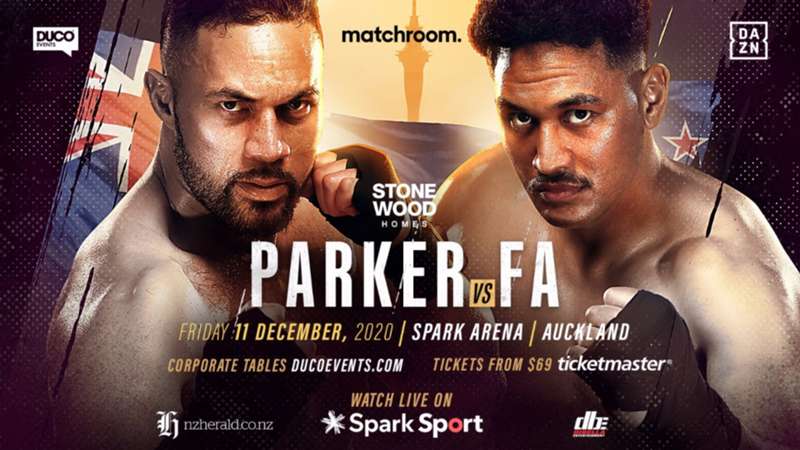 DAZN
The big all-New Zealand clash between heavyweights Joseph Parker and Junior Fa has been confirmed for Friday, Dec. 11, live on DAZN.
Former WBO champion Parker (27-2, 21 KOs) and the undefeated Fa (19-0, 10 KOs) are ranked third and sixth in the WBO rankings, respectively, and the winner of their fight at the Spark Arena in Auckland will stand a good chance of earning a shot in 2021.
"This is going to be war," said Matchroom promoter Eddie Hearn. 
"We're looking forward to co-promoting our first event in New Zealand with David Higgins and Duco. There's plenty of needle with the amateur rivalry and there's national pride at stake. A win over Fa will catapult Joe back into world title contention."
Parker's last outing was a win over Shawndell Winters via fifth-round stoppage in Dallas in February, just before the COVID-19 pandemic froze the sport.
Fa, meanwhile, who represented Tonga at the 2010 Commonwealth Games in Delhi, hasn't competed since last November when he claimed a 10-round unanimous decision over Devin Vargas to retain the interim Oriental heavyweight title, a belt set to be on the line against Parker.
"Given the challenges facing major sporting events around the globe right now, getting this fight over the line is absolutely huge, and we are grateful to our partners Matchroom for their backing to make this happen" said Parker's manager and Duco's founder and director, David Higgins. 
"With both boxers inside the WBO top 10 world rankings and in their prime, this is undeniably New Zealand's fight of the century." 
Parker and Fa went head-to-head during the amateurs, claiming two wins apiece. And this fight — perhaps the biggest in the history of New Zealand boxing — is set to be a high-stakes rubber match.
"I've always believed that Junior Fa had the ability to become a world champion and, on December 11, he'll have the opportunity to prove that against a former heavyweight champion and amateur rival, in countryman Joseph Parker," said Lou DiBella, president of DiBella Entertainment. 
"Not only is this matchup one of the biggest fights in New Zealand history, it has high significance on the heavyweight landscape worldwide, with the winner closing in on a world title shot. 
"With a win, Junior can become a New Zealand sports superstar and a worldwide boxing star in one night. I'm proud to co-promote this historic fight card with David Higgins' Duco Events and Matchroom."
Higgins added: "Parker's an Auckland born Samoan, Fa an Auckland born Tongan; the fight is taking place in the largest Polynesian city in the world; both fighters are close to and desperate for a title shot; they have a split history in amateur fights, and they are both members of the same Mormon Church. This fight already has everything."
The fight, which has been discussed by all parties throughout the lockdown, finally came together thanks to the landmark three-way partnership agreement between Events company Duco Events, Spark Sport and media partner New Zealand Media and Entertainment (NZME), first confirmed at the Parker-Fa announcement.
NZME chief revenue officer Paul Hancox said: "It's been a tough year for New Zealand sports fans with so little in the way of world class live sporting events since COVID-19 hit. 
"For NZME this event encapsulates why we are committed to delivering the very best content to our audiences and advertisers, keeping Kiwis in the know. 
"We are proud to support a spectacle like this, alongside Spark Sport and Duco, to bring sport back to a big arena where it deserves to be,"  
The partnering companies are also expecting to fill the arena with 9,000 fans for the occasion, in what will be one of the first major fight sport events since the coronavirus became a global pandemic to be able to sell to such a capacity. 
The Spark Arena can hold as many as 12,000, meaning Parker-Fa will have a 75 percent attendance if they can indeed get to 9,000 tickets sold.
"Events companies have been absolutely smashed by the pandemic and we're really proud that our collaboration with Spark Sport, NZME and the support of Stonewood Homes plus our global collaboration with Matchroom and Di Bella has given us the opportunity to let New Zealanders get back to experiencing the excitement, the drama and the fun that an event like this creates," said Duco's Higgins.