Deveison Figueiredo explains decision to train with Henry Cejudo for Brandon Moreno trilogy at UFC 270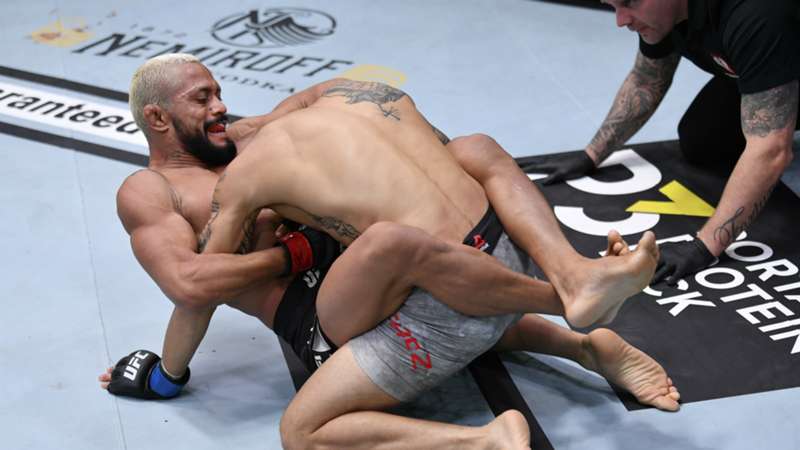 DAZN
Deveison Figueiredo barely escaped with his flyweight title when he went to a majority draw with Brandon Moreno at UFC 255 in one of the best of fights of 2020. They ran it back at June 2021's UFC 263. The Brazilian didn't leave the Octagon with the gold on that Arizona night, losing via third-round submission. 
Something had to give if Figueiredo wanted to remain at the mountain top. Putting himself through torture to make 125 lbs. was taking its toll and affecting his buzzsaw style. 

Figueiredo knew he had to do something. So after UFC 263, the 34-year-old wanted time to himself, to collect his thoughts and process what had just happened. Fate intervened as former two-division champion and Olympic gold medalist Henry Cejudo entered the same restaurant Figueiredo was in. From there it was all she wrote, and now Cejudo will be in Figueiredo's corner when he looks to regain the strap from Moreno in the co-main event of Saturday's UFC 270.

"It was funny when I lost the belt, I went out to just chill a little bit," Figueiredo told DAZN News through a translator. "And I actually met Henry at a restaurant and saw him and saw that he really was a good guy. I was already in touch with Eric (Albarracin, Cejudo's trainer). I talked to him a lot before. But then when I met them, I saw that, 'Hey, this is something that can actually work out.' So Eric brought me here to Scottsdale (Arizona). He has taught me so much. I've learned so much. I made new friends here, and it's been a great experience so far.

"Henry's a triple champion. He's one of the best, and one of the most strategic fighters UFC has ever seen. It feels great training with him. I enjoy it a lot. I've learned a lot, and I've learned to like him as a person as well. The level of professionalism both he and Eric (Albarracin) have is amazing. It's been really good for me to be here."

Cejudo vacated the flyweight title at the end of 2019 and focused on defending his bantamweight belt. After running through Dominick Cruz at UFC 249, Cejudo shockingly announced his retirement. Now, he's focused on helping fighters reach new heights, and Figueiredo is his first marquee guy competing. In Figueiredo's eyes, being with "Triple C" is exactly what he needed to get his love for the sport back to where it was on his first quest for championship gold.

"I think it's just this excitement to go back to training and get out of my comfort zone," Figueiredo said. "That's something that I learned here about never training inside your comfort zone, always going out of it, and this level of professionalism. I think it makes me a better professional overall." 

The narrative heading into the trilogy is Cejudo training Figueiredo. Cejudo and Moreno were former training partners and great friends.

Cejudo and Moreno were extremely close. They had met in 2014, and Cejudo brought Moreno onto his team, including his first fight with then-125-pound champion Demetrious Johnson in April 2016. They were training partners at Cejudo's Fight Ready gym in Phoenix. Their families were close, and the bond appeared to be very strong. That was until The Ultimate Fighter Season 24, as Cejudo and Joseph Benavidez were coaches on the flyweight season. The season was based on a collection of flyweight champions from various promotions, with the show's winner fighting Johnson for the championship. 

Usually, the coaches pick the fighters for the show. For this particular season, it was different as the UFC seeded the 16 fighters. So when the coaches selected a fighter, the first-round seeded opponent would go to the other team. Cejudo and Benavidez had no clue how the fighters were seeded until they were picked. Cejudo picked the top seed, Pantoja. The 16 seed ended up being Moreno, which upset Cejudo because of the relationship he'd formed with him. 

Moreno and Benavidez developed a kinship during the show and ultimately trained with the latter to face Cejudo at the season's conclusion in December 2016. That upset Cejudo and the two are no longer friends. 

Some feel the controversy between Cejudo and Moreno is all for naught and makes for good conversation. However, Figueiredo doesn't see it that way, and the situation only adds more fuel to his fire to regain what he feels is rightfully his at UFC 270.

"Brandon lived with Henry and then went to spar with Benavidez before his fight against Henry," Figueiredo said. "It definitely motivates me coming into this fight to think about that, and it gives me an extra push to bring on my best. I really enjoyed this time here with Henry, and I expect to show that inside the Octagon as well."