Canelo vs. GGG trilogy then Dmitry Bivol rematch would 'probably' be the route for Canelo Alvarez, says Eddie Hearn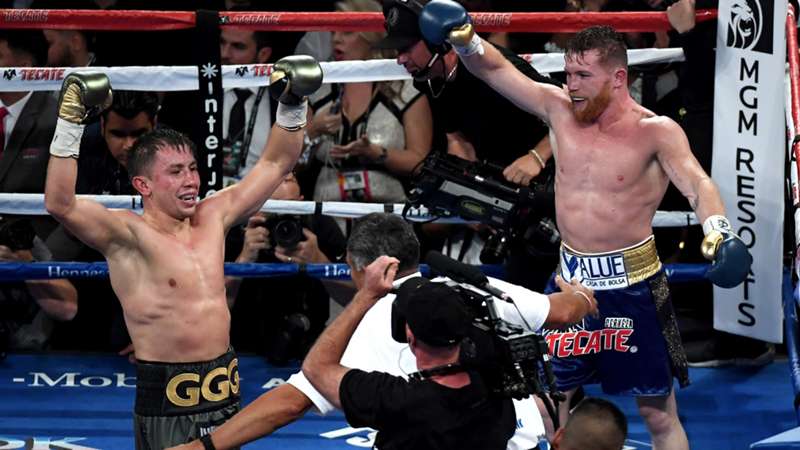 DAZN
The stars were finally aligned for the long-awaited trilogy between Canelo Alvarez and Gennadiy Golovkin.
Golovkin did his part in April with a ninth-round stoppage to become the unified middleweight champion for the second time. Alvarez had to hold up his end of the deal nine days ago versus Dmitry Bivol. Instead, Bivol shocked the boxing world and dominated Alvarez to retain the WBA (super) light heavyweight championship, and the fight people wanted to see looked to have gone by the wayside. 

Despite there being a rematch clause, Alvarez hasn't decided whether to invoke or move forward to settle the score once and for all with his fiercest rival. However, on Monday's edition of The DAZN Boxing Show, Eddie Hearn revealed how and why he'd go with the third Golovkin fight first and then attempt to get the win back against Bivol.
"I'm a little bit biased because I just love the Gennadiy Golovkin trilogy," Hearn admits. "Now I think it's even more intriguing because he's coming off the defeat. If he was to lose to Gennadiy Golovkin, where does he go? You're talking about losing at 175, losing at 168. You're no longer a world (champion). Of course, he's Canelo Alvarez. But still, back-to-back defeats like that. So all the pressure right now is actually heaped on Canelo Alvarez. You don't know what defeat is going to do to a man like that. We know he suffered one years ago against Floyd Mayweather. He was a young man then. Can he bounce back? Is he affected by that? Is his confidence gone? 
"But also, I would love to see the rematch. I think if I was advising him or if he actually listened to what I thought. He asked me my opinion. But as I said, we don't make the decisions. I would probably go GGG, Dmitry Bivol. That's what I would probably do, and we'd give Dmitry Bivol a big fight in September or October. Whether that's (Joshua) Buatsi-(Craig) Richards winner, Callum Smith, (Zurdo) Ramirez. But the rematch is a mega-fight." 
Hearn feels that both options the 31-year-old has in front of him are the most significant fights to make in the sport right now.
"The two biggest fights in boxing right now actually are Canelo against GGG and Canelo against Bivol rematch," Hearn exclaimed.